GOP Senator Dismisses Democrats' Concerns That Amy Coney Barrett Will Vote Against Obamacare: 'Put Down the Bong'
Senator John Kennedy, a Louisiana Republican, dismissed concerns from Democrats that Supreme Court nominee Amy Coney Barrett would vote to overturn the Affordable Care Act—commonly referred to as Obamacare.
President Donald Trump nominated Barrett, a conservative judge, in late September to fill the vacancy on the Supreme Court left by the death of Justice Ruth Bader Ginsburg, a liberal icon. Democrats have raised significant concerns that Barrett's confirmation to the top court—which would give conservatives a 6-to-3 majority—could threaten the viability of the Affordable Care Act, as well as LGBTQ and reproductive rights. During the first day of Barrett's confirmation hearings on Monday, Democratic senators raised these concerns.
"They're very well-versed in the stuff they make up," Kennedy said, commenting on his Democratic colleagues' worries during an interview with Fox News morning show Fox & Friends on Tuesday. "And they made up a lot yesterday. To hear them yesterday, Judge Barrett is on a mission from God to single-handedly deny health insurance to all Americans," the Republican senator said.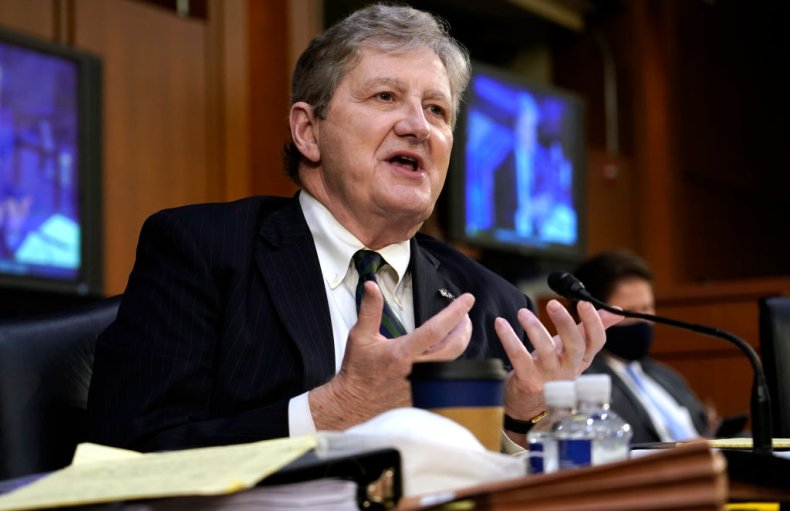 "That's preposterous, and you know, put down the bong," Kennedy said. "Americans don't believe that. My [Democratic] colleagues think Americans are morons. You know, I think most Americans see right through this."
Senator Dianne Feinstein, a California Democrat and the ranking member on the Senate Judiciary Committee, laid out criticism of Barrett's position on the ACA in a series of tweets on Tuesday.
"Prior to joining the 7th Circuit, Judge Barrett made clear her views on the ACA, criticizing Chief Justice Roberts's opinion when he upheld the law as constitutional. If confirmed, she would likely vote with the conservative majority to overturn the law," Feinstein tweeted.
"In a 2015 interview, Judge Amy Coney Barrett said she disagrees with the Supreme Court's second decision to uphold the ACA. Let's be clear: if confirmed, she will vote to strip millions of Americans of their health care," she wrote in a follow-up Twitter post.
Feinstein raised the issue directly with Barrett during her Tuesday confirmation hearing. But Barrett declined to give straightforward answers about how she would vote on decisions regarding Obamacare, LGBTQ issues and abortion. She asserted that she would judge each case that came before the Supreme Court based on its merits and the law.
"I have an agenda to stick to the rule of law and decide cases as they come," Barrett said at one point while being questioned by Feinstein.
Democrats have jumped on a previous statement from Barrett, in which she commented on a 2012 Supreme Court ruling involving the Affordable Care Act. She said that in the case of The National Federation of Independent Business v. Sebelius, Chief Justice John Roberts "pushed the Affordable Care Act beyond its plausible meaning to save the statute."
As the Trump administration continues to work to overturn Obamacare, with a case coming before the top court in November, Barrett's views could have a significant impact on millions of Americans who have come to rely on their health care coverage under the legislation.
Newsweek reached out to Feinstein for further comment, but her press secretary did not immediately respond.