GOP Senator Echoes Dems' Frustration Over Republicans Stalling Biden's Diplomatic Picks
Senator James Risch, an Idaho Republican, has raised concerns about fellow GOP senators holding up the confirmation of President Joe Biden's diplomatic nominees.
Republican Senators Ted Cruz of Texas of Josh Hawley of Missouri have been key GOP members in Congress' upper chamber slowing the confirmation process for Biden's ambassadors and foreign policy picks. Under the Senate's rules, any one senator can object to a swift confirmation of a presidential nominee.
Risch serves as the ranking member—or top Republican—on the Senate Foreign Relations Committee.
"I have been a critic of this since I started on the Foreign Relations Committee," he said Saturday at the Halifax International Security Forum, Politico first reported.
"I was a governor. I understand you have to have a team in place in order to govern," Risch added.
He said that he's been "as energetic as I can about getting these [nominees] through."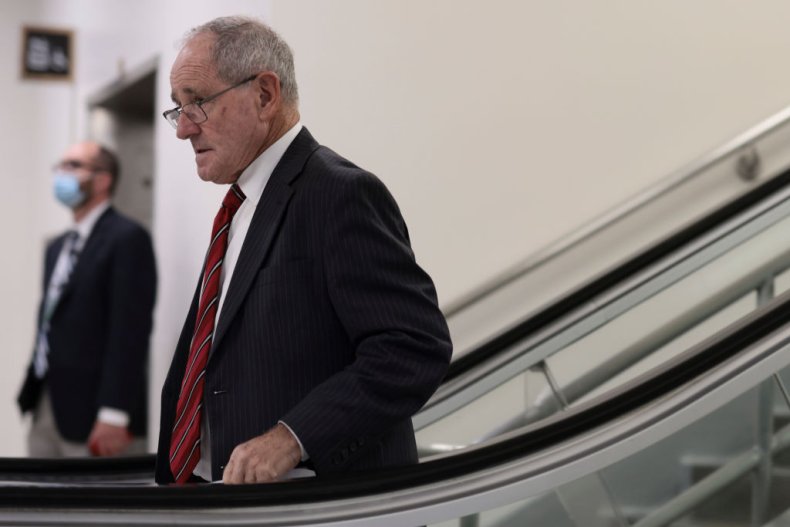 The Idaho Republican didn't call out anyone by name, although Hawley and Cruz have been the primary drivers of the holds.
"They're not here to defend themselves, so I'm not going to defend them either," Risch said without specifically referring to any GOP colleagues.
Senator Jeanne Shaheen, a New Hampshire Democrat, also expressed frustration over the issue during the forum.
"The issue is, we have some outliers on both sides whose sole goal is obstruction," she said, per Politico. "And we need to hold them accountable so the rest of us can get onto the business at hand for the United States."
Just seven of Biden's ambassador nominees have been confirmed, despite the president having made nearly 80 in total as of last Sunday, The Guardian reported. While barely any of Biden's diplomats have been confirmed by the Senate, the bulk of former Presidents Donald Trump and Barack Obama's nominees had been confirmed at this point in their White House tenures.
Representative Jaimie Raskin, a Maryland Democrat, previously warned that the blockade was causing problems internationally for the U.S.
"It's a terrible impediment to our resuming democratic partnership and leadership in the world," Raskin recently told The Guardian.
"The right-wing plan has been to dismantle and disable democratic governance and leadership. They want to make the government dysfunctional so they can take it over and use it for their own purposes," he said.
Notably, Risch has also been seen as holding up some of the nominees in the committee process before they go to the full Senate floor for confirmation. He has said that they should be fully vetted by the Republican minority.
"The fact of the matter is that it's not going to be a situation where we're going to roll over on ones that we're not done with," the Idaho lawmaker said earlier this month, The Hill reported.
In late October, the White House took aim at Cruz for obstructing the confirmation of "dozens" of Biden's nominees.
"President Biden is quickly working to restore America's position on the world stage, and he's moved swiftly to nominate well-qualified ambassadors who have earned Republican and Democratic support," White House spokesperson Chris Meagher told The Washington Post. "But instead of putting politics aside, Sen. Cruz has led an unprecedented effort of obstruction by blocking dozens of President Biden's nominees and preventing them from advancing America's national security interests."
Newsweek reached out press representatives for Cruz and Hawley for comment but did not immediately receive a response.