GOP Senator Expects to See Trump and Biden at Inauguration 'No Matter Which One of Them Is Sworn In'
Senator Roy Blunt, a Missouri Republican, said that he expects President Donald Trump to be onstage alongside President-elect Joe Biden on Inauguration Day in January, but declined to admit that the incumbent Republican had been defeated in the election.
Biden, who served as vice president under former President Barack Obama, was declared the winner of the presidential election by the Associated Press and the national television networks on Sunday, after he secured at least 290 electoral votes. Trump has not conceded, baselessly claiming that Biden won through widespread voter fraud. While some Republican lawmakers have congratulated the Democrat on his victory, many GOP politicians have not yet admitted Trump's loss.
"Once again, I think we're going to project to the world that democracy works," Blunt said Sunday during an interview with ABC News' This Week.
"This is a great time for us to show how a true democracy works," the GOP senator said. "I'm confident we're going to see that. I expect to see both Vice President Biden and President Trump on the stage on inaugural day, and that will be a powerful message, no matter which one of them is sworn in that day."
Newsweek reached out to the Trump campaign for comment, but it did not immediately respond.
A record number of Americans cast ballots in the 2020 election, with both Biden and Trump securing more individual votes than any other presidential candidate in history. The latest tally by Fox News shows Biden with about 75.2 million votes compared to 70.8 million for the Republican president. The previous record was set by Obama in 2008, when he received about 69.5 million votes.
Although Trump has not conceded the election, and Blunt and many other Republicans have not yet admitted Biden has won, multiple GOP lawmakers have congratulated Biden.
"Ann and I extend our congratulations to President-elect Joe Biden and Vice President-elect Kamala Harris," Senator Mitt Romney, a Utah Republican, tweeted on Saturday. "We know both of them as people of good will and admirable character. We pray that God may bless them in the days and years ahead." Romney has routinely clashed with the president, and was the only senator in his party to vote in support of removing Trump from office after his impeachment by the House of Representatives.
Representative Fred Upton, a Michigan Republican, asserted in a Saturday Twitter post that Biden had won the election and that he plans to work with the new Democratic administration.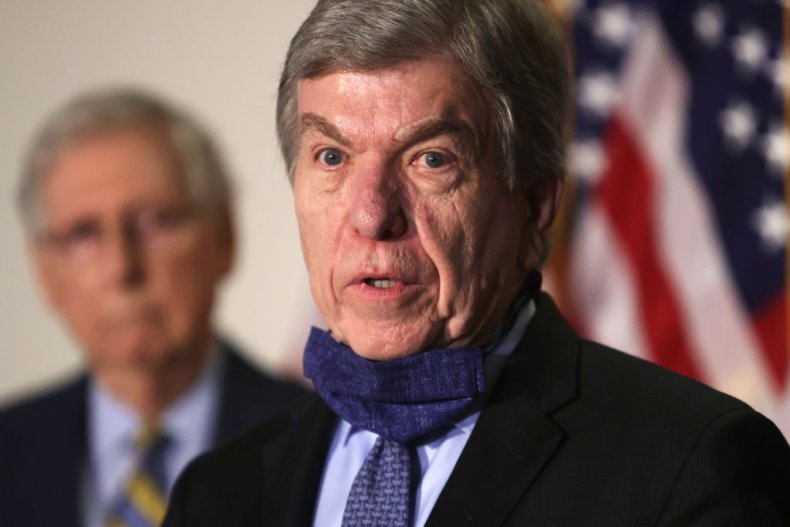 "The votes have been counted, the American people have spoken, and they chose Joe Biden to serve as our next President," Upton wrote. "We have to find a way to come together, bridge divisions, and focus on solutions that help the millions who are struggling. I am raising my hand and committing to working with President-elect Biden and my colleagues on both sides of the aisle in Congress to do exactly that."
ABC News and CNN have reported that Trump officials and members of the president's family have been trying to convince the president to concede the election. But the Trump campaign has said it will pursue legal challenges in key battleground states where the race is close. A recount is also expected in Georgia, and possibly other states. Biden appears to have narrowly flipped Georgia by a margin of 0.2 percent—or just over 10,000 votes—but the Associated Press has not called the race.