GOP Senator, Facing Tough Election Fight, Will Make Joint Appearance With QAnon Supporter
Embattled Georgia Senator Kelly Loeffler said Wednesday she would be appearing with congressional candidate Marjorie Taylor Greene on Thursday. Greene has been linked with the QAnon conspiracy movement.
Loeffler faces stiff election competition from both sides of the aisle. Republican Representative Doug Collins, who was part of President Donald Trump's support team during the January impeachment hearings, is also in contention for the seat. Both Loeffler and Collins are in a close race with Democratic challenger Raphael Warnock, who is engaged in his first political campaign.
Loeffler's campaign said that on Thursday, "conservative businesswoman and political outsider Kelly Loeffler will be joined by future Congresswoman Marjorie Taylor Greene for a major announcement in Paulding County."
In June, Greene released a video in which she espoused some of the conspiracies embraced by the QAnon movement. Greene has since tried to distance herself from her comments.
The nature of the announcement was not specified. Newsweek reached out to Loeffler's campaign for comment.
Loeffler was appointed to the Senate seat in January by Georgia Governor Brian Kemp following the departure of Senator Johnny Isakson, who resigned due to ill health. November's special election will decide which candidate fulfills the final two years of Isakson's six-year-long term.
Loeffler stirred controversy in July with her remarks on the Black Lives Matter movement. During an interview with Fox News, Loeffler called BLM "an organization that seeks to destroy American principles."
As co-owner of the Atlanta Dream, a women's professional basketball team, Loeffler disagreed with the association's plans to provide players with warm-up jerseys bearing the phrase "Black Lives Matter." Loeffler suggested that players wear an American flag instead.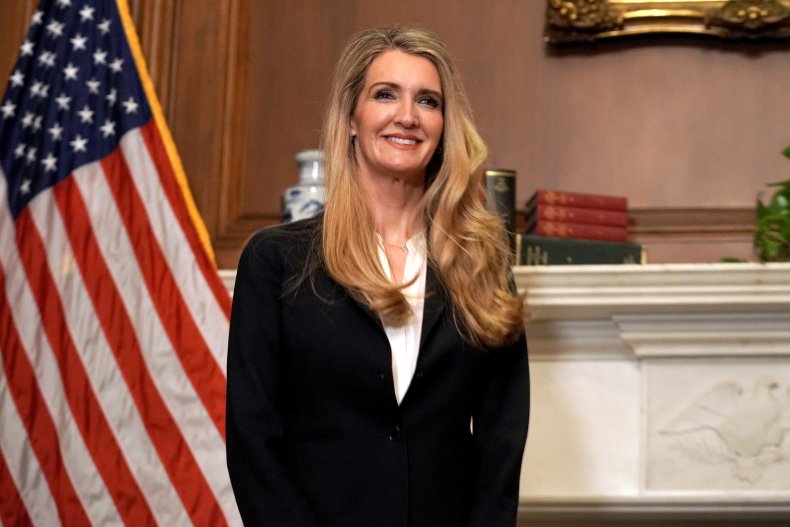 Comments made by Greene have been no less controversial. In a video posted in June, Greene praised Q, the alleged anonymous leader of QAnon. Q allegedly places hints on social media platforms about a worldwide secret group involved in human trafficking and devil worship. In August, the FBI labeled QAnon as a potential domestic terrorism threat.
"Q is trying to tell people on these forums and 4Chan and he's trying to tell people the truth," Greene said.
Greene told Fox News in August that after she began seeing "misinformation" in Q's posts, she "decided that I would choose another path."
Democrat Kevin Van Ausdal dropped out of the Georgia Congressional race leaving Greene to run unopposed.
According to data released Tuesday by a WXIA/Survey USA poll, Warnock is ahead of both Loeffler and Collins in the race for Senate. Warnock gained 30 percent of the support of those surveyed. Loeffler came in second with 26 percent and Collins rounded out the top three with 20 percent.
The poll was conducted between October 8-10 from a pool of 900 Georgia adults with 793 of those being registered Georgia voters. The poll carried a margin of error of plus or minus 5.7 percent.