GOP Senator Grills Acting Homeland Security Secretary Over Lack of Coronavirus Knowledge: 'You're Supposed to Keep Us Safe'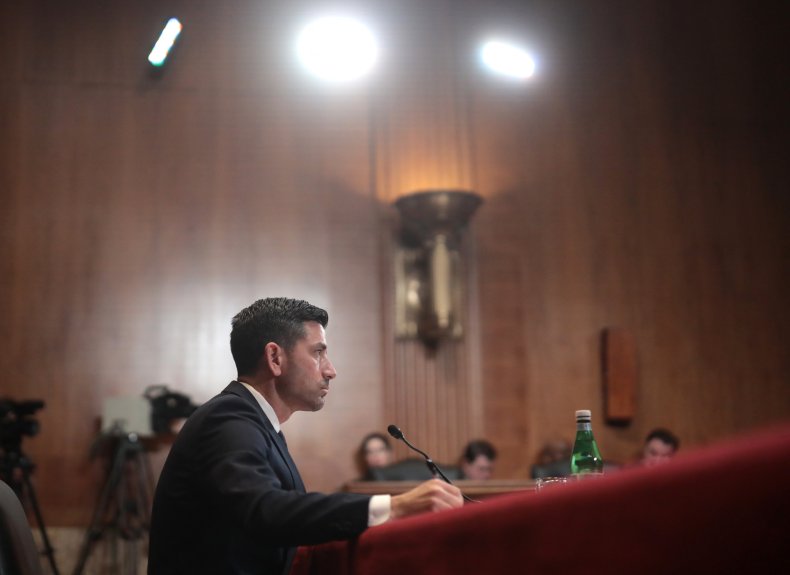 On Tuesday, Louisiana GOP Senator John Kennedy grilled the acting Homeland Security Secretary Chad Wolf due to his lack of knowledge on the coronavirus, officially known as COVID-19.
"You're supposed to keep us safe, you're the secretary of Homeland Security and you can't tell me if we have enough respirators," Kennedy said when Wolf failed to provide a specific number of respirators the Department of Homeland Security (DHS) has to combat the virus.
The discussion between the two occurred during a subcommittee hearing of the 2021 DHS budget. It began when Kennedy asked Wolf about the specific number of confirmed cases of COVID-19 in the U.S.
"We have 14 cases plus an additional, I believe it's 20 or 30 cases that we have repatriated back into the U.S. from a number of cruise ships," Wolf said to Kennedy.
Kennedy began to become uneasy with the way Wolf was answering his questions when he asked how many new cases DHS anticipated.
"Again, we're working with HHS (Department of Health and Human Services) to determine that," Wolf said while adding that they do anticipate the number of cases to grow but noted he didn't "have an exact figure."
"Yes sir, but you're head of Homeland Security, and your job is to keep us safe," Kennedy said. "Don't you think you ought to check on that."
As Kennedy continued his questions, he brought up the number of respirators the DHS has, to which Wolf responded by deferring to the HHS and stating, "you're asking me a number of medical questions that the CDC (Center for Disease Control) and HHS are focusing on."
Kennedy's anger continued when Wolf told him that a vaccine was only a few months away, which Kennedy noted was a different number from an earlier congressional briefing that found it would take 12-18 months.
"You're telling me we're months away from having a vaccine, that's your testimony as secretary of Homeland Security?" Kennedy asked.
"What I have been told by HHS and CDC, yes," Wolf said in response.
Following Kennedy's questions towards Wolf about COVID-19, a statement was posted to Twitter by DHS spokesperson Heather Swift, addressing the situation.
"The questions Sen. Kennedy was asking were specific to the medical field and should be directed to the CDC and HHS. DHS's authority in this area at this time is primarily related to incoming travelers," Swift wrote.
Wolf was not the only member of DHS to come under fire in regard to knowledge of COVID-19 in the past few days. On Monday, DHS Acting Deputy Secretary Ken Cuccinelli received harsh criticism after he asked Twitter for information on the virus.
"Has this Johns Hopkins map of the coronavirus stopped working for other people, or is it just me?" Cuccinelli wrote on his Twitter with a link to the map. "I just tried again, and it looks like Johns Hopkins put the information behind a membership wall of some kind. Seems like bad timing to stop helping the world with this (previously) useful resource. Here's hoping it goes back up soon."
"Thanks for inspiring confidence. Shouldn't YOU GUYS have a map of this? Shouldn't the CDC? You know who they are, right? Isn't there anyone in charge of response to this? Or did someone colossally stupid eliminate that position," Twitter user Max Burbank wrote in response.
The outbreak of COVID-19 began in Wuhan, China but has spread to a number of different countries across the world. As of Tuesday, February 25, the World Health Organization (WHO) reports that there are 80,239 confirmed cases globally. In China, there are 77,780 confirmed cases and 2,666 total deaths.