GOP Senator Jim Inhofe Admits Mike Pence Is 'Angry' With Trump
Senator Jim Inhofe, an Oklahoma Republican, said that Vice President Mike Pence is more "angry" than he has ever seen him before, after President Donald Trump's supporters stormed the U.S. Capitol on Wednesday.
Hundreds of pro-Trump rioters invaded the building as Congress met to certify President-elect Joe Biden's win. Prior to the violent actions of his supporters, Trump told them they needed to "fight much harder" during a rally on the Ellipse in Washington, D.C. Although the rioters' actions delayed the certification, Congress reconvened Wednesday evening, and the process was completed early Thursday morning.
Now, there are reportedly discussions about Pence and Trump's Cabinet invoking the 25th Amendment to remove him from office. Biden will be inaugurated and take office in just under two weeks, on January 20.
"I've known Mike Pence forever," Inhofe told the Tulsa World in a phone interview on Wednesday evening. "I've never seen Pence as angry as he was today." The GOP lawmaker suggested that Trump did not do enough to prevent the violence.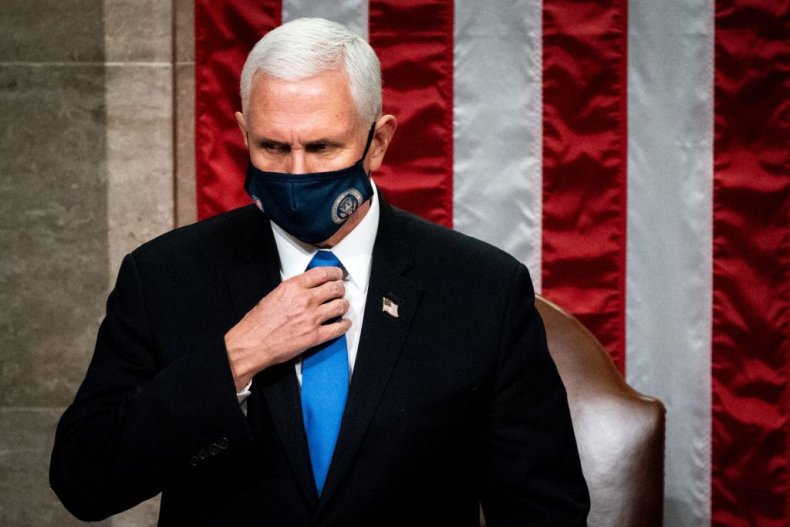 "This was really a riot. He should have shown more disdain for the rioters. I don't want to say he should have apologized—that's not exactly accurate—but he should have expressed more disdain," Inhofe said.
Inhofe made similar remarks to reporters at the nation's Capitol, saying that Pence was "very upset" with the vice president.
As the rioting proceeded Wednesday, Pence condemned the Trump supporters via Twitter, warning they would be punished.
"The violence and destruction taking place at the US Capitol Must Stop and it Must Stop Now. Anyone involved must respect Law Enforcement officers and immediately leave the building," the vice president wrote.
"Peaceful protest is the right of every American but this attack on our Capitol will not be tolerated and those involved will be prosecuted to the fullest extent of the law," he added.
Conversely, Trump appeared to defend his supporters, many of whom were carrying Confederate flags and other racist symbols.
"These are the things and events that happen when a sacred landslide election victory is so unceremoniously and viciously stripped away from great patriots who have been badly & unfairly treated for so long," the president tweeted. The post was quickly censored by the social media platform, and the president's account was later locked.
Trump later released a video message telling his supporters that he loved them and that they were "very special." But he encouraged them to return home and be peaceful.
The president and his supporters continue to push unfounded claims that Biden won the election through widespread voter fraud. Despite lawyers for the president and his supporters bringing more than 50 failed lawsuits in state and federal courts, they have not provided evidence to back the baseless allegations. Trump's former attorney general, William Barr, who left office last month, has said there is "no evidence" of fraud that would change the election's outcome.
Whether the 25th Amendment will be invoked by Pence and the Cabinet remains uncertain. A number of lawmakers have publicly called on Pence to do so, which would make him the president until Biden is inaugurated on January 20.
Mick Mulvaney, a former Trump administration official who resigned Thursday after the Capitol assault, told CNBC he's not surprised to hear that this is being discussed.
"When the president of the United States encourages the people to interrupt a constitutional process and violently have an insurrection against the government of the United States, nothing is off the table," Mulvaney said.
The White House did not respond to Newsweek's request for comment in time for publication.