GOP Senator Kennedy Comes Off Like An 'Addled Russian Asset' Who's Gone 'Full Devin Nunes' on TV, Says Conservative Commentator
After a Meet the Press interview with Senator John Kennedy (R-La.), conservative analyst Charlie Sykes appeared on MSNBC and said Kennedy came off as "an addled Russian asset on television."
Sykes, founder and editor-in-chief of conservative news website, The Bulwark, discussed Kennedy's TV appearance with MSNBC anchor, Nicolle Wallace, who played a clip of the exchange between the Louisiana senator and Chuck Todd.
"For the second Sunday in a row—in defiance of facts, intelligence assessments, reason—Senator John Kennedy was out peddling Vladimir Putin's talking points and demonstrating his utter capitulation to Putin and Donald Trump," Wallace said.
In the interview, Todd asked the Louisiana senator if he was "concerned [he's] doing Russian intelligence work" while Kennedy continued to push a debunked conspiracy theory that Ukraine was behind the 2016 DNC hack.
After the clip ended, Wallace said, "We have been watching these interviews, and we try not to amplify Russian propaganda here, but I keep airing that because I have not heard an explanation as to why."
"I wish I had one. I mean, this is the guy who has a degree from Oxford, he's not an unintelligent man, yet he comes off as an addled Russian asset on television," Sykes said.
"Is this the price now to be paid for currying favor in Trump world? Did he have to go full Devin Nunes on all of this?" Sykes wondered aloud, referring to the Republican representative from California who has repeatedly defended the president during impeachment hearings.
"And I think this is part of the dilemma dealing with impeachment, the willingness of people who ought to know better to pedal this kind of just flat-out B.S. It's just this torrent, this hurricane of misinformation from people who you would hope would keep a calmer head about them, a calmer demeanor," Sykes added.
Kennedy appeared on Meet the Press two weeks in a row, changing his story from not knowing if Russia was to blame, to saying it was wrong to blame Ukraine. His Sunday appearance revealed he still blames Ukraine for interfering in other ways, despite 17 American intelligence agencies concluding over three years ago that Russia orchestrated the DNC hack.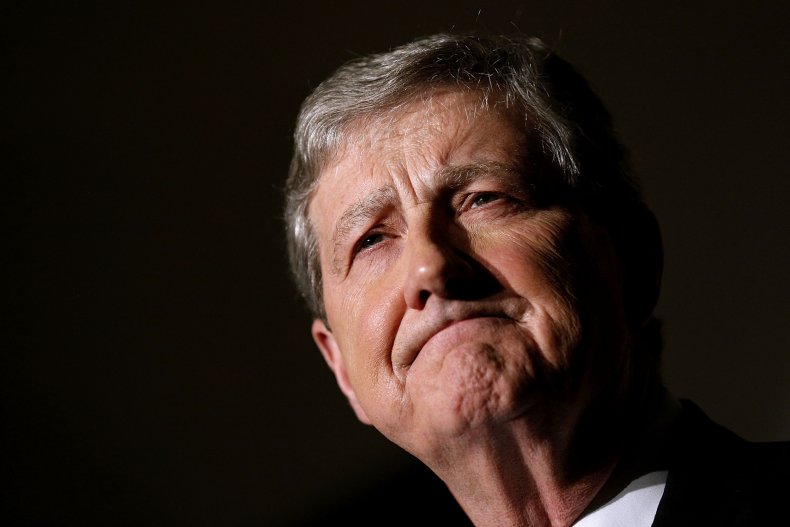 Former White House Russia expert, Fiona Hill, testified before the House Intelligence Committee in November and described the Ukraine theory as "a fictional narrative that has been perpetrated and propagated by the Russian security services themselves."
Kennedy said Hill was "entitled to her opinion."
"When does opinion become fact?" Todd asked. "Does 17 intelligence services saying it, does every Western intelligence ally saying Russia did this? I'm just sort of confused—at what point is it no longer an opinion for you?"
Kennedy conceded that it was a fact but then added that Russia's aggressiveness did not "exclude the fact that [former Ukrainian] President Poroshenko actively worked for Secretary Clinton."
"Are you at all concerned that you've been duped?" Todd asked Kennedy.
"No, just read the articles," Kennedy said.