GOP Senator Kevin Cramer Praises Trump for Being 'Transparent' About Asking for Foreign Interference
Republican Senator Kevin Cramer praised Donald Trump for being "transparent" in his bid to seek foreign interference to undermine his political rival, arguing that it was positive that the president had not done so "covertly."
Cramer made the remarks during an interview with CNN's State of the Union on Sunday, during which anchor Jake Tapper asked the GOP senator, who represents North Dakota, pointedly whether if it was "appropriate" to seek foreign assistance to damage a political rival.
"It's not like Donald Trump has been exactly covert about this," Cramer responded. "There's great integrity in his authenticity, which is something that people out here in the heartland appreciate about him. So he has these discussions in the wide open."
"I appreciate that we have a President who's transparent about his opinions and he's very clear about them, he doesn't try to do it covertly," he added later.
Trump is facing a fast-moving impeachment inquiry due to his repeated efforts to pressure Ukraine's leaders to open an investigation into a debunked conspiracy theory that Democrats conspired with Ukrainians to interfere in the 2016 presidential election, as well as to probe unsubstantiated allegations that Democratic presidential candidate and former Vice President Joe Biden acted corruptly toward the Eastern European nation to benefit his son's business dealings.
Even Trump's former homeland security adviser Thomas Bossert came out publicly to say that the president was repeatedly informed that the conspiracy theory regarding the Democrats and Ukraine was inaccurate and should be dropped. "It is completely debunked," Bossert said of the theory in an interview with ABC News at the end of September.
As Cramer pointed out, Trump and his personal lawyer Rudy Giuliani have been very public about their efforts to use the power of the presidency to pressure Urkainian officials, as well as the Chinese, to investigate a political rival. Meanwhile, they have dismissed the impeachment inquiry as overtly "partisan" and a "witch hunt."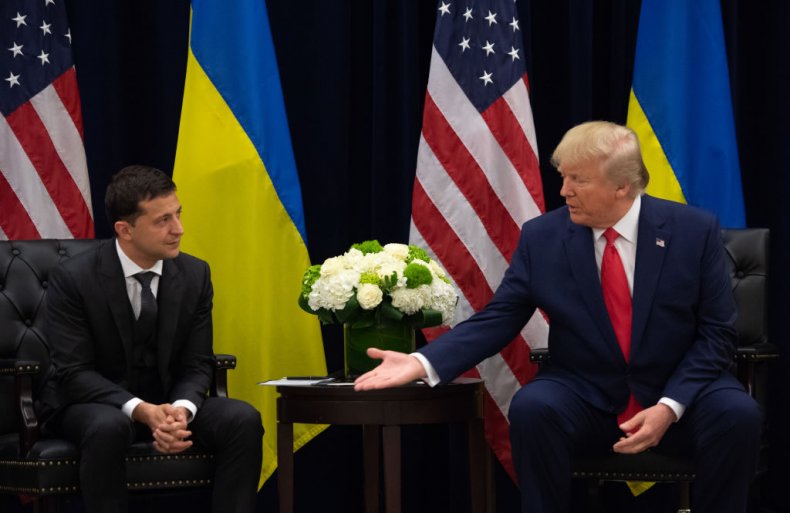 But numerous Republican lawmakers have expressed serious misgivings about the president's calls for foreign governments to investigate his political opponents. Under federal law, it is illegal for anyone to seek out, accept or receive anything of value from a foreign national in connection with a U.S. election. The Federal Election Commission has long held that opposition research, although it may not have an explicit monetary value, is included as something of value.
Despite the growing criticism, and numerous opinion polls showing that a majority of Americans now support the impeachment inquiry, Trump has doubled down on his insistence that he did nothing wrong. While many Republicans have continued to back the president, or simply remained silent, others have been highly critical.
"No foreign government should ever be involved in a U.S. election in any way," Representative Adam Kinzinger, a Republican who represents Illinois' 16th District, told Fox News last Tuesday. "It should always be wrong."