GOP Senator Lamar Alexander Defends Fauci Amid Trump's Barrage of Attacks
President Donald Trump's continued attacks against the nation's top infectious disease official on Monday prompted a prominent Republican lawmaker to come to the defense of Dr. Anthony Fauci.
"Dr. Fauci is one of our country's most distinguished public servants," Sen. Lamar Alexander (R-Tenn.), who chairs the Senate Health Committee, said in a statement. "He has served six presidents, starting with Ronald Reagan."
In a call with campaign staffers Monday morning, Trump disparaged the longtime National Institutes of Health official, saying coronavirus experts like Fauci and others are "idiots" and that Fauci has been "a disaster." The president claimed, without evidence, that had he listened to Fauci from the onset of the pandemic, "we'd have 500,000 deaths... we'd have 700,000, 800,000 deaths."
Alexander, who is not seeking re-election and will retire at the end of his term in January, directly contradicted Trump's claim. He did not, however, explicitly mention Trump's name or reference the criticism that Trump made against Fauci.
"If more Americans paid attention to his advice," Alexander said in his statement, "we'd have fewer cases of COVID-19, & it would be safer to go back to school & back to work & out to eat."
He later told reporters at the Capitol that he saw the ridicule of Fauci and "thought someone ought to" speak out in support of the health expert.
"I think the American people trust him," Alexander said.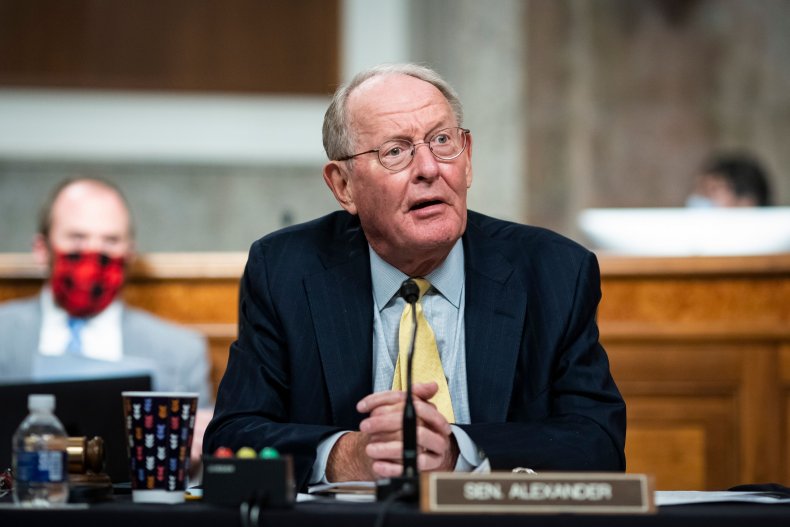 As of Monday, nearly 220,000 Americans have died from the deadly virus that persists in the U.S., despite Trump continuing to downplay the disease. New daily case counts are once again rising in the U.S., even as Trump holds massive campaign rallies and just recovered from his own coronavirus infection.
Trump sustained his attacks on Fauci throughout Monday, including on Twitter and to supporters at an Arizona rally. The barrage of criticism came after Fauci appeared on CBS 60 Minutes over the weekend and said the president equates mask-wearing with weakness.
"Dr.Tony Fauci says we don't allow him to do television, and yet I saw him last night on @60Minutes, and he seems to get more airtime than anybody since the late, great, Bob Hope," Trump wrote in a tweet. "All I ask of Tony is that he make better decisions. He said 'no masks & let China in'. Also, Bad arm!"
Newsweek rated Trump's claim about Fauci's mask-wearing comments as "mostly true" because while Fauci did say not all Americans needed to wear a face covering back in March, he changed his stance shortly thereafter. Since then, Fauci has been consistent in his advocacy for people to wear masks.
In a subsequent tweet, Trump made fun of Fauci's opening pitch for the Washington Nationals baseball team.
Trump continued his attacks against Fauci to reporters after landing in Arizona for a rally and to supporters during the event.
As the commander-in-chief levied public disapproval of Fauci throughout the day, the health official accepted a leadership award from the National Academy of Science. He stated via a video call that he is growing ever more concerned that the U.S. is "disturbingly anti-science in certain segments of our society."
This story was updated to include additional remarks from Alexander.