GOP Senator Lindsey Graham Says He Would Vote for 'Bigger' Stimulus Package
GOP Senator Lindsey Graham of South Carolina said he would vote for a "bigger" stimulus package as long as it's "smart."
As the stimulus deadlock continues, President Donald Trump reiterated his push for further relief on Tuesday. "STIMULUS! Go big or go home!!!" he tweeted.
Graham said he was aligned with the president "in terms of big."
"I think the bigger the package, as long as it's smart," the senator told reporters on Friday.
The Republican criticized the latest $2.2 trillion House proposal for including provisions that did not address the coronavirus pandemic. "There's a requirement in there for ballot harvesting. Those provisions are not about COVID," he continued, adding that he would support a larger package that has "good policy, not just big numbers."
"The $2.2 trillion package that the House passed doesn't have a penny for small business. There's no PPP money in it. There's no requirement you have a Social Security number before you get a $1,200 stimulus check," Graham added. "So that will go to people here illegally, most likely."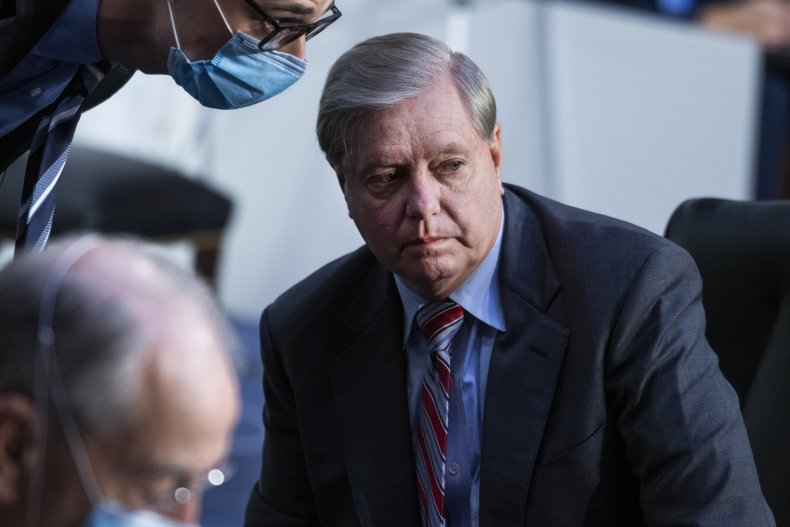 In a pre-recorded interview on Full Court Press with Greta Van Susteren, Graham said he supports another round of $1,200 stimulus checks. "There are some Republicans who don't want to spend anymore," he said. "I think we need more money, but we don't need policy provisions like the House has."
On Saturday, Senate Majority Leader Mitch McConnell announced that the Senate would vote for an additional Paycheck Protection Program (PPP) funding on Tuesday, and a $500 billion stimulus package on Wednesday.
The GOP proposal includes expanded unemployment benefits; more than $100 billion for schools; and funding for Operation Warp Speed, the federal program to fast-track a coronavirus vaccine. A second round of direct payments are not included in the bill.
"These are just some of the urgent needs that Washington should meet immediately while debates continue over the rest. This is half a trillion dollars of good that Congress can do right now," McConnell said.
Graham threw his support behind the targeted package, but also said that "the president is right to go big."
House Speaker Nancy Pelosi rejected the most recent White House $1.8 trillion offer this week, saying it was "insufficient in meeting families' needs." Amid calls from her own party to take the deal, Pelsoi invoked Trump's plea to "go big" as justification for her decision to hold out for a larger amount.
"Take it? Take it? Even the president is saying, 'Go big or go home,'" the Democratic leader said. "We really need to have an agreement, but we cannot have an agreement by just folding. I don't think our leverage has ever been greater than it is now."
Some Senate Republicans joined Pelosi in opposing Treasury Secretary Steve Mnuchin's latest proposal, which they considered too expensive and out of touch with conservative values.
Trump and Graham's calls to "go big" are expected as they both face competitive re-election bids, and another package could increase their chances on November 3, according to political analysts.
Newsweek reached out to Pelosi's office for comment.