GOP Senator McSally Uses Taxpayer Money for Robocall As She Trails Behind Dem Challenger in Polls
Democrats are blasting Republican Sen. Martha McSally for sending voters a taxpayer-funded robocall praising her own response to COVID-19 as she continues to poll behind her Democratic challenger Mark Kelly.
The communication would have normally been prohibited only weeks before an election but McSally's robocall was allowed under a Senate waiver permitting calls that provide information about the pandemic. McSally's call, heard by some Arizona voters on Tuesday night, included language similar to that used in her recent campaign speeches, according to a Thursday report from The Daily Beast.
"I'm calling today to give you an update on my work to combat COVID-19. I'm fighting hard to deliver additional resources to Arizonans still struggling due to the pandemic," McSally said in audio of the pre-recorded call obtained by Democratic PAC American Bridge, according to the outlet. "I will keep fighting to break the gridlock and get more relief out to Arizona."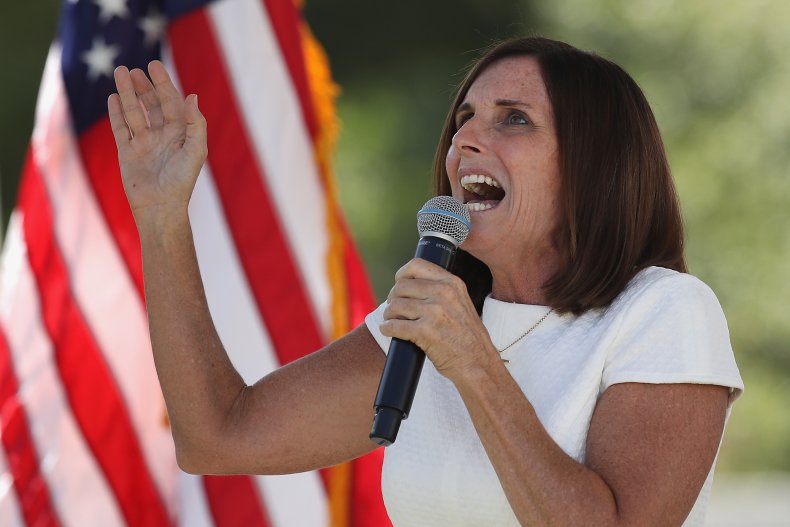 McSally's Communications Director Amy Lawrence defended the call in a statement obtained by Newsweek, saying that the senator's office had "received clear guidance from the Senate Rules Committee that this form of communication via robocall is permissible."
"Since the pandemic began, the Senator has hosted 19 telephone town halls and robocalls that focused on COVID-19," Lawrence said. "This is a first in a century pandemic and hundreds of constituents reach out to our office each week looking for help."
"Senator McSally has and will continue to keep her constituents apprised of COVID updates, and make them aware that if they need help on COVID related issues, that her office is here to assist," she continued. "It is for communication such as this that Senate Rules provided an exemption."
McSally, a former U.S. Air Force pilot who served two terms in the House, lost to Sen. Kyrsten Sinema in the 2018 election but Republican Governor Doug Ducey appointed her to fill Arizona's other U.S. Senate seat after it became vacant in early 2019.
Her race against Kelly, an astronaut and the husband of former U.S. Representative Gabrielle Giffords, is a special election that will determine who will serve as senator for the remaining two years of the term. The next full term will be contested in the 2022 election.
McSally has remained significantly behind Kelly in polling as the election quickly approaches. An average of recent polls from RealClearPolitics shows Kelly holding an 8 percent lead over the incumbent as of Thursday.
Several recent polls suggest that McSally may have to overcome a double-digit deficit to stay in office. A Thursday poll from Monmouth University that found Kelly leading McSally by 10 percent, while an Ipsos poll from Wednesday gave the challenger an 11 point lead over the senator.
A survey conducted last week by Republican pollster the Trafalgar Group predicted a closer result for McSally, giving Kelly only a 2 percent lead, within the poll's 2.95 percent margin of error.