Sen. Mike Lee (R-Utah) suggested that former President Donald Trump deserves a second chance for rhetoric that allegedly led to the Capitol insurrection, reasoning that "everyone makes mistakes" on Tuesday.
Lee made the remarks during an appearance on Fox News hours before Trump's second impeachment trial began. The senator was asked if archival clips of Democratic politicians encouraging supporters to confront their Republican counterparts showed a double standard when contrasted with criticism of Trump's speech to supporters on January 6, shortly before the violent breach of the Capitol that left five people dead. Lee said that all parties deserve a "mulligan" because they were acting on "the same natural impulse."
"Look, it's not different, these are outgrowths of the same natural impulse that exists time to time among anyone in this business and in many other businesses," Lee said. "Everyone makes mistakes. Everyone's entitled to a mulligan once in a while. And I would hope, I would expect, that each of those individuals would take a mulligan on each of those statements."
"In each instance, they're making it deeply personal," he added. "They're ceasing to make it about policy. And instead, they're talking about getting up in people's faces and making individuals feel perfectly uncomfortable. And that's not helpful."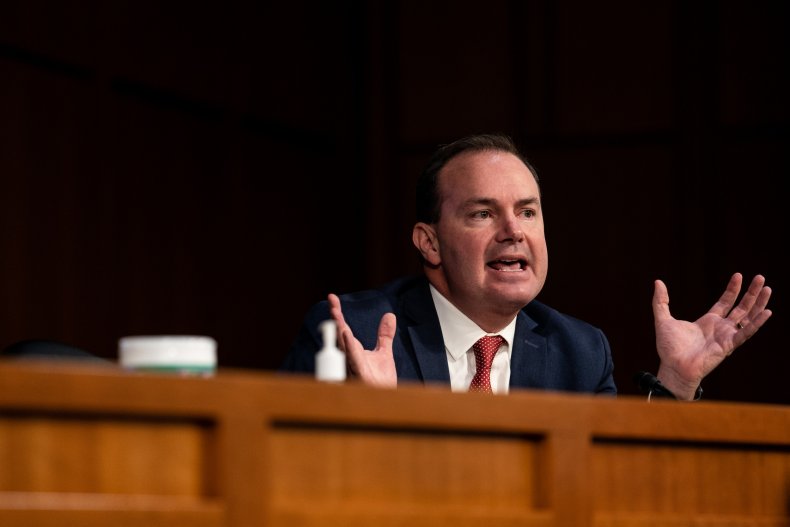 A spokesperson for Lee told Newsweek that the senator "was not talking about former President Trump at that point in the interview." The spokesperson did not immediately respond when Newsweek pointed out that Lee said the rhetoric between Democratic politicians and Trump was "not different" and claimed that "everyone's entitled to a mulligan" in the interview. This story will be updated with any further comments.
On January 13, Trump became the first president in U.S. history to be impeached by the House twice, for allegedly inciting the deadly riot. In his speech to supporters on January 6, Trump repeated false claims of massive election fraud and directed the crowd to go to the Capitol and "fight like hell" as Congress was meeting to certify President Joe Biden's victory. None of the speeches from Democrats that were shown in comparison to the Trump speech are believed to have been followed up with violence.
The term "mulligan," often used informally in golf and some types of gaming, refers an unwritten rule that allows a "second chance" to be taken after an initial attempt goes poorly. Democrats and Trump critics quickly took to Twitter and reacted with outrage to the notion that Lee was suggesting the former president's rhetoric prior to the violent riot warranted a do-over.
"Mulligan?! Several died. Hundreds injured," Democratic National Committee Chairman Jaime Harrison tweeted. "Threats were made to murder the Vice President of the US and the Speaker of the House. Our nation's Capitol Building was desecrated."
"Five people died. 139 cops were injured. Our Capitol was desecrated," tweeted Fred Wellman, executive director of The Lincoln Project. "A mulligan? Are you f'ing kidding? We give people passes for sedition and murder? Law and order my ass."
Lee also predicted that Trump would be acquitted at the conclusion of the impeachment trial during his Fox News appearance, arguing that the trial is unconstitutional because the former president is no longer in office.