GOP Senator Mike Lee Unveils 9 Bills to Block Federal Vaccine Mandates
Utah Senator Mike Lee has introduced nine pieces of legislation in opposition to federal vaccine mandates.
Lee introduced the bills last Thursday in response to the federal vaccine mandate issued on September 9 by the administration of President Joe Biden.
Four of Lee's bills would prohibit the federal government and military from mandating vaccinations or fining unvaccinated people. Two of his bills would allow people to claim vaccine exemptions based on personal beliefs or health concerns.
Another of Lee's bills would permit civil lawsuits against federal vaccine mandates.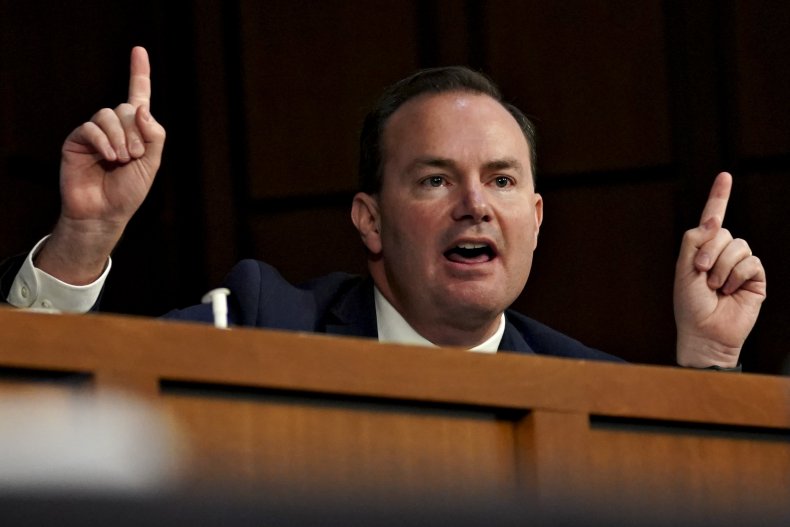 Yet another of his bills would require the Secretary of Health and Human Services to publicly disclose information about adverse side-effects caused by COVID-19 vaccines.
The last of his nine bills would require federal agencies to truthfully present information regarding the development of natural immunity against COVID-19. The bill would also require the federal government to create policies around this information.
Lee's bills don't have any co-sponsors, The Salt Lake Tribune reported. The bills are also unlikely to become law in the Democrat-led Congress. Newsweek contacted Lee's office for comment.
Biden's mandates require all federal employees to be vaccinated in the coming months or risk possibly losing their jobs. His administration also requires federal contractors to ensure their employees are vaccinated. The mandate affects some 100 million Americans, according to the Associated Press.
The move was a reversal of his administration's previous stance. Biden's press secretary, Jen Psaki, was asked in July whether the federal government should step in and issue vaccine mandates. Psaki said such mandates were "not the role of the federal government."
In a September 9 tweet, Lee called Biden a "would-be autocrat." Lee also said that Biden's mandates would "coerc[e] private citizens to undergo a medical procedure."
"The President isn't a King," Lee wrote in a September 13 tweet. "He shouldn't be able to rule by decree on vaccines or anything else, not in America.
In a September 13 Fox News appearance, Lee said that neither the Constitution nor federal law give Biden the power to issue vaccine mandates, even in the interest of keeping the American people safe.
"There are limits to what presidents can do," Lee told the network. "Joe Biden has far exceeded his power here, and it's only a matter of time before the court acknowledges it."
Lee said he worried that American business owners would likely pay fines for violating Biden's mandates out of a sense of "extortion," rather than wait for courts to settle the matter of the mandates' constitutionality.