Sen. Rand Paul (R-Ky.) has offered to a guest pass to President Donald Trump to attend the "partisan charade" of his impeachment trial.
Paul took to Twitter Wednesday to extend an invitation to Trump to attend the trial, which was posted alongside a photo of a guest pass to the Senate gallery.
"I heard @realDonaldTrump would like to attend the impeachment trial," Paul tweeted. "Mr. President, would love to have you as my guest during this partisan charade."
Trump retweeted Paul's invitation. He also retweeted and commented approval of another tweet from the senator saying that Rep. Adam Schiff (D-Calif.) speaking at the trial had unified Republicans against the "partisan charade."
Newsweek reached out to the White House to see if Trump would accept the invitation, but did not receive a response in time for publication.
Paul has consistently characterized the impeachment as a partisan attack against Trump and vowed to "end this charade" in the Senate shortly after the House voted to impeach the president. He is also one of several Republican senators to have recently declared that the outcome of the Senate trial is a foregone conclusion.
"I don't think any Republicans are going to vote for impeachment," Paul told The Hill on January 16. "I think the votes have been decided. As much as anybody will be pretending to be judicious about this, I don't think that there's one senator who hasn't decided how they're going to vote."
Politicians of both parties have accused each other of being less than fair during the impeachment proceedings. Democrats accused Republicans of engaging in a "cover-up" for Trump by not allowing witnesses at the trial on Wednesday. Republicans have largely supported Trump's repeated claim that the impeachment is part of a partisan "witch hunt" that unfairly targeted him.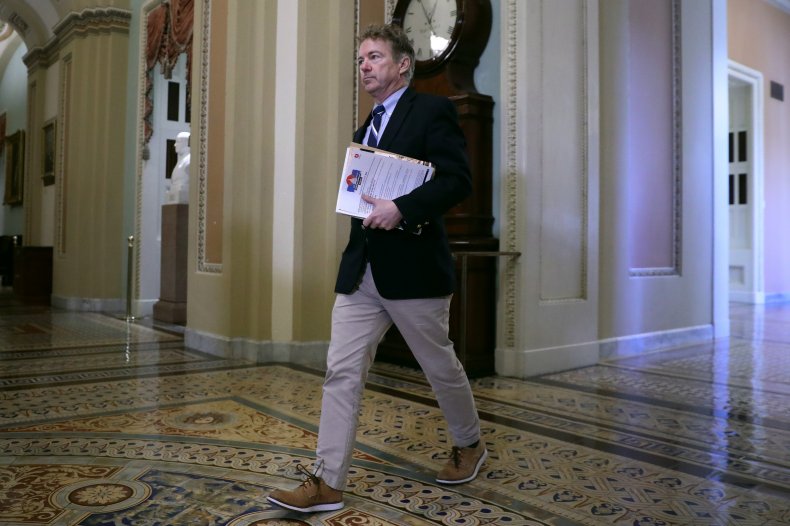 Paul ran against Trump for the 2016 GOP presidential nomination. There was no love lost between the pair at the time, with Paul describing the future president as a "delusional narcissist and orange-faced windbag." Trump characterized Paul as "weird," remarking that the senator reminded him of a "spoiled brat without a properly functioning brain" in a Twitter post.
However, Paul has changed his view considerably since Trump took office. He has mostly defended the president and supported his agenda, although there have been some exceptions. Paul has consistently opposed Trump declaring national emergencies to secure funding for the building of his border security wall with Mexico without congressional approval.
Most recently, Paul was one of a small number of prominent Republicans to publicly rebuke Trump over military escalations with Iran, including the airstrike that killed General Qassem Soleimani.
Paul should be present as the impeachment trial resumes Thursday, with Democrats expected to lay out the constitutional basis for removing Trump for allegedly abusing his power.