After Congress passed President Joe Biden's $1.9 trillion stimulus bill, Republican Senator Roger Wicker touted the relief package that would provide funding to "ensure small businesses can survive the pandemic" after voting against the package on Saturday.
Earlier today, the House narrowly passed the America Rescue Plan largely along party lines in a 220-211 vote, with all Republicans and one Democrat—Rep. Jared Golden of Maine—voting against the bill. The lower chamber initially passed the bill last month, before it was sent to the Senate, where amendments were made before the legislation was sent back to the House for a final vote. Biden will sign the bill into law on Friday.
"Independent restaurant operators have won $28.6 billion worth of targeted relief," Wicker tweeted on Wednesday afternoon. "This funding will ensure small businesses can survive the pandemic by helping to adapt their operations and keep their employees on the payroll."
The stimulus bill, Biden's first major legislative accomplishment as president, includes $1,400 stimulus checks to qualifying people, an extension of weekly $300 unemployment benefits, funding to schools, aid to state and local governments, and $28.6 billion in direct aid to restaurants.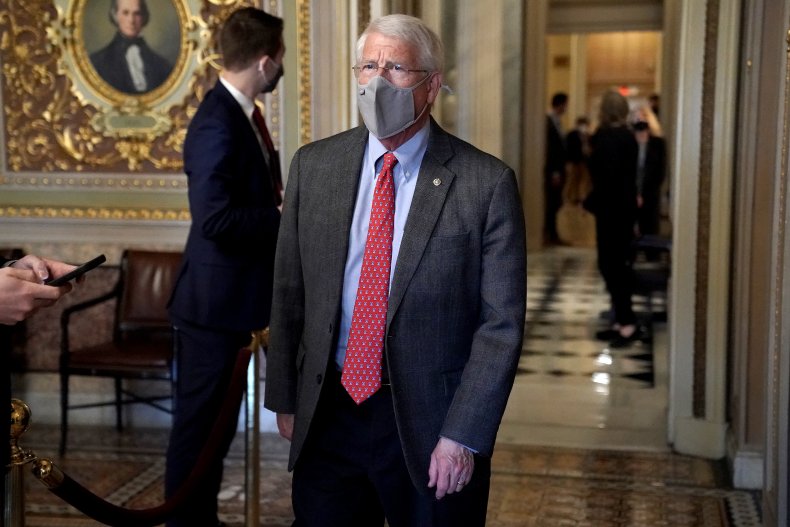 According to an article by Restaurant Business shared by Wicker in his tweet, the bill bumped up the funds reserved for restaurants by about $3.6 billion and also calls for the money in grants to provide up to $5 million to struggling restaurants or $10 million to those with several locations.
The lawmaker's tweet drew online backlash from critics and came less than a week after he voted against the bill in the Senate. On Saturday, the chamber passed the relief package along party lines in a 50-49 vote, with every GOP member opposing it.
An aide to Wicker told Newsweek on Wednesday that the senator "has supported targeted relief for restaurants from the very beginning ... He was not able to support $2 trillion in poorly targeted spending as was proposed by Congressional Democrats. He will continued working to advance targeted relief for restaurants and other groups that have been hit hard by the pandemic."
In February, Wicker explained that he opposes the America Rescue Plan because he believes it to be "premature" and not necessary.
"America received some encouraging news from the Congressional Budget Office this month. This non-partisan agency projected that our economy will return to its pre-pandemic size by the middle of this year, even without new stimulus from Congress," he said in a statement.
"This positive forecast calls into question President Biden's case for a $1.9 trillion stimulus bill, which he says is necessary to jumpstart our economy," Wicker added.
Wicker called for Biden to abandon the sprawling stimulus package and adopt a targeted relief bill that he introduced last year called the Restaurants Act, which was created to help independently-owned restaurants survive the pandemic.