After the Supreme Court rejected a Texas lawsuit backed by President Donald Trump seeking to overturn the results of the presidential election, GOP Senator Ben Sasse of Nebraska applauded the court's decision, saying it has "closed the book on the nonsense."
"Since Election Night, a lot of people have been confusing voters by spinning Kenyan Birther-type, 'Chavez rigged the election from the grave' conspiracy theories, but every American who cares about the rule of law should take comfort that the Supreme Court— including all three of President Trump's picks—closed the book on the nonsense," Sasse said in a statement Friday.
The lawsuit, filed by Texas Attorney General Ken Paxton on Tuesday, challenged the election results in four battleground states—Georgia, Michigan, Pennsylvania and Wisconsin—and asked the court to prohibit those states from casting their electoral votes for President-elect Joe Biden this month. Instead, the lawsuit requested, the vote can shift to the state legislatures, ultimately throwing out millions of votes cast in each state.
Over 100 House Republicans on Thursday signed onto an amicus brief in the suit, claiming that the general election had been "riddled with an unprecedented number of serious allegations of fraud and irregularities."
The Supreme Court rejected the lawsuit on Friday, writing in an unsigned court order that "Texas has not demonstrated a judicially cognizable interest in the manner in which another State conducts its elections."
"The Supreme Court really let us down," Trump tweeted after the decision. "No Wisdom, No Courage!"
Friday's order was the second time this week that the Supreme Court—one-third of it composed of Trump appointees—rejected Republican requests that it throw out votes over baseless claims of election fraud in Biden-won states.
On Tuesday, the court turned away an appeal by Pennsylvania Republicans to overturn the state's results, adding to a string of unsuccessful legal challenges by Republicans.
Sasse, who has been highly critical of Trump in the past, told the Washington Examiner on Thursday that the lawsuit won't hold up in the Supreme Court, claiming that it's likely an attempt by Paxton to gain a pardon from the president.
"I'm no lawyer, but I suspect the Supreme Court swats this away," Sasse said. "From the brief, it looks like a fella begging for a pardon filed a PR stunt rather than a lawsuit— as all of the assertions have already been rejected by federal courts and Texas' own solicitor general isn't signing on."
The Associated Press reported in November that seven members of Paxton's senior staff alleged that he had abused his office to benefit a friend and wealthy donor, prompting an FBI investigation.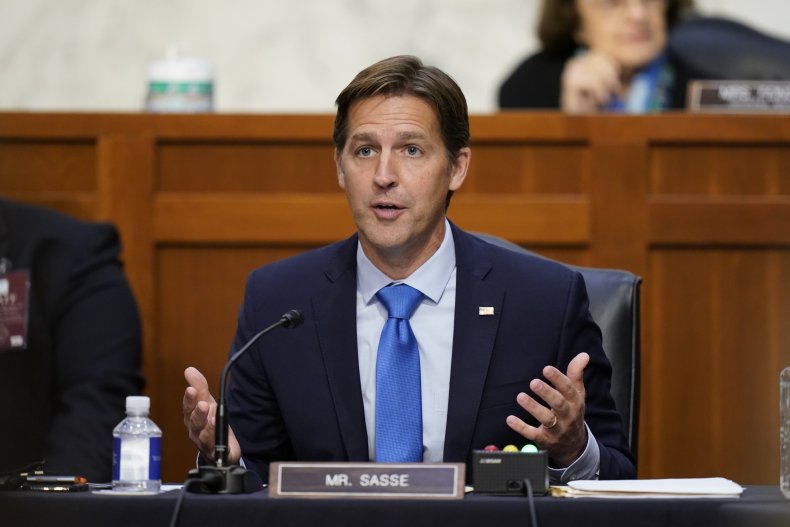 Newsweek reached out to Sasse for further comment, but did not receive a response in time for publication.
GOP Senator Mitt Romney of Utah, along with Utah Governor Gary Herbert and Lieutenant Governor Spencer Cox, criticized the lawsuit on Wednesday, despite Utah Attorney General Keven Reyes signing the brief supporting it.
"It's just simply madness—the idea of supplanting the vote of the people with partisan legislators is so completely out of our national character that it's simply mad," Romney said, according to ABC News. "Of course, the president has the right to challenge results in court, to have recounts. But this effort to subvert the vote of the people is dangerous and destructive of the cause of democracy."
Following Trump attorney Rudy Giuliani's press conference last month claiming unfounded allegations of "massive fraud" in Michigan—where Biden won by more than 150,000 votes—Romney spoke out against the Trump campaign's desperate efforts to overturn "the will of the people."
"Having failed to make even a plausible case of widespread fraud or conspiracy before any court of law, the President has now resorted to overt pressure on state and local officials to subvert the will of the people and overturn the election," Romney wrote in a statement on November 19, referencing Trump's phone call to Michigan election officials following certification of results.
"It is difficult to imagine a worse, more undemocratic action by a sitting American President," he added.
While most Republicans who haven't thrown support behind the lawsuit have stayed quiet on the matter, a small minority of state GOP lawmakers have openly questioned its validity. Republican attorneys general from Idaho, Ohio and Georgia refused to sign an amicus brief supporting the lawsuit.
Some Texas Republicans in Washington, including Senator John Cornyn, Representative Chip Roy and Representative Kay Ranger, have also opposed their state's efforts to overturn the election results.
"I read just the summary of it, and I frankly struggle to understand the legal theory of it," Cornyn told CNN's Manu Raju on Wednesday. "Number one, why would a state, even such a great state as Texas, have a say so on how other states administer their elections?"
Cornyn's comments form a stark contrast to Republican Texas Senator Ted Cruz, who agreed to argue the case before the Supreme Court if it took the case.
"We have a diffused and dispersed system and even though we might not like it, they may think it's unfair those are decided at the state and local level and not at the national level," Cornyn continued. "So it's an interesting theory, but I'm not convinced."
GOP Senator Susan Collins of Maine told reporters on Capitol Hill that she doubts the lawsuit will succeed "given what the Supreme Court did in the Pennsylvania case."
Republican Senator Josh Hawley of Missouri also told reporters that the case wouldn't stand up in the Supreme Court, but added that most Senate Republicans aren't likely to rally against it.
"My guess is it's just nobody here sort of rounded up the troops," he said, according to the Georgia Recorder. "Usually the way these things work on the amicus brief side... is somebody takes the lead and then says 'I'll write it and then I'll get people to sign on.' This was a pretty short fuse thing.'"