GOP Senator Says BLM Movement Is Trying to 'Destroy American Principles'
Georgia Senator Kelly Loeffler on Wednesday defended recent criticisms she has made about the Black Lives Matter movement, which she said "seeks to destroy American principles."
"This is a very divisive organization based on Marxist principles," Loeffler said during an interview with Fox News. "They threatened to burn the system down, literally and figuratively, if they don't get what they want."
Loeffler, a Republican, was sworn in to represent Georgia in the Senate in January after Governor Brian Kemp chose her to succeed former Senator Johnny Isakson, who resigned last year due to health concerns. Loeffler is also a co-owner of the Atlanta Dream, the Women's National Basketball Association (WNBA) team based in Atlanta, a role that came under fire after she spoke out against the team's support for Black Lives Matter.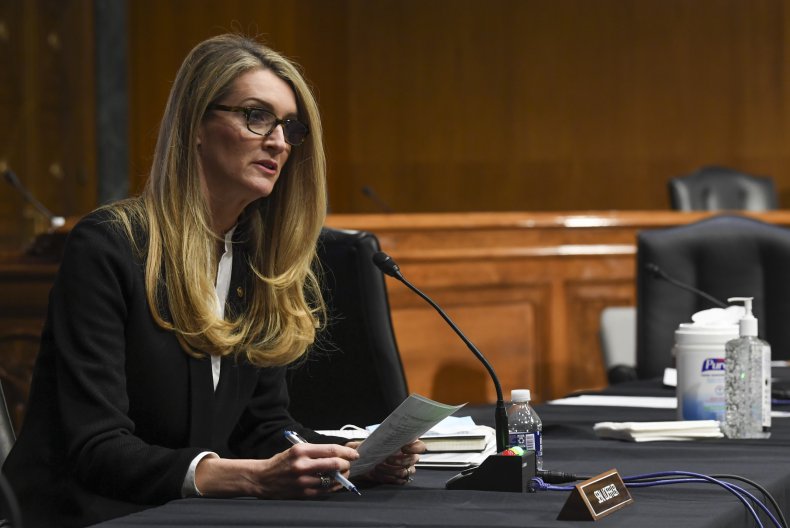 The controversy began earlier this week after the WNBA announced its 2020 season would be "dedicated to social justice" in support of Black Lives Matter and the "Say Her Name" campaign, with phrases attributed to both movements printed on team jerseys and on the courts.
In a letter Loeffler sent WNBA Commissioner Cathy Engelbert, a copy of which was obtained by the Atlantic Journal-Constitution, Loeffler objected to the league's "efforts to insert a political platform into the league."
"To subscribe to a particular political agenda undermines the potential of the sport and sends a message of exclusion," Loeffler wrote, adding that sports needed "less—not more" politics.
The WNBA responded to Loeffler's letter in a statement on Tuesday, saying Loeffler was not currently involved in the team's daily business and the league as a whole would "continue to use our platforms to vigorously advocate for social justice."
According to Loeffler, the WNBA's decision represented a sports team endorsing a political organization. "I had to draw the line. I had to speak out for those that disagree with this movement because our country's too important," Loeffler told Fox News.
"There's no room in this country for racism, but this isn't what the Black Lives Matter political organization is about," she said, pointing to rising demands to defund police departments. Calls to cut police funding and reorganize law enforcement policies are among the requests protesters have made since the Black Lives Matter movement's latest resurgence began in late May, after news spread of an incident in which a 46-year-old Black man named George Floyd died while in police custody.
Loeffler also alleged the movement was "anti-Semitic" and "doesn't support the nuclear family."
Newsweek reached out to Black Lives Matter for comment, but did not receive a response in time for publication.
Despite the criticism over the letter she sent Engelbert, the senator said she was "not going to be silenced" and did not plan to step down as a co-owner of the team.
"This isn't about me. This is about every American's right to speak out, to enjoy free speech and to support whatever cause and not be 'cancelled,'" Loeffler said. "Americans are afraid to speak out because of the 'cancel culture,' and I'm not going to be silenced by it."