GOP Senator Says They 'Can Kiss My A**' as Teachers, Unions Oppose School Reopenings Over COVID Concerns
Senator John Kennedy, a Republican from Louisiana, said, during a Monday evening interview with Fox News, that those who oppose schools' reopening "can kiss my a**," despite many educators and teacher's unions raising serious concerns about returning to the classroom during the coronavirus pandemic.
"America's going through a rough patch right now. Some people seem to be enjoying it. Maybe they just hate America. Maybe they just enjoy watching the world burn. I think some are liking the chaos because they think it gives them a political advantage. Part of that chaos is caused by school's closing. For our kids, we need to open them," Kennedy said.
"There are some people who want to keep our schools closed because they think it gives them a political advantage. They are using our kids as political pawns. To them I say, unashamedly, that they can kiss my a**," he said. The GOP lawmaker noted, however, that there are some people who have "good faith" disagreements with his position.
Newsweek reached out to Kennedy's office for further comment, but it did not respond by the time of publication.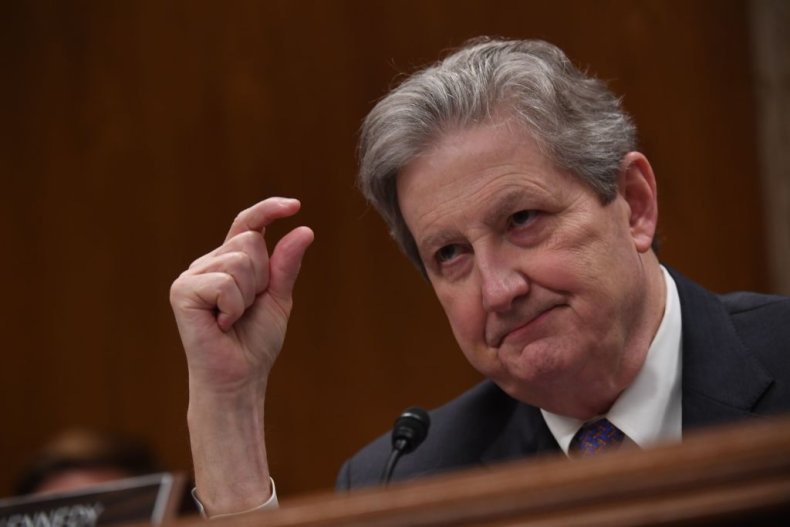 President Donald Trump and Secretary of Education Betsy DeVos have been pushing for schools to reopen in the fall, even as the new coronavirus pandemic surges in states across the country. Trump and DeVos have warned that funding could be cut to schools if they choose to remain physically closed at the end of summer, although it's unclear whether such a decision from the executive branch would be legally permissible.
Polling by Axios and Ipsos, which was published on Tuesday, showed that about 7 in 10 Americans view sending their children back to school as a large or moderate risk. That includes 82 percent of Democrats and 53 percent of Republicans. Educators and teachers' unions have raised significant concerns about the safety of returning to classrooms. Although children face relatively low risks from the virus, older teachers and parents face higher risks of having a serious, or even fatal, infection.
"There's no one that wants their kids back with us more than teachers.… But we want to open it safely," Lily Eskelsen García, president of the National Education Association, the largest teachers union in the U.S., told CNN last Wednesday.
"I double-dog dare Donald Trump to sit in a class of 39 sixth graders and breathe that air without any preparation for how we're going to bring our kids back safely," Eskelsen García said.
"I want to serve the students, but it's hard to say you're going to sacrifice all of the teachers, paraprofessionals, cafeteria workers and bus drivers," Hannah Wysong, a teacher at the Esperanza Community School in Tempe, Arizona, told The New York Times for an article published on Saturday.
"We had over 73 just of our school-based members pass away because of COVID," Michael Mulgrew, president of the United Federation of Teachers, told New York's PIX11 Morning News on Tuesday, stressing the need to reopen safely. "The fear and apprehension amongst teachers and the guidance counselors and the paraprofessionals is high because of what we've already gone through," he said.