GOP Senator Steve Daines Raked in Cash from Big Pharma While Backing Drug-Pricing Bill
Republican Senator Steve Daines of Montana received tens of thousands of dollars from large pharmaceutical companies around the same time that he attached his name to alternative drug-pricing legislation this summer, according to recent financial filings with the Federal Elections Commission reviewed by Newsweek.
Daines, one of several vulnerable Republicans in the upper chamber this election cycle, co-sponsored the Lower Costs, More Cures Act on July 2, which sought to lower the cost of prescription drugs while providing greater price transparency. The bill was introduced in December 2019 and has not advanced.
In the weeks before and after Daines threw his weight behind the proposal, he received a total of $18,500 from seven different Big Pharma political action committees (PACs). It had been several months, even up to a year since some of the PACs last donated to the first-term senator's own PAC, Steve Daines for Montana.
In the months since he endorsed the measure, Daines' PAC has received an additional $16,800 from five pharma companies, only one of which had previously contributed to his campaign about a year ago.
For this election cycle, Daines has received a total of $106,880 from pharmaceutical manufacturing companies—the fifth most of any Republican senator and eighth most of any senator.
Sen. Thom Tillis (R-N.C.), who was part of a half-dozen Republicans to first introduce the measure in December 2019, also received sizeable campaign contributions from pharmaceutical PACs after supporting the proposal.
The Daines campaign did not respond to Newsweek's requests for comment.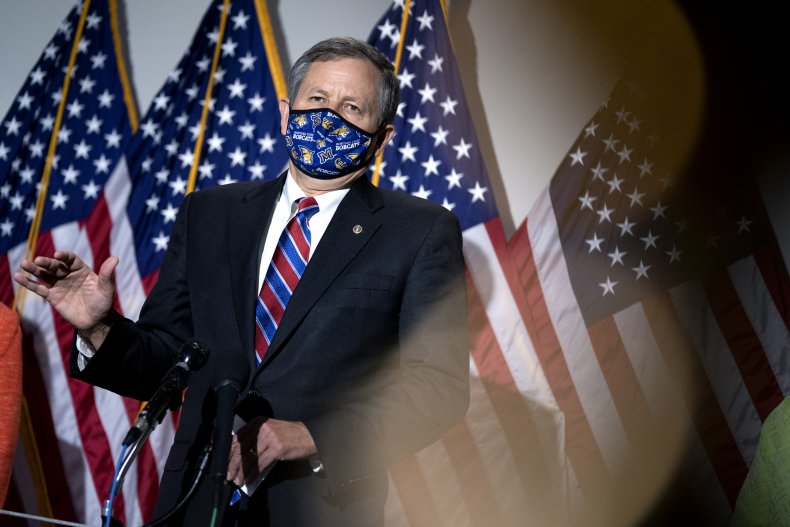 The timing of such donations are not necessarily out of the ordinary, said University of Florida Professor Suzanne Robbins, who specializes in campaign finance. PACs often give to incumbent lawmakers, and it can be difficult to tie any specific action to certain contributions.
But PACs do use their money as influence, Robbins noted.
"It's considered a way to obtain access, or at least remind an incumbent they're around, not to forget their issues and that they're important," Robbins said. "It's always hard to say, is it access? The Supreme Court says that's okay. Does it feel not so nice? Probably, from a normal person's perspective."
Democrats pointed to the contributions to suggest his support for the legislation could have been motivated by the money flowing in amid a tough re-election battle. Daines' Democratic challenger, Montana Gov. Steve Bullock, has outraised the incumbent by roughly $13.5 million this cycle.
"It's clear that Senator Daines has spent his years in Washington helping out his Big Pharma donors, while Montanans have had to pay more than ever for their prescription drugs," Bullock campaign spokesperson Sean Manning said.
The state Democratic party offered similar criticism.
"Now that his political future is in jeopardy, Steve Daines is trying to lie about his record of cozying up to Big Pharma," said Montana Democratic Party Spokesperson Christina Wilkes. "But people see right through this charade—Daines has always put his corporate backers first, not Montanans."
In the weeks leading up to Daines co-sponsorship of the Lower Costs, More Cures Act on July 2, his PAC received donations from the PACs of five pharma companies ranging from $1,000 to $3,000 each: Mylan, Bristol Myers Squibb, Zeneca, Johnson & Johnson, and Abbott Laboratories.
In the immediate days and weeks following his endorsement, Daines' PAC received three more pharma contributions: $2,000 from Sanofi on July 5, a second donation from Johnson & Johnson for $2,500 on July 14 and $2,500 from CSL Behring on July 22.
In August and September, the Steve Daines for Montana PAC saw another $16,800 come from five pharma PACs, some of which had previously donated just months prior. The donations ranged from $2,000 to $5,000 each: PhRMA, AmerisourceBergen, VGM Group, Pharmaceutical Care Management Association and Abbvie.
Though Daines is considered a vulnerable senator, some election forecasters like FiveThirtyEight and Sabato's Crystal Ball project the race is favored toward Daines. Others, such as the Cook Political Report and Inside Elections, say the contest is a toss-up.