GOP Senator Suggests He May Oppose Biden's Treasury Pick, Says He 'Voted Against' Yellen for Fed
Senator John Barrasso, a Wyoming Republican, suggested that he may oppose President-elect Joe Biden's treasury secretary nominee, Janet Yellen.
Although Biden has not officially named Yellen to lead the Treasury Department, her expected nomination was first reported by The Wall Street Journal on Monday and later confirmed by multiple news outlets. Yellen served as the chair of the Federal Reserve under Presidents Barack Obama and Donald Trump, from 2014 until 2018. However, some Republicans, including Barrasso, opposed her nomination to that post as well.
"I voted against her when she was brought up to be confirmed for the Federal Reserve," Barrasso, chair of the Senate Republican Conference, responded during a Wednesday interview with CNBC's Squawk Box, when asked if he'd vote against Yellen's nomination to lead the Treasury Department.
"Everybody nominated after the inauguration in January is going to have to come for hearings, testify, answer questions, and we'll make decisions at that time," he said.
Barrasso also said that Trump "was blockaded" by Democrats "every step along the way to get his people and this Cabinet nominated." He called it "obstruction all the way by the Democrats."
Biden transition spokesperson Sean Savett, noting that Biden has not confirmed whether or not Yellen will be nominated, told Newsweek that the president-elect hopes to work in a bipartisan manner when he takes office.
"The president-elect has begun nominating a diverse team of outstanding public servants with stunning achievements and decades of experience," Savett said in an emailed statement. "He looks forward to working in good faith with both parties in the Senate to swiftly consider these highly qualified nominees to ensure our government is prepared to protect our national security, tackle the pandemic and act on the urgent crises facing our nation."
To confirm Cabinet appointees, Biden will need the support of 51 senators. If there is a tie, Vice President-elect Kamala Harris will cast the deciding vote. With two Senate runoffs taking place in Georgia on January 5, it's still unclear which party will control the upper chamber of Congress. If Democrats win both the Georgia races—a difficult undertaking in a historically conservative state—the Senate would be evenly split, 50 to 50.
When Yellen's confirmation vote to chair the Federal Reserve was held in January 2014, 26 Republicans voted "nay," while multiple others—including Senate Majority Leader Mitch McConnell, a Kentucky Republican who was minority leader in 2014—did not vote. Although many of those GOP opponents remain in the Senate, other moderate Republicans, such as Senators Susan Collins of Maine and Lisa Murkowski of Alaska, voted to confirm Yellen. How her confirmation to the treasury secretary post will play out next year remains to be seen.
On Tuesday, Senator Pat Toomey, a Pennsylvania Republican, expressed his openness to Yellen's nomination.
"As the Senate considers Dr. Yellen's nomination to lead Treasury, I look forward to discussing with her a variety of issues, especially the requirement for CARES Act temporary emergency lending facilities to shut down by year-end and remain shut down, absent congressional action," Toomey tweeted.
Democrats are concerned that McConnell and Senate Republicans will be able to successfully block the Biden administration's agenda if they retain control of the upper chamber. McConnell has declined to even hold votes on many pieces of legislation passed by the Democrat-controlled House of Representatives, thus preventing them from moving forward in the legislative process.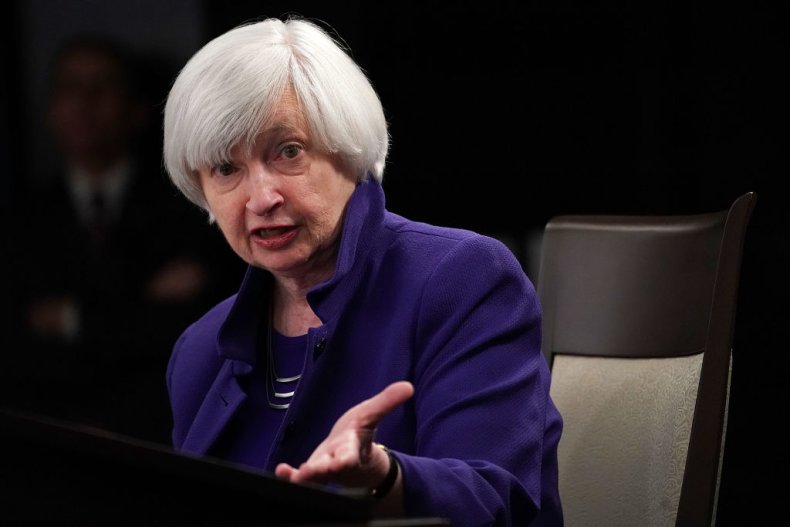 It appears unlikely that McConnell will have enough votes to prevent Biden from securing key Cabinet appointments, as at least several moderate Republicans would be expected to approve them. But Democrats and Republicans are both touting the importance of the two Senate runoffs in Georgia—with GOP lawmakers arguing they need the seats to block the president-elect's agenda and Democrats saying they are vital for legislative success in Biden's first two years.
Newsweek reached out to McConnell for comment but did not receive a reply in time in time for publication.
This story has been updated with comment from a Biden transition spokesperson and a tweet from Senator Pat Toomey.