GOP Senator Susan Collins Argued Against $870 Million In Pandemic Funding, Said It Didn't Belong In 2009 Stimulus Package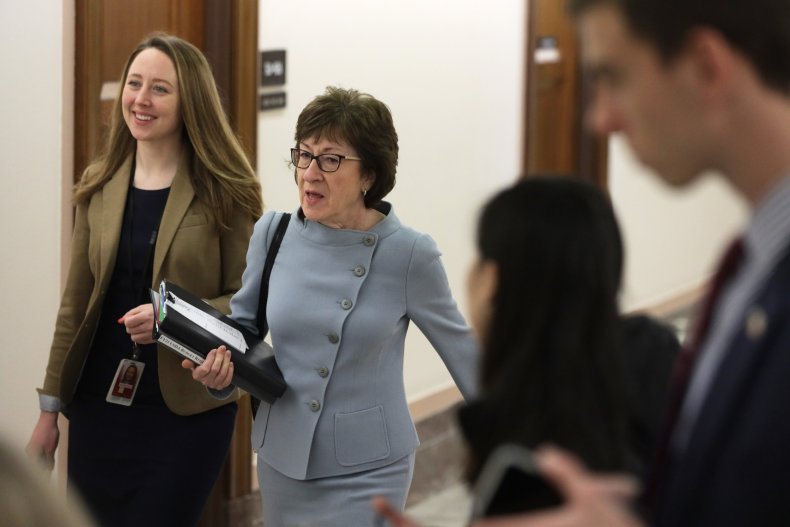 As U.S. health officials have expressed concern over the insufficient amount of testing and overall unpreparedness in the face of the COVID-19 pandemic, a 2009 stimulus bill has gained attention for the removal of funding for pandemic preparations.
Politico senior writer Michael Grunwald posted a tweet Friday that explained Maine Senator Susan Collins successfully argued for the removal of pandemic flu preparation funds from the stimulus package 11 years ago: "I had forgotten my own reporting that Senator Collins stripped $870M for pandemic preparations out of the 2009 stimulus."
According to Grunwald, then-Senator Joe Lieberman convinced Collins to shift the $870 million over to funding for community health centers instead of removing it outright. However, Collins did vote to fund pandemic flu research in a different bill only four months after the stimulus passed.
Collins wasn't the only supporter of removing the pandemic funding from the bill, according to a 2009 article from The Hill. That article quotes both Collins and New York Senator Chuck Schumer as being advocates for the funding not to be included in the stimulus package meant to infuse a sluggish U.S. economy in the midst of a recession.
"I think everybody in the room is concerned about a pandemic flu. But does it belong in this bill? Should we have $870 million in this bill? No. We should not," Collins told MSNBC at the time.
In a separate interview, Schumer celebrated the eventual removal of the funding from the bill. "All those little porky things that the House put in, the money for the [National] Mall or the sexually transmitted diseases or the flu pandemic, they're all out," he said in 2009.
The 2009 Recovery Act was a $787 billion stimulus package meant to provide relief from the recession that occurred the previous year by saving jobs and providing massive government aid to halt the economy from collapsing any further. The bill passed the House of Representatives with bipartisan opposition. It later passed the Senate with bipartisan support. Collins was one of three Republicans to vote in favor of the bill that passed with a supermajority in a 60-38 vote, avoiding a filibuster.
Annie Clark, the director for communications for Collins, corrected Grunwald in a tweet stating that both Collins and Schumer "said publicly at the time that it should not be done in an emergency vehicle to save the nation's economy from collapse."
Clark also mentioned that four months later both Collins and Schumer voted for a bipartisan bill in support of pandemic preparation funding. According to the Center for Infectious Disease Research and Policy at the University of Minnesota, that bill was "$7.65 billion for battling pandemic influenza, more than three times what the House and Senate had earlier proposed."
At a congressional hearing Wednesday, Dr. Robert Redfield, the director of the Centers for Disease Control and Prevention, testified that the CDC has been underfunded for decades. With regards to testing, Dr. Anthony Fauci, the director of the National Institute of Allergy and Infectious Diseases, stated that it is a "failing" of the American health care system that tests are not readily available en masse to the general public.
"The system is not really geared to what we need right now. That is a failing, let's admit it. The fact is the way the system was set up...was a system where you put [tests] out there in the public and a physician asks for it and you get it," Fauci said to lawmakers. "The idea of anybody getting it easily the way people in other countries are doing it, we're not set up for that. Do I think we should be? Yes, but we're not."
According to the CDC's website, 3,903 specimens have been collected for testing to date by CDC labs in the U.S. Another 9,721 have been collected for testing in public health labs around across the country. In comparison, about 18,000 people have been tested in the United Kingdom, 140,000 people have been tested in South Korea, and China is testing 1.5 million people per week, according to Dr. Amesh A. Adalja, a senior scholar at Johns Hopkins Center for Health Security. There are over 1,200 confirmed COVID-19 cases in the United States and 36 deaths.
On Friday afternoon, Grunwald retweeted a response to his initial tweet from National Republican Committee Senior Adviser Matt Whitlock, who also pointed out that the Politico writer hadn't mentioned Collins' later vote.
"It doesn't point to anything I wrote that was wrong - because I didn't write anything that was wrong - but says Collins supported more $ for a pandemic in a later bill," Grunwald wrote in part of Whitlock's response to him.