A GOP senator who is seeking re-election in November donated $400 each to the campaigns of two fellow Republicans running for state legislature, both of whom subscribe to the QAnon conspiracy theory.
Last month, through her personal action committee, Dirigo PAC, Senator Susan Collins, a Republican from Maine, contributed the money to the campaigns of Kevin Bushey and Brian Redmond, records on Follow the Money show.
Both Bushey and Redmond are hoping to unseat their Democratic incumbents in November for a spot in Maine's House of Representatives. Bushy and Redmond would each represent parts of Aroostook County in the state's northernmost corner, where Collins was born and raised, Mainer reported.
Bushey and Redmond are military veterans and supporters of QAnon, an unfounded and widespread conspiracy theory. Followers generally believe that President Donald Trump's administration is engaged in a secret war against elite Satan-worshipping pedophiles in government, business and the media, according to the BBC.
In 2019, the FBI named QAnon as a domestic terrorism threat, according to a document obtained by Yahoo News. In September, FBI Director Christopher Wray said agents view QAnon "as less of an organization and more of a complex set of conspiracy theories."
Twitter, which has joined other social media platforms in cracking down on conspiracy theories like QAnon, banned Redmond's account earlier this month. Redmond "repeatedly tweeted the QAnon hashtag and the QAnon slogan," according to Media Matters.
Redmond told Mainer that he first discovered QAnon in the comments section of Zero Hedge, a far-right blog known for spreading conspiracies.
"I was hooked right off the bat," said Redmond, who now considers himself an investigative journalist. "It was an opportunity to wrestle back control of our government from subvertists and treasonists.… As a veteran, I was called to arms."
Redmond is running for public office for the first time, looking to unseat Democrat David McCrea, a retired teacher who's seeking a third term representing a district in eastern Aroostook County, according to Mainer.
Bushey, for his part, serves as a ministry leader at Omega Kingdom Ministry (OKM), part of a network of independent congregations in which a "QAnon church" operates out of, according to The Conversation.
"Welcome to Omega Kingdom Ministry outreach. If you are just learning about QAnon and The Great Awakening, this is the right spot for you," reads OKM's website. "Ministry leaders Russ Wagner and Kevin Bushey provide weekly updates for anyone seeking more information and knowledge about QAnon and The Great Awakening."
Bushey is making a second attempt in defeating Democrat John Martin, who's served in Maine's state legislature for more than 50 years. In Bushey's first election two years ago, he received over 40 percent of the vote against Martin, according to Mainer.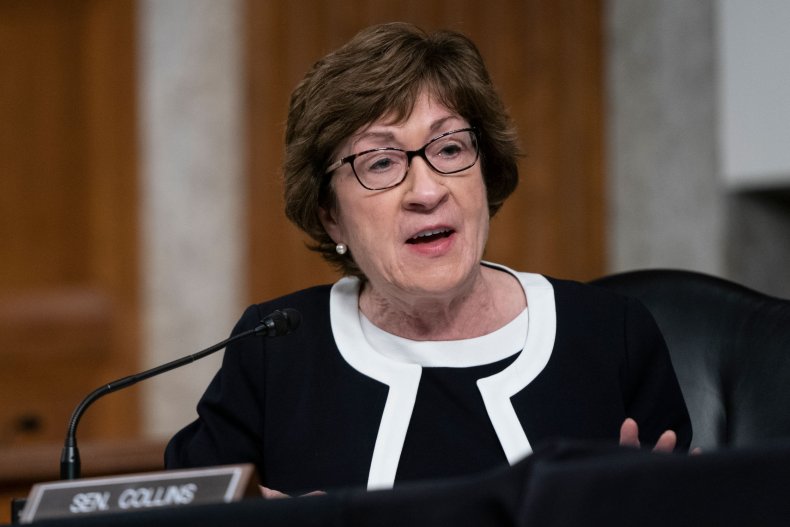 Collins, who has served as a U.S. senator since 1997, is in the midst of her own re-election campaign against Maine's House Speaker Sara Gideon, a Democrat.
The most recent poll conducted October 2 through 6 by Pan Atlantic Research places Gideon ahead of Collins, receiving 47 percent of likely voters' support compared to Collins' 40 percent.
Al Diamon, a political columnist for The Portland Phoenix, told Mainer that Collins "should have been really careful about who she gives money to" given the closeness of her race, speculating there's "no way" Collins and her staff wouldn't have carefully vetted the donations to Bushey and Redmond.
PACs like Dirigo "are very specific about who they give to, because they're entirely designed to advance your political career," Diamon told Mainer. "So if you give to somebody from one of those PACs, you are expecting something in return."
Annie Clark, a spokeswoman for Collins, told Newsweek in a statement that the senator "denounces QAnon as well as the conspiracy theories advanced by the group."
"Dirigo PAC makes contributions at the state level based on the recommendation of the Maine Republican Caucus. It was not aware of the activities of these individuals at the time these two donations were made," Clark wrote. "Dirigo PAC will likely reconsider its vetting process in the future."
Update (10/16/20, 4:48 p.m.): This article has been updated to include a comment from Senator Susan Collins's office.