GOP Senator Susan Collins Replaces Mitch McConnell As the Senate's Most Unpopular Member: Poll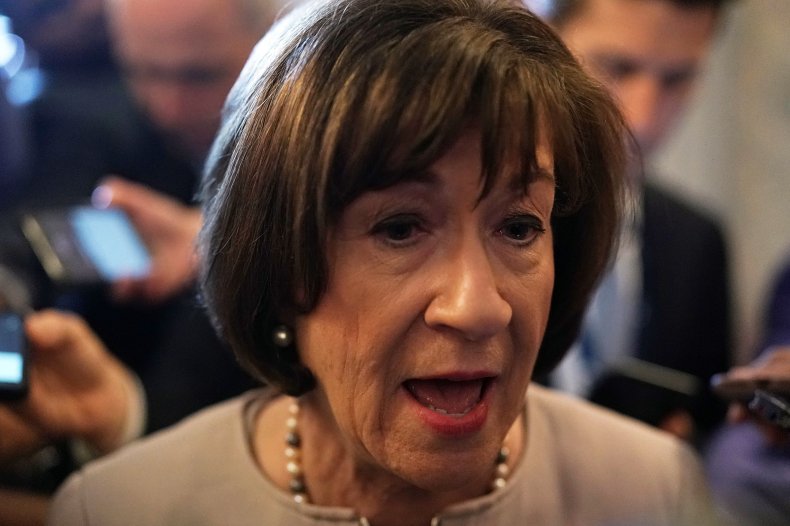 Sen. Susan Collins (R-Maine) has overtaken Senate Majority Leader Mitch McConnell (R-Ky.) as the least liked senator in the United States, according to a new tracking poll.
Collins was deemed to be the country's least popular senator after the survey from Morning Consult found that a majority of Maine residents, 52 percent, disapprove of Collins, while 42 percent approve. McConnell was the second least popular, registering 50 percent disapproval and 42 percent approval ratings.
"This is an online poll that has little credibility. We are confident that it does not reflect reality, and Senator Collins remains focused on the job that Mainers elected her to do," said Collins campaign spokesman Kevin Kelley in a statement to Newsweek.
Collins has seen her net approval rating plummet 10 percent since September, after coming under fire by members of both parties due to her role in the impeachment proceedings against President Donald Trump. The senator has given mixed signals about the impeachment, while recently pledging to be a neutral juror in the Senate trial.
What critics view as wavering positions on issues include whether the trial should allow witness testimony has made her the subject of bipartisan frustration. She issued a statement Thursday indicating that she has not made any decisions about witnesses, but she will likely support witnesses being called if the trial follows procedures in a manner similar to the 1999 impeachment trial of former President Bill Clinton, which took place three years after she was first elected to the Senate.
"While I need to hear the case argued and the questions answered, I tend to believe having additional information would be helpful," Collins said in the statement. "It is likely that I would support a motion to call witnesses at that point in the trial just as I did in 1999."
Although she is currently the senator with the country's lowest approval rating, Collins previously enjoyed a great deal of popularity in her home state. She won her most recent election by a wide margin, garnering over 68 percent of the vote in 2014. Her approval rating dipped around the time she played a key role in the controversial 2018 Senate confirmation of Supreme Court Justice Brett Kavanagh.
Many of the Trump supporters who make up a large segment of her base are likely to be upset with Collins if she takes any position they don't believe to be strongly favorable to the president. Conversely, her seat is vulnerable to a Democratic takeover in the upcoming election, so courting independents and potential Democratic supporters is also key to her political future.
Despite his leadership position in the Senate, McConnell has struggled with low approval ratings for many years. However, he has typically easily won reelection since first becoming a senator in 1985. He took just over 60 percent of the vote in 2014. Although he is not considered as at-risk as Collins, McConnell's seat is also seen as potentially vulnerable in the upcoming election.
The survey also tracked the country's most popular senators. Sen. Bernie Sanders (I-Vt.) took the top position, with 65 percent approving and 29 percent disapproving of the presidential candidate. Republican Wyoming Sen. John Barrasso was in second place, enjoying a 64 percent approval rating and a disapproval rating of only 21 percent. The below graph, provided by Statista, shows some of the least popular U.S. senators.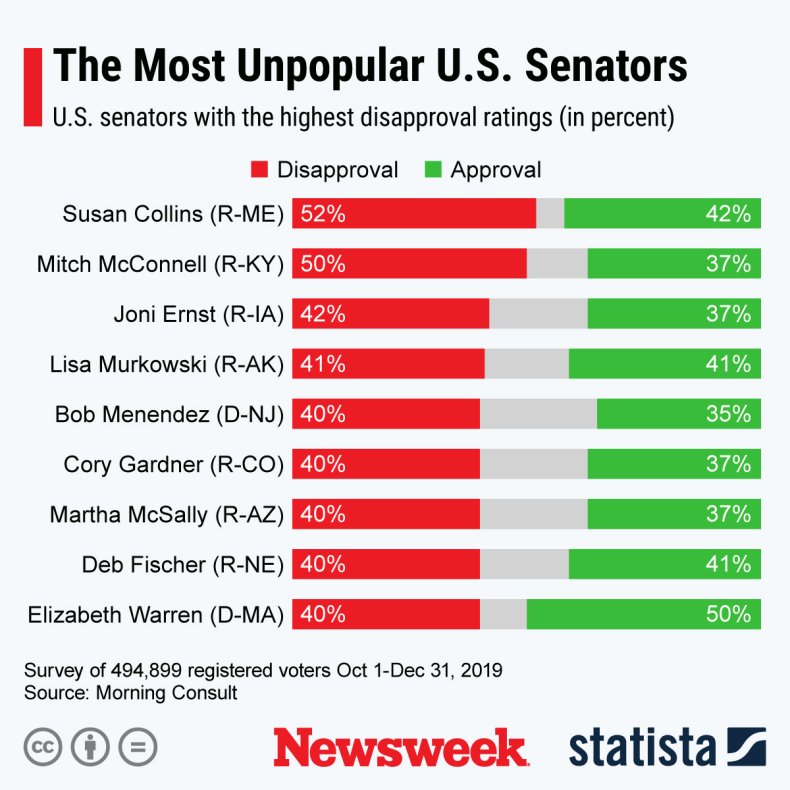 Update (1/17/20, 4:15 p.m.): This article has been updated with a statement from Susan Collins' campaign.