GOP Senator Susan Collins Sent Coat Hangers by Abortion Rights Activists
Republican Senator Susan Collins is being sent coat hangers in the mail by abortion rights activists keen to encourage her to vote down any Supreme Court nominees who would threaten Roe v. Wade.
Collins indicated in a recent article in Maine's Portland Press Herald that she would not take Roe v. Wade into consideration when voting on a replacement for Justice Anthony Kennedy, prompting fears a new justice will overturn the court's 1973 landmark decision on abortion.
And as a reminder of the horrific lengths people have previously gone to in order to perform unsafe abortions when the practice has not been available, abortion rights activists have been sending Senator Collins coat hangers to remind her of what they say is at stake, The Cut reported.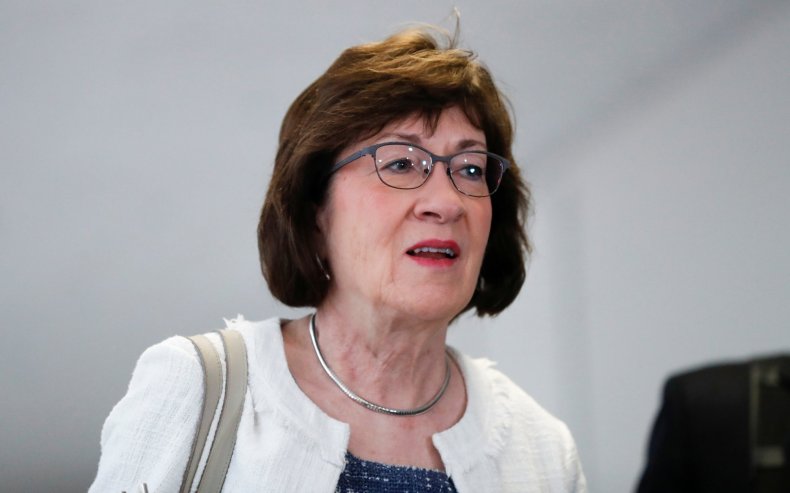 "Sent mine. You sent yours? " one Twitter user wrote, sharing a picture of a coat hanger, while another added: "Nobody should trust what Collins says. I'm considering her a pro coat hanger Senator until she proves me wrong."
However, the senator later said she would be looking to precedent in her vote on Supreme Court nominees, suggesting Roe v. Wade would have an impact on her decision.
"I view Roe v. Wade as being settled law," Collins said in comments carried by The Hill this week. "It's clearly precedent, and I always look for judges who respect precedent."
And in an interview with CNN's State of the Union on Sunday, Collins went a step further, stating she would not back a justice who wanted to overturn Roe v. Wade.
"I would not support a nominee who demonstrated hostility to Roe v. Wade because that would mean to me that their judicial philosophy did not include a respect for established decisions, established law," Collins told CNN, also adding that the president had said he would not be asking nominees their opinion on the landmark case.
The president told me in our meeting that he would not ask that question," she said.
"A discussion of precedent, however, is very important. What I want to see is a nominee who, regardless of his or her personal views on the very difficult and contentious life issue, is going to respect precedent. I've had a number of judges who say to me that good judges are always unhappy with some of their decisions, but they make the right call regardless of their personal views. And that's what I want to see in this nominee," she added.