GOP Senator Tells Tucker Carlson China Should 'Foot the Bill' for Damage Caused in the U.S. by Coronavirus
Senator Josh Hawley (R-Mo.) called for an "international investigation" into the origins of COVID-19, while suggesting that China should "foot the bill" for the U.S. spread of the virus on Thursday night.
Hawley made the remarks on the latest edition of the Fox News show Tucker Carlson Tonight. The senator said there should be an investigation into where the virus came from, while also stating that he already knew where it originated.
"We ought to have an international investigation into where this came originated," said Hawley. "We know where it was. It was China."
"China ought to be held to account. And they ought to foot the bill for what the world, including the United States, is now suffering," he added.
Hawley and host Tucker Carlson stressed that the Chinese government had engaged in a "cover-up" of the virus, delaying a response to the emerging health crisis by attempting to silence whistleblower doctors when the outbreak was first detected.
Hawley also said that he was "heartened" by President Donald Trump's "aggressive response" to the pandemic. When the virus first began to spread significantly in January, Trump downplayed the risks, comparing the virus favorably to a seasonal flu and claiming concerns about it were a "new hoax" created by Democrats during a February 28 rally.
Newsweek reached out to Hawley for comment but did not receive a response in time for publication.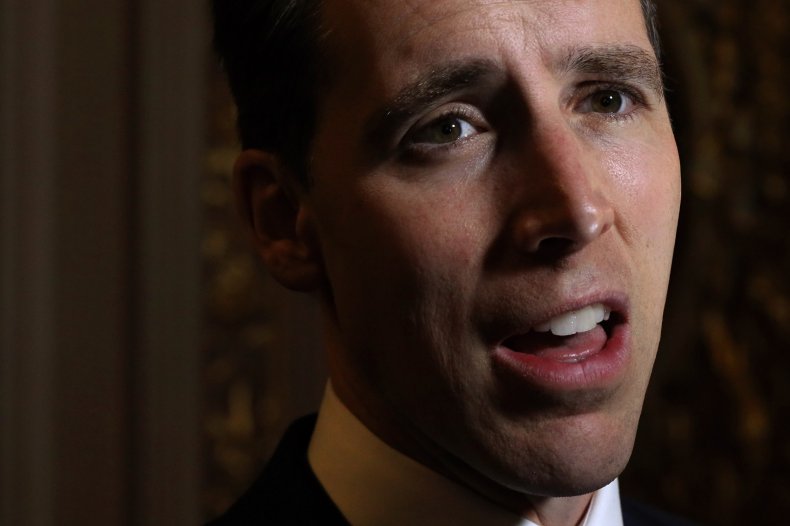 Few have disputed that the virus was first detected in China late last year, but many Republicans have been increasingly calling COVID-19 "the Chinese virus" as U.S. cases have quickly multiplied. Critics have denounced the moniker as xenophobic, insisting that needlessly applying an ethnicity to a pathogen could inspire racist attacks on Asian Americans.
Trump claimed that Asian Americans would approve of the use of the term in a press conference Wednesday, dismissing the concerns of a reporter who asked about an unnamed White House official dubbing the disease "Kung Flu."
"I think they probably would agree with it [referring to COVID-19 as "the Chinese virus"] 100 percent," said Trump. "It comes from China, there's nothing not to agree with."
Hawley's colleague Sen. Tom Cotton (R-Ark.) has also pinned the blame for the U.S. rise of COVID-19 on China, while promoting a discredited and debunked conspiracy theory that the virus was created in a lab by the Chinese government.
Scientists who have studied the pathogen disagree, and a study published Tuesday in the peer-reviewed medical journal Nature Medicine confirmed the natural origins of the virus, determining that it could not have been engineered in a lab.