GOP Senator Urges Colleagues to Shun Chinese Officials 'In the Halls of Congress' As Trump Ponders Cutting Ties With Beijing
Republican Senator Marsha Blackburn of Tennessee on Thursday urged her colleagues not to take meetings with Chinese companies and to shun Beijing officials in the halls of Congress after President Donald Trump pondered cutting ties with the Asian nation amid escalating tensions.
"Chinese Communist Party officials and Chinese entities should be shunned in the halls of Congress," Blackburn wrote In a "Dear Colleague" letter dated May 14. "Please join me in warning Beijing that any Chinese agent of repression, even those dressed in business suits to disguise the green Maoist uniforms that they support, are not welcome to step foot in our offices or to lobby our staff."
The move, the senator said, would deny "China an opportunity to spread Communist propaganda in congressional offices" and also send a "warning shot to Beijing that Congress will not tolerate Beijing's misinformation over the origins of the COVID-19 outbreak."
Blackburn noted that blacklisting China in Congress would mirror punitive steps that the executive branch has already implemented.
"The Committee on Foreign Investment in the United States routinely blocks Chinese acquisitions of American companies to guard against national security risks," she wrote in the letter. "The U.S. Department of Commerce blacklists Chinese companies that enable human rights abuses or act contrary to U.S. foreign policy or national security."
Newsweek reached out to the office of Chinese Ambassador to the United States Cui Tiankai via email for comment. This story will be updated with any response.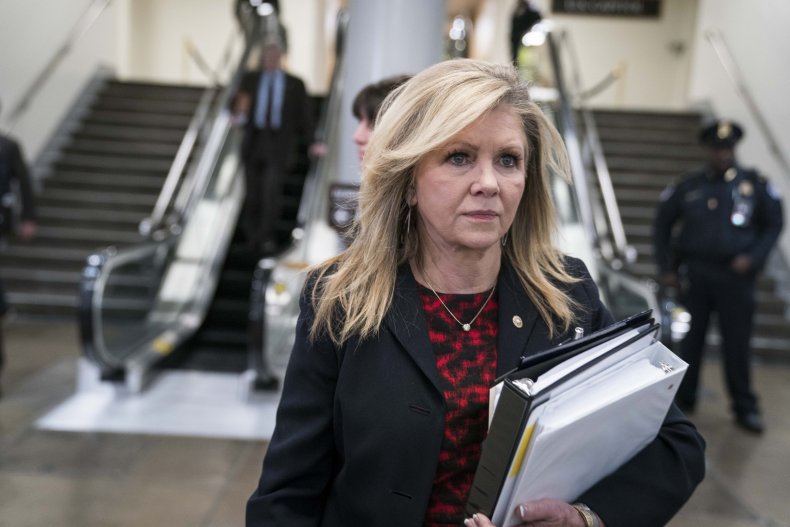 Blackburn's letter was sent hours after Trump suggested that the U.S. might completely cut ties with Beijing during an interview with Fox Business host Maria Bartiromo. "There are many things we could do," the president said. "We could cut off the whole relationship... You'd save $500 billion if you cut off the whole relationship."
Tensions between Beijing and Washington, which predates the virus, have escalated significantly in recent months, with each attempting to shift the blame of the global pandemic onto the other.
U.S. officials have accused China of failing to be transparent about the origins of the coronavirus and covering up the severity of the outbreak in the early stages, before the new disease became widespread overseas.
Beijing has repeatedly defended their handling of the outbreak and denied allegations from Trump and other U.S. officials that the virus originated from a lab in Wuhan. China has also urged America to focus on their domestic outbreak, instead of blaming Beijing for their allegedly poor response to the pandemic.
A Newsweek exclusive on Tuesday reported that the Central Intelligence Agency (CIA) believes that China tried to block the World Health Organization from declaring a global health emergency in January as Beijing was stockpiling personal protective equipment from other countries to assist their response.