GOP Senator Urges Trump to Begin Transition Process for Biden
Tennessee Senator Lamar Alexander released a statement Friday urging President Donald Trump to begin the transition process for Joe Biden following the Democrat's projected victory.
"If there's any chance whatsoever that Joe Biden will be the next president, and it looked like he has a very good chance, the Trump administration should provide the Biden team with all transition materials, resources, and meetings necessary to ensure a smooth transition so that both sides are ready on day one. That especially should be true, for example, on vaccine distribution," Alexander's statement read.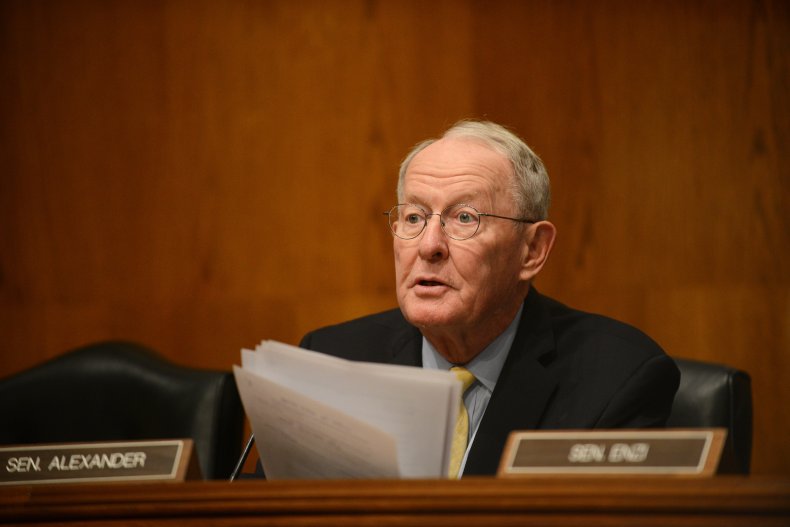 The statement continued, "Recounting votes and resolving disputes after a close election is not unprecedented and should reassure Americans that election results are valid."
Alexander's statement comes amid the political turmoil that followed Biden's projected win, as Trump attacked the election's results with substantiated claims of widespread voter fraud.
Newsweek reached out to Alexander and Trump's campaign for comment but did not hear back in time for publication.
Alexander's statement goes on to discuss the 2000 election, when Al Gore "finally conceded 37 days" following the election, "and then made the best speech of his life accepting the result."
"My hope is that the loser of this presidential election will follow Al Gore's example, put the country first, congratulate the winner and help him to a good beginning of the new term," the senator wrote.
While Alexander's statement does not call for Trump to concede the election, several other Republican lawmakers have issued similar statements.
South Carolina Senator Lindsey Graham, who has been a strong supporter of Trump's position since Biden's projected win, made similar comments on Thursday, saying that the president should begin to give Biden intelligence briefings.
"The president is contesting the election, and I would urge him to give intel briefings to Joe Biden," Graham said. "How much further to go? I don't know. We're gonna be fine at the end of the day. This thing will work itself out. It always has."
On November 9, 31 former Republican lawmakers signed an open letter calling on Trump to concede.
"Every vote should be counted and the final outcome accepted by the participants because public confidence in the outcome of our elections is a bedrock of our democracy," the statement read. "Going forward, it is our hope the nation will, regardless of party or persuasion, recognize President-Elect Joe Biden has won this election."
In addition to the 31 former Republican members of Congress, several other prominent GOP lawmakers, such as Utah Senator Mitt Romney, Nebraska Senator Ben Sasse, Maine Senator Susan Collins and Maryland GOP Governor Larry Hogan, have called for Trump to concede.