GOP Senator Used Private Jet as COVID Precaution While Blaming Media, Democrats for Creating Hysteria About Virus
Wisconsin Senator Ron Johnson, a Republican, has been using a private plane to travel to and from Washington, D.C., as a precaution during the coronavirus pandemic despite publicly saying that the media and Democrats have overexaggerated the virus' threats.
Jake Sherman, a reporter with Politico, first reported on Johnson's new mode of travel in a tweet on Monday. A spokesperson for Johnson's office later told the Milwaukee Journal Sentinel that Johnson started using the private plane, which is owned by his children's company, earlier this year for "safety and logistical reasons." According to federal aviation records obtained by the paper, Johnson has flown from his home state to the nation's capital and back 14 times since early May.
Johnson's spokesperson, Ben Voelkel, said that the senator's decision to fly in a private plane did not contradict previous statements Johnson has made about the severity of the virus.
"Senator Johnson has repeatedly said he respects this disease, does not downplay its severity or human toll, has supported the use of masks in appropriate situations and does everything he can to avoid getting or spreading it," Voelkel told the paper. "Flying a private charter is entirely consistent with his public statements."
Johnson previously traveled on commercial flights and has paid for all of the flights himself, Voelkel added.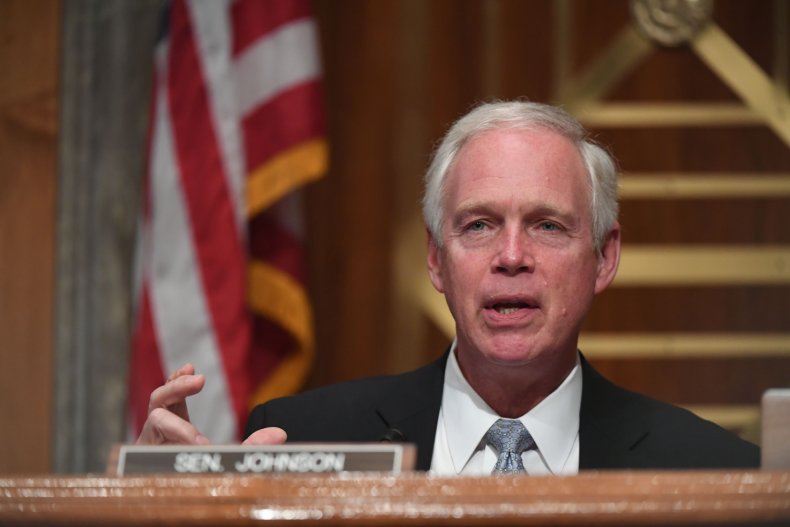 Johnson became the latest U.S. senator to test positive for COVID-19 last week, though he has said that he is not experiencing any symptoms. While speaking with Denver-based KHOW-AM on Monday, Johnson said he has taken six precautionary COVID-19 tests since the pandemic began, the first five of which returned negative results.
Despite Johnson's latest positive test, Voelkel told The New York Times earlier this week that the senator does not support mask mandates. According to an earlier report by the Madison-based The Capital Times, Johnson said that he believes encouraging "individual responsibility" is better than instituting face covering requirements.
On Monday, Johnson said during an interview with "The Jay Weber Show" of Milwaukee-based WISN-AM that the media "has done such a good job of whipping up the hysteria."
"The media has done an awful job, but it's purposeful. They don't want to put proper perspective. They want to blame Trump, they want to bring him down. They've been wanting to bring him down since the day after the election—same with the Democrats," Johnson told the station. "I think it's really grotesque, personally."
He reiterated his comments in his discussion with KHOW, during which he argued against the economic shutdowns put in place to prevent further spread of the virus.
"We never should have gone through these shutdowns. There's an enormous human toll of these shutdowns," he said. "We've got to carry on with our lives. We have to learn to live with this."
Johnson said that he has been doing everything in his power to avoid contracting the virus and said he has not been minimizing its severity.
"I'm not downplaying COVID. I don't want to get it. I've been trying to do everything I can to prevent from getting it," he told KHOW. "Now that I've got it, I'm in total isolation. But the press has done such a good job of ingraining in almost everybody's brain that, if you get COVID, it's a death sentence. It's not," he said, quickly adding, "Tragically, for a very small percentage of the American public, it is very serious."
Johnson announced his infection as his home state was in the midst of its largest spike of COVID-19 infections to date. By Thursday, October 8, state health officials reported a total of 141,830 positive cases and 1,424 deaths. According to the Wisconsin Department of Health Services, the state has reported a 255 percent increase in COVID-19-related hospitalizations over the last three weeks.
Newsweek reached out to Johnson's office for comment but did not receive a response in time for publication.