GOP Senator Warns of 'China Century,' Reveals Plan to Unravel U.S.-Beijing Ties
Tennessee Sen. Marsha Blackburn has released a new white paper calling on Washington, D.C. to broadly reshape its relationship with the Chinese Communist Party amid the coronavirus crisis, warning that failure to do so may allow Beijing to set the global narrative and encourage authoritarianism worldwide.
Blackburn—a prominent China critic who has long lobbied for closer scrutiny of U.S. ties with Beijing—published her white paper Wednesday against a backdrop of deteriorating Washington-Beijing relations and the closing of the Chinese consulate in Houston.
In her paper, Blackburn describes 2020 as a "momentous" year in U.S.-China relations, thanks to the coronavirus pandemic, a raft of trade tensions, territorial disputes and human rights issues.
Though these issues are pushing lawmakers and voters towards more China-skeptic sentiment, Blackburn told Newsweek Tuesday that her paper offers detail on how to translate that into policy.
"It sounds simple to say, 'Well, let's cut off interaction here,' or 'let's stop doing trade with them.' But it is not that simple," she explained. "It is truly an unraveling. And this unraveling is going to take us several years, and you have to have a blueprint from which to start. So that has been the purpose of the white paper."
"What you have to begin to do is look at how China is pressing to make the 21st century, that China century," Blackburn continued.
Newsweek has contacted the Chinese embassy in Washington, D.C. to request comment on the white paper and current U.S.-China tensions.
America's already testy relationship with China collapsed amid the coronavirus crisis. The virus originated in the central Chinese city of Wuhan before spreading worldwide, so far infecting almost 17 million people and killing more than 617,000, according to Johns Hopkins University.
China has been accused of failing to adequately warn the international community of the danger posed by the outbreak and failing to act fast enough to bring the virus under control. Draconian restrictions enabled the CCP to snuff out its national outbreak, but not before the disease had spread worldwide.
Beijing has also been accused of intentionally misleading the World Health Organization and other nations over the severity of the virus, stockpiling medical equipment and concealing infection and death tolls while assuring the world there was no reason to panic.
Meanwhile, officials and state media have engaged in a broad disinformation campaign to absolve Beijing of blame and malign its adversaries' responses.
The U.S. became the epicenter of the pandemic, and has recorded more than 3.9 million cases and 142,000 deaths. Critics have said President Donald Trump's confused handling of the crisis is to blame, but the administration has pointed the finger east.
The president initially praised Chinese President Xi Jinping for his response to the outbreak, but soon pivoted to blaming the CCP for the global spread of the disease and even asserting—without any publicly-available evidence—that the virus escaped from a Wuhan lab rather than originating at a wildlife market as widely theorized.
Trump has celebrated his own response despite the mounting death toll, lauding his January ban on arrivals from China as having saved countless lives. Fact checkers have pointed out that the restrictions still allowed some travel from China, and that the virus was already spreading out of control in the U.S. when he gave his order.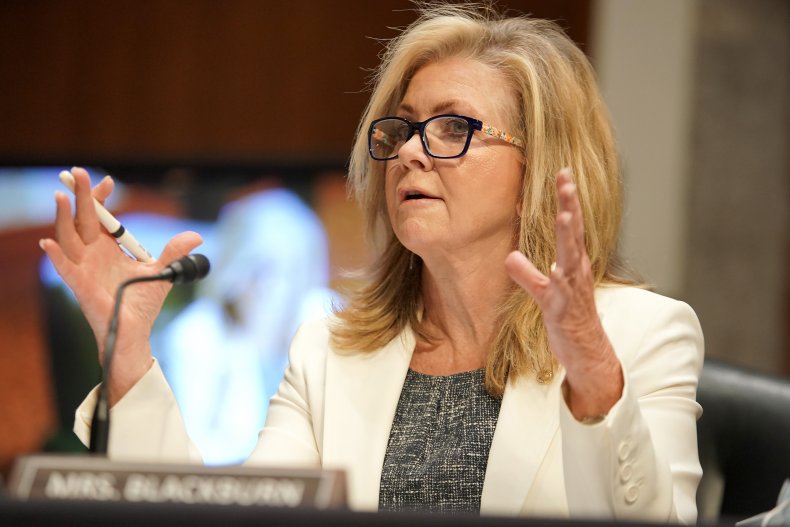 Regardless of the U.S. performance—which Blackburn's paper describes as "imperfect"—the pandemic has been a catalyst for a re-evaluation of ties with China, which was already proving itself an unabashedly authoritarian power keen to expand its influence abroad and challenge American hegemony.
"Both the East and the West argue that the COVID-19 pandemic has created a global governance vacuum that can be filled either only by a democratic society, or only by an autocratic one," Blackburn's paper reads.
"In an era of great power competition, a global crisis provides the nexus to shape a new world order," it continues. To do so, the Tennessee senator—herself a close Trump ally whose Senate campaign was backed by the president—lays out a series of recommendations for the U.S.
The first is that the country must maintain participation in international organizations and prevent Chinese efforts to establish new bodies "shaped by self-interest." This also means building and maintaining alliances in the Asia-Pacific region "to deter aggression and foster stable economic growth."
Meanwhile, Blackburn said the U.S. should invest more in its Indo-Pacific Command to underpin security in the region and "provide robust support" for Taiwan and Hong Kong, while supporting universal human rights standards across the entire region.
Trump was widely criticized for announcing plans to withdraw the U.S. from the World Health Organization in the midst of a pandemic. The president also ended U.S. support for the Trans-Pacific Partnership, touted by diplomatic experts as a method by which to draw China's neighbors closer to the U.S. and constrain Beijing's economy.
But Trump has long been a proponent of bringing U.S. manufacturing jobs back to the country—though reportedly with little success—and this vow has been supercharged by the COVID-19 pandemic. Blackburn's paper says that vital supply lines should be brought back to the U.S. to ensure stability during future crises.
"We have become much too dependent on China," Blackburn said. "Therefore it is time for us to change how we do business, and how we partner and how we interact with China."
Along with fellow GOP China hawks, Blackburn has been pushing for legislation to address newer and more stringent regulations to address Chinese educational and research facilities in the U.S., including universities. These, she said, play a key role in Chinese industrial espionage and intellectual property theft—long key grievances for China critics.
These new restrictions, Blackburn said, should be reinforced by the U.S. taking the lead on international standards for network security, emerging technologies, internet access and freedom, among others.
Some observers have warned that aggressive decoupling—if it is possible at all—will accelerate the development of a multipolar world, with fewer entanglements between the massive U.S. and Chinese economies meaning less prosperity and fewer obstacles to conflict.
Chinese officials—publicly at least—and state media have argued that an increasingly aggressive U.S. stance towards Beijing is threatening peace, undermining the global economy and humiliating America.
Still, the currents in Washington appear to be pulling lawmakers towards more confrontation. "It is time for us to say: 'No, China. If you want to be a part of the global community, if you want to be a market economy, there are rules that we all abide by," Blackburn told Newsweek. "You're going to have to play by the rules."