Conservative CNN host S.E. Cupp strongly criticized Republican lawmakers' efforts to defend President Donald Trump as his impeachment trial gets under way in the Senate, saying they were following "a pretty damn corrupt strategy."
Cupp's criticism came during her Saturday evening show S.E. Cupp Unfiltered, during which she referred to the GOP's strategy for defending the president as simply "see no evil, hear no evil." Describing their defense as "pretty damn corrupt," Cupp, who identifies as a Republican, argued that the lawmakers were ignoring "their constitutional duties."
"But it's also pretty damn cowardly. Imagine being this afraid," she argued.
"Afraid of witnesses who may further implicate the president in crimes. Afraid of documents that may reveal the president has been, you know, lying this whole time. Afraid of the president himself and what childish bad name he might conjure up for those who would dare to break ranks," Cupp continued. "Afraid of losing their elections because keeping the job is so much more important than doing the job."
The CNN host concluded that Republican senators were presenting "a pretty pathetic display if you ask me."
Trump became the third president in U.S. history to be impeached by the House of Representatives back in December. The vote largely passed along partisan lines, as Republican lawmakers defended the president. The Articles of Impeachment have now been transmitted to the Senate for the president's trial, while GOP lawmakers have largely continued to voice support for the president.
Democrats have urged their Republican colleagues in the Senate to call additional witnesses and subpoena further documents as evidence, noting that their efforts were stonewalled by the Trump administration in the House investigation. However, Republican leaders have openly stated that they do not plan to be "impartial" during the trial, with Senate Majority Leader Mitch McConnell, who represents Kentucky, saying that he plans to coordinate closely with White House lawyers.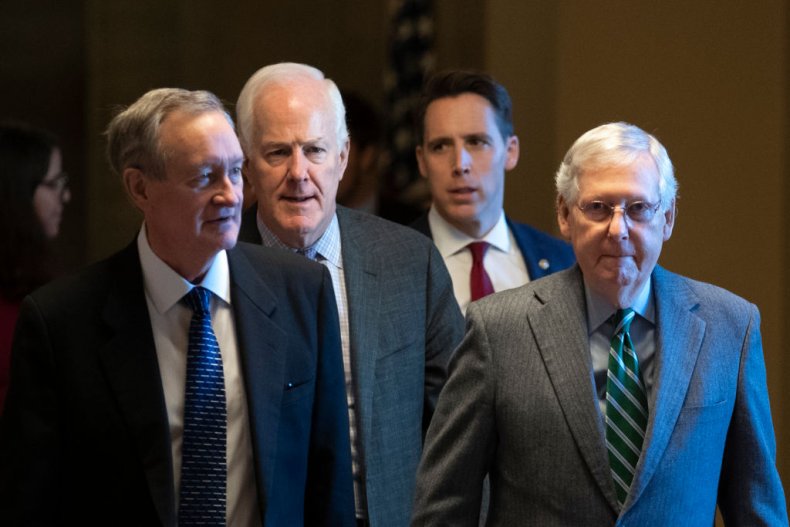 The president and his defenders have dismissed the entire impeachment as a "partisan" attack and as "illegitimate." Meanwhile, some Republican senators – such as Susan Collins of Maine and Lisa Murkowski of Alaska – have voiced concern about McConnell's stated intention to work closely with the White House, while expressing an openness to calling further witnesses.
A president's removal from office requires a two-thirds majority vote in the Senate, which most analysts believe is highly improbable considering the the upper chamber of Congress is controlled by Republicans. But calling additional witnesses and evidence would only require a simple majority, offering Democrats some hope that such a vote could pass.