GOP Senators Rand Paul, Mike Lee Rebuke 'Insulting, Demeaning' Iran Briefing, Say They Support Limiting Trump's Military Powers
Republican Senators Rand Paul from Kentucky and Mike Lee from Utah on Wednesday afternoon announced they are now supporting a resolution to limit President Donald Trump's military powers after attending a closed-door intelligence briefing on Iran.
Following the hour-long meeting with Trump administration officials, Lee told reporters that it was the "worst briefing I've seen, at least on a military issue." Amid escalating tensions with Iran, the House and Senate were briefed on Wednesday by Secretary of State Mike Pompeo, CIA Director Gina Haspel, Defense Secretary Mark Esper, CIA Director and Joint Chiefs of Staff Chairman General Mark Milley. The meeting came one day after Iran launched a dozen ballistic missiles at U.S. targets in Iraq in retaliation for the killing of top Iranian military commander Qassem Soleimani, which Trump authorized late last week.
Lee revealed that officials present at the meeting warned congressional lawmakers against the resolution to rein in Trump's powers by arguing that it could "embolden" Iran. "I find this insulting and demeaning," he said, "to the office that each of the 100 senators in this building happens to hold. I find it insulting and demeaning to the Constitution of the United States."
"I find that absolutely insane. I think that's unacceptable," Lee continued, adding that he intends to discuss the remarks with the president.
Paul echoed Lee's sentiments about the briefing, saying that it was "less than satisfying." The Kentucky Senator also strongly disagreed with the administration's decision to use the 2002 war authorization as a justification for the attack on Soleimani. "I see no way in the world you could logically argue that an authorization to have war with Saddam Hussein has anything to do with having war with people currently in Iraq," he said, before calling the move "absurd" and an "insult."
"Let's have the debate, and let's have some senators stand up," Paul added.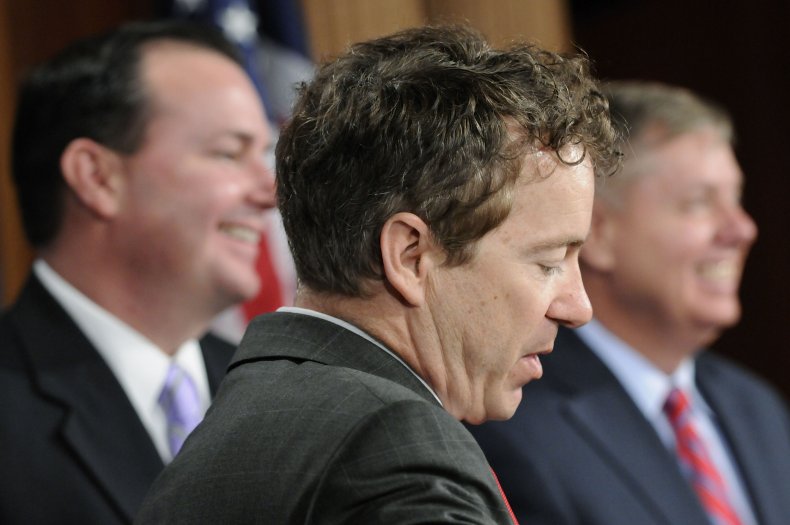 The House and Senate are both set to vote on legislation introduced by Democrats that would ensure Trump gets authorization from members of Congress before escalating hostilities against Iran. The House is set to vote on Thursday, while the Senate resolution is expected to reach the Senate floor before the end of next week. Following the briefing on Wednesday, Paul and Lee both indicated that they will now support the Senate measure to check Trump's powers.
"I can say that after that briefing—that briefing is what changed my mind," Lee said. "I'm now going to support it. I walked into the briefing undecided, I walked out of that briefing decided specifically because of what happened in that briefing."
Newsweek reached out to the White House for comment but did not receive a response in time for publication.
Although it is unclear what exactly was said during the briefing, Democratic Congressman Seth Moulton said the administration attempted to justify the attack on Soleimani but were unconvincing as Esper and Pompeo "couldn't even agree." According to Moulton, administration officials failed to provide a cohesive strategy to lawmakers that didn't run counter to the president's campaign promise to save U.S. troops from the "endless" wars in the region.