GOP Senator's Staffer Tells Cancer Survivor Who Can't Afford Health Insurance to 'Figure it Out'
A North Carolina woman criticized a member of a GOP senator's staff after she recorded the staffer telling her that those who cannot afford health insurance needed to "figure it out."
Bev Veals, a three-time cancer survivor from Carolina Beach, recorded her call with a member of North Carolina Senator Thom Tillis' Washington, D.C., staff after she grew upset with his apparent lack of empathy.
"You're saying that, if you can't afford [health insurance], you don't get to have it, and that includes health care?" Veals asked the staffer.
"Yeah, just like if I want to go to the store and buy a new dress shirt. If I can't afford that dress shirt, I don't get to get it," the staffer replied.
"But health care is something that people need, especially if they have cancer," Veals said.
When Veals asked the staffer what people in her situation should do, he told her, "Sounds like something you're going to have to figure out."
Veals told WRAL News that in her three separate battles with cancer over the past 20 years, she's also had to deal with struggling to find access to health care and medical bankruptcy. Veals' husband was furloughed from his job in March because of the ongoing coronavirus pandemic, and she became increasingly worried that she could lose her health insurance.
Veals began calling her local lawmakers for guidance, including the GOP senator, who is vying for reelection in November.
"I wanted answers because the thought of having no health care and possibly getting sick with COVID is extremely frightening," Veals said.
But she spoke with one of Tillis' staffers on the phone instead, and told WRAL that the man's comparison of health insurance to a dress shirt made her "incredibly angry and hurt."
In a statement to WRAL, Tillis' office noted that the staffer had been reprimanded for his actions.
"The way Mrs. Veals was talked to by a staff assistant in our Washington office was completely inappropriate and violates the code of conduct Senator Tillis has for his staff, which is why immediate disciplinary action has been taken," spokesman Daniel Keylin wrote.
Newsweek contacted Tillis' office for comment, but did not hear back in time for publication.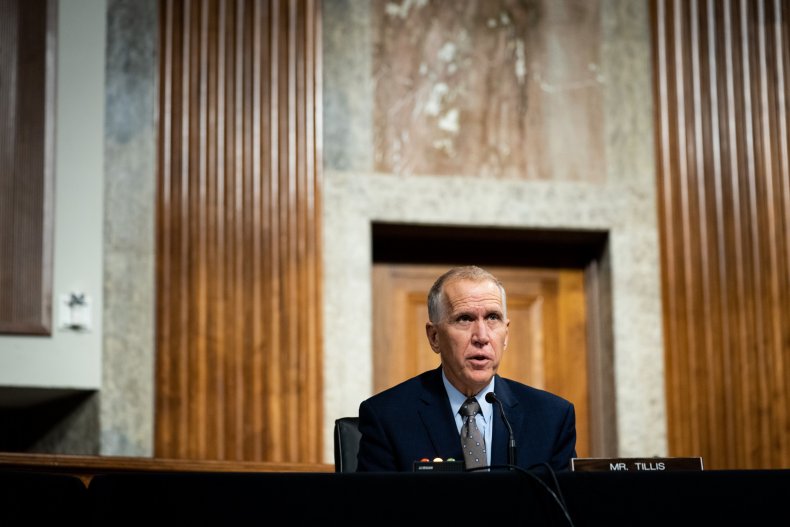 Veals said she wants more than an apology, and that the issue of affordable health care is not unique to her. "It's the problem of hundreds and thousands of North Carolinians," she said.
According to Piedmont Rising, a non-profit organization actively campaigning against Tillis because of his stance on health care, the senator has voted at least seven times to repeal the Affordable Care Act and six times to cut Medicare's budget by nearly $500 billion.
In 2017, North Carolinians on average paid $8,000 per year in out-of-pocket health insurance costs, even with employer coverage, according to the organization. Both insurance premiums and prescription drug prices have increased in the state, particularly hurting its elderly population.
According to Tillis' campaign website, his health care platform focuses on reforms to "ensure North Carolina families have access to affordable and quality health care choices," and on implementing "real bipartisan solutions to combat drug additional and advance medical research and innovation."