GOP Splinters Over Push to Object Election Results as Other Republicans Accept Reality
In the remaining days of his tenure, President Donald Trump has only intensified the fracturing of his own party. And it's hard to ignore the public intra-party squabbling that is playing out for all to see.
The president's recent hour-long phone call pressuring Georgia's top Republican election official to "find" enough votes to overturn his loss in the Peach State on the eve of two pivotal Senate runoff elections acted as yet another obstacle for GOP lawmakers who warn that the party has veered away from its values.

Additionally, the effort of some in Congress to strip President-elect Joe Biden of his victory by refusing to certify the election results on Wednesday due to baseless claims of voter fraud will go well beyond the pale of presenting a grand finale loyalty test to Trump.
The effort to subvert the democratic process by perpetuating false claims of widespread voter irregularities has exposed which members of the Republican Party are living in reality vs. who is more concerned about appeasing a lame-duck president who refuses to acknowledge his loss at the ballot box.
"I'm concerned about the division in America, that's the biggest issue. But obviously, this is not healthy for the Republican Party, either," Sen. Ben Sasse (R-Neb.) warned Sunday. "But what's good for America is the main question here. This is bad for the country and bad for the party."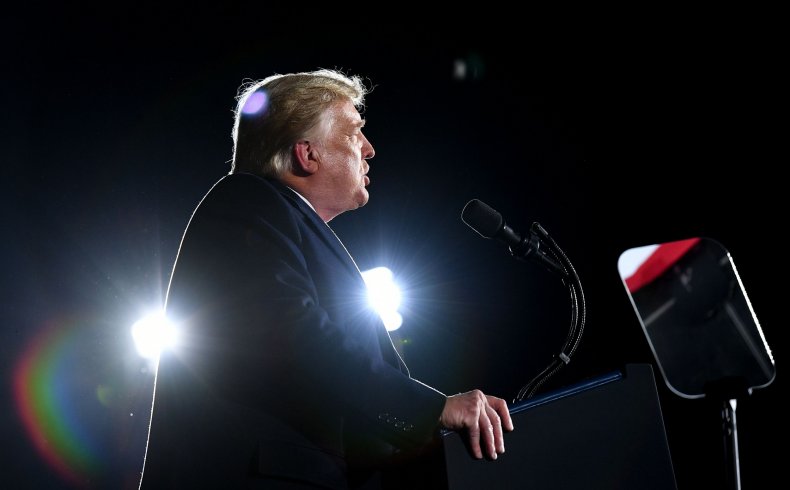 Republicans on either side of the fray have publicly criticized one another by name, something members typically try to avoid so as to minimize the perception of intra-party fighting. Sen. Pat Toomey (R-Pa.), for example, has called out his colleagues Josh Hawley (R-Mo.) and Ted Cruz (R-Texas) by name for helping lead the charge against certifying the results, prompting Hawley to shoot back against the "shameless personal attacks."
"A fundamental, defining feature of a democratic republic is the right of the people to elect their own leaders," Toomey said in a statement. "The effort by Senators Hawley, Cruz and others to overturn the results of the 2020 presidential election in swing states like Pennsylvania directly undermines this right."
Perhaps the best representation of how the GOP has splintered under Trump is what some of the most hardline congressional Republicans—Rep. Chip Roy (R-Texas) and Sens. Lindsey Graham (R-S.C.) and Tom Cotton (R-Ark.)—have said about the futile effort to reverse Trump's loss.
The three lawmakers are anything but RINOs (Republican In Name Only): Graham is a staunch Trump ally and golfing companion; Cotton is considered to be a potential 2024 presidential hopeful; and Roy is a member of the conservative House Freedom Caucus and is Cruz's former chief of staff.
And yet, it is this Republican trio that has attempted to provide a reality check for dozens of their colleagues who are set to vote in favor of overturning the election.
Roy objected Sunday to dozens of House members being sworn into the new session of Congress from battleground states where Trump and his allies allege the election was tainted. The reason, he said, is that such a move would amount to hypocrisy because it "would confound basic human reason if the presidential results were to face objection while the congressional results of the same process escaped without public scrutiny."
Cotton warned that Congress subverting the will of voters would "establish unwise precedents" by giving more power to legislators to choose the president. Graham said the venture has "zero chance of becoming reality."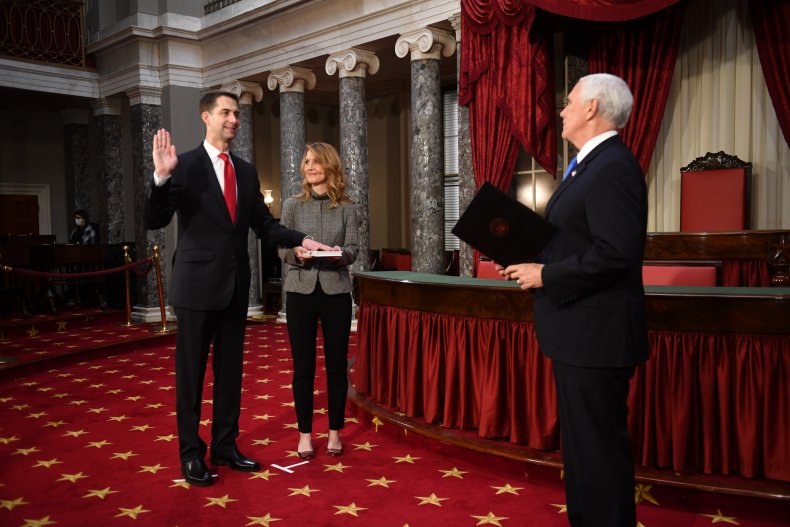 To be sure, Democrats in recent elections have made the same sort of challenges to Republican presidents' Electoral College certification, including Trump. However, those actions were led by a few individuals and were rejected by the party's leadership.
Now, GOP leaders over the past four years have acted largely as enablers, as a record number of Republicans prepare to formally object to cementing Biden's win. Leadership has done little to discourage what will surely be a theatrical TV performance.
Senate Majority Leader Mitch McConnell (R-Ky.) and other top GOP senators have advised against the move, though not very forcefully. House Minority Leader Kevin McCarthy (R-Calif.) has declined to condemn the endeavor at all, ignoring reporters' questions about the matter on Monday.
For a one-term president who has already flirted with the notion of running again in 2024, the ensuing votes on Wednesday to either certify or reject Biden's certification will act as the final tally of who is with or against Trump, eclipsing any prior loyalty. And should his grasp of the party and its base persist in the years to come, Trump will undoubtedly remember who chose not to remain by his side until the bitter end.
At a rally in Georgia Monday night, the president singled-out Sen. Mike Lee (R-Utah), an ally who Trump said he's "a little angry at" because he's yet to reveal where he stands on rejecting Biden's win. The commander in chief went on to state he'll never concede.
"Together, we are taking back our country. Our fight to drain the Washington swamp and reclaim America's destiny and dignity has only just begun," Trump vowed. "We will not bend, we will not break, we will not yield. We will never give in, we will never give up, we will never back down, we will never, ever, surrender."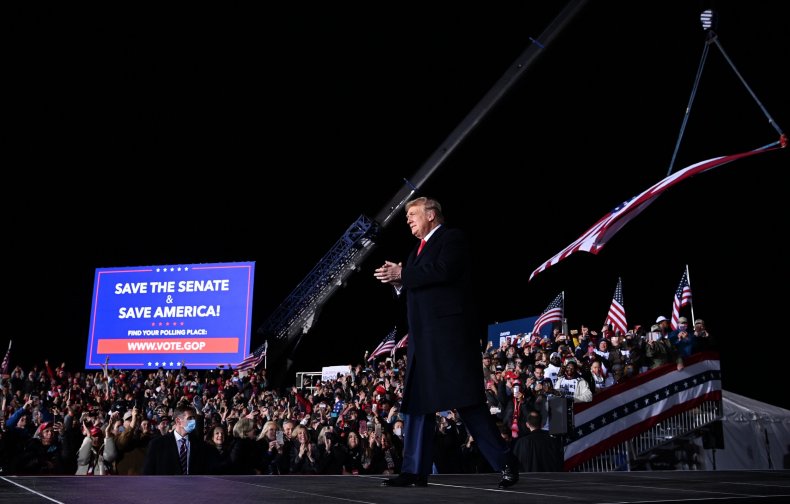 Trump, as were others within the conservative political orbit, was quick earlier in the day to take note of dissenting Republicans, warning in several tweets of future consequences.
"The 'Surrender Caucus' within the Republican Party will go down in infamy as weak and ineffective 'guardians' of our Nation, who were willing to accept the certification of fraudulent presidential numbers!" Trump wrote in a post.
"How can you certify an election when the numbers being certified are verifiably WRONG," the president said in a separate tweet. "You will see the real numbers tonight during my speech, but especially on JANUARY 6th. @SenTomCotton Republicans have pluses & minuses, but one thing is sure, THEY NEVER FORGET!"
In some ways, Republicans such as Rep. Adam Kinzinger (R-Ill.), who has grown louder in his public warnings about the party's path under Trump, will likely soon breath a sigh of relief. GOP lawmakers will no longer be bombarded on a daily basis with questions about Trump's sporadic behavior.
Trump's latest attempt to change the election in his favor—pressuring Georgia's secretary of state to overturn the results by somehow manufacturing some nearly 12,000 votes—only made it harder for Republicans to coalesce around him in his final days and as the potential future of the party. Democrats, legal experts and local election officials have suggested that Trump may have even violated state and federal law.
"The voters have spoken. The Electoral College has spoken. The courts have spoken," House Democratic Caucus Chair Hakeem Jeffries (D-N.Y.) told reporters. "Joe Biden will be the next president of the United States notwithstanding the delusional fantasies of some of my colleagues on the other side of the aisle."