GOP Split on Boehner's Lawsuit Against President Obama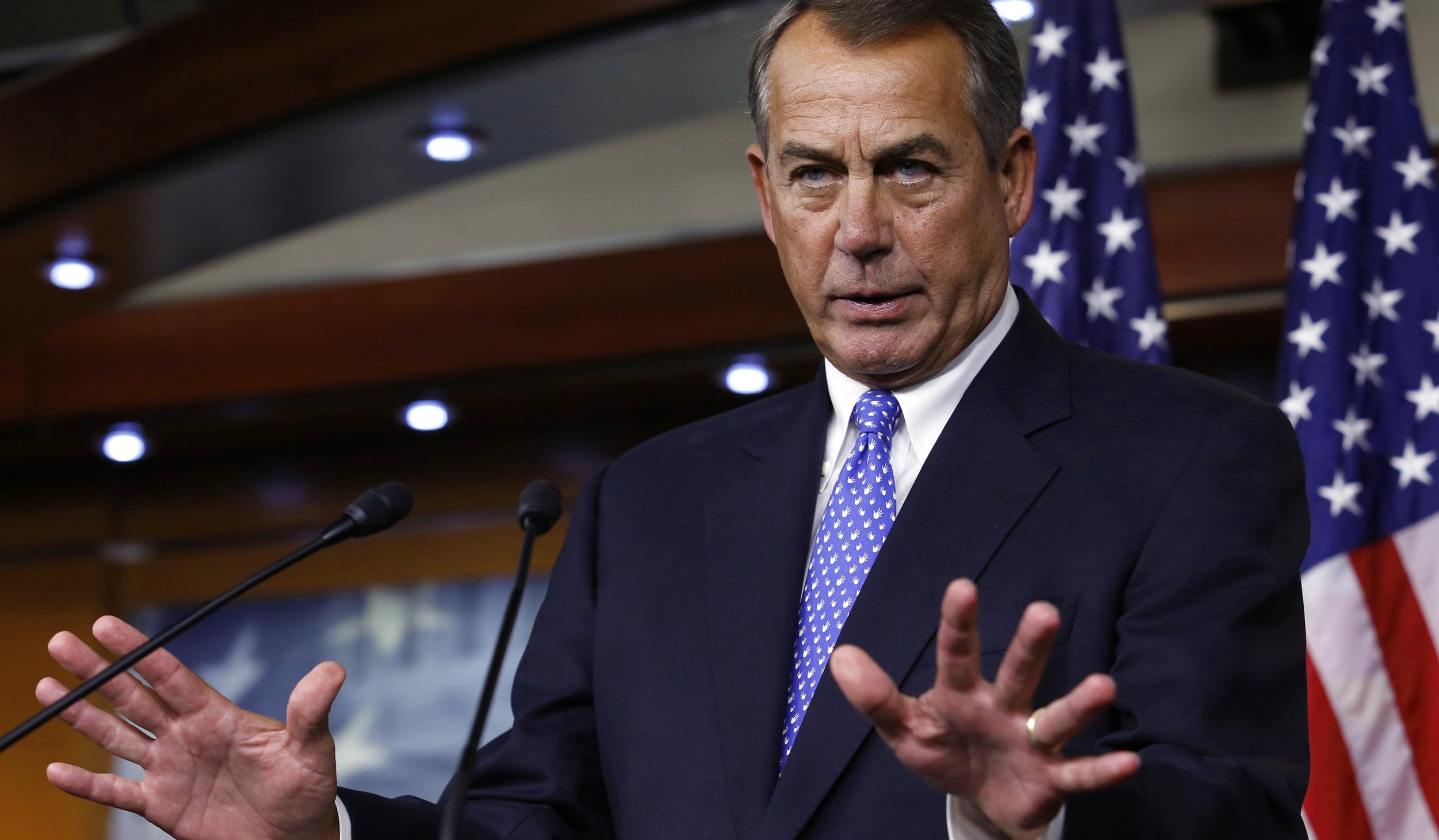 With 12 days left in the legislative period, House Speaker John Boehner (R) has concluded that Congress' time will be best spent pursuing a lawsuit against the Obama administration for a waiver it issued over a year ago relating to the Affordable Care Act's employer mandate.
Talk of suing the president over his use of executive action has been circulating since June, but until this week the speaker had not indicated which executive order he would be challenging specifically. On Thursday Boehner's office released a draft resolution, revealing that the lawsuit's charges will target the Obamacare waivers that the administration issued in response to concerns that employers lacked sufficient time to comply with one of the Act's provisions.
The Act's requirement that all employers with more than 50 employees provide coverage to their workers was neither dropped nor altered; however, to give businesses the time they needed to adjust to the shift, the Obama administration said it would delay enforcement of that requirement until 2015. The administration later granted a second delay, giving businesses employing between 50 and 99 workers until 2016 to comply. Initially, delay in enforcement of these provisions was welcome by members of both parties, as well as the business community. Republicans now contend that the President's action was over-reaching by the executive branch and a usurpation of the legislative authority of Congress.
Boehner's lawsuit comes at a time of peak pressure from GOP members urging Congress to check Obama's use of power. Early this week, former Governor of Alaska and Vice Presidential nominee Sarah Palin joined a number of conservative voices calling for President Obama's impeachment. She told Sean Hannity of Fox News on Tuesday, "The tipping point in this drive toward impeachment for me has been the illegal immigration issue." Her call-to-arms op-ed piece has gotten over 21,000 comments since it was posted on Tuesday. On Hannity, she accused the Republicans in Congress of not having "the cojones" to impeach the president.
Democrats don't seem to take such a threat very seriously. Former Governor of Pennsylvania Ed Rendell (D) said on MSNBC's PoliticsNation on Wednesday, "The constitution says you can impeach the president for high crimes and misdemeanors. There is nothing President Obama has done that is remotely close to a high crime or a misdemeanor."
Boehner stated in a press conference on Wednesday that he does not support Palin's call. Instead, he hopes that the faction of his party calling for impeachment will join him in supporting a lawsuit against the president--if not because it is a more moderate move, then at least because it may be the more viable option. Meanwhile Palin mocks Boehner's initiative, saying on Hannity, "You don't bring a lawsuit to a gunfight," and "There's no place for lawyers on the front lines." The former Alaska governor maintains, "We should vehemently oppose any politician on the left or right who would hesitate in voting for articles of impeachment."
It will be interesting to see how the lawsuit fares as it moves forward through Congress and the courts. Perhaps even more interesting, though, is how the outcome of the upcoming Congressional elections might be swayed by varying opinions on the subject within the GOP.
Representative Mario Diaz-Balart (R) of Florida expressed his disappointment this week when Boehner and the House Republican leadership told him that the immigration measure he had been working on for several years would not receive a vote on the House floor this year. Diaz-Balart told the Washington Post on Thursday, "We have a historic opportunity to fix a system everyone knows is broken. We're squandering that opportunity. The bottom line is, we have a bill that is ready to go. We had bipartisan support. And yet I've been told we're not going to move forward this year."
Echoes of Diaz-Balart's sentiments are in the White House's response to the news. The administration issued the following statement: "It is disappointing that Speaker Boehner and Congressional Republicans have decided to waste time and taxpayer dollars on a political stunt . . . As the president said today, he is doing his job--lawsuit or not--and it's time Republicans in Congress did theirs."
As Boehner sees it, the justification for such prioritization is that, "If this president can get away with making his own laws, future presidents will have the ability to as well." The speaker said on Thursday, "The House has an obligation to stand up for the legislative branch, and the Constitution, and that is exactly what we will do."
Democrats have also pointed out the House has an obligation to pass federal legislation, and, barring a miracle, this will be the least-productive Congress ever, the Washington Post reports.
It is not surprising that Democratic leaders consider the lawsuit "just another distraction from House Republicans desperate to distract the American people from their own spectacular obstruction and dysfunction," which is what Representative Nancy Pelosi (D) told The New York Times on Friday. Much more surprising is how widespread concurrence with this viewpoint is among the GOP.
Conservative editor-in-chief of the blog site RedState.com, Erick Erickson, has called the lawsuit "a political stunt wasting taxpayer dollars" that he believes was "designed to incite Republican voters who might otherwise stay home" to go to the polls in November. Though he is certainly no supporter of Obama, Erickson is not afraid to point out what he sees as his party's Congressional blunders, saying, "It is Republicans in the House and Senate who orchestrated giving Barack Obama a blank check to raise the debt ceiling through March of 2015. It is Republicans in the House and Senate who were so scared of a government shutdown, that they threw Senators Ted Cruz and Mike Lee under the bus before the President even initiated a government shutdown."
And now it is Republicans in the House who are pursuing a lawsuit that charges the president with abusing his power, though it turns out Obama has issued fewer executive orders than any president since Franklin Roosevelt.
Finding his own silver lining to a situation he decries, former governor Rendell says that, "By acting so bizarrely and so irrationally and so wrongheadedly," GOP leaders are sealing their own fate. On PoliticsNation, he voiced his belief that, come November, "Moderate Republicans and independents are going to say, 'Maybe I like my congressman, but I can't keep this party in power . . . They are irresponsible.'"
Then again, if Eric Cantor's upset in the Virginia Republican primary last month is any indication of which sort of GOP constituents are heading out to the polls, maybe Boehner's lawsuit is not a bad strategy.
In a few short months, we'll know the answer.