GOP State Leader Defies COVID Quarantine to Attend Church Event Maskless With 12,000 People
On Sunday, Republican California State Senate Minority Leader Shannon Grove spoke to an estimated crowd of 12,000 people at the "Let Us Worship" Christian music concert. This was despite being instructed by the California Department of Public Health to stay in quarantine until Thursday following her contact with a fellow Republican state Senator who tested positive for COVID-19 on August 26.
Grove applied for the permit to hold the event on the steps of the state capital. The application, approved by the California Highway Patrol (CHP), estimated that 1,000 people would attend. The application also pledged to make announcements and have assistants help maintain social distancing.
However, event co-coordinator Sean Feucht posted drone video footage on Twitter that showed no social distancing occurring. In the video's caption, Feucht said that CHP—who he erroneously referred to as "Capitol Hill Police"—estimated nearly 12,000 people in attendance. Other videos of the event posted by Feucht showed most attendees not wearing masks while singing.
Regarding the event, Sacramento County health director Peter Beilenson told The Los Angeles Times, "It's not a matter of if there will be an outbreak from this, it's how big."
While CHP rules say that face masks are only "strongly recommended," its rules also dictate that any permitted gatherings must maintain six feet of distance between people from different households. If the event doesn't maintain this distance, it essentially violates permit conditions and requires the immediate shutdown of the event and vacating from state property.
In a statement to the Times, the CHP acknowledged that an event organizer and CHP officer did encourage attendees to socially distance, but when attendees disregarded them, the CHP allowed the event to continue anyway since it lacked the "resources needed to disperse a crowd of this size."
Feucht, a failed congressional candidate, organized the event and more like it in nearby cities as a way to challenge state restrictions on worship services during the ongoing coronavirus epidemic. California allows indoor, in-person services as long as congregants maintain six feet of distance between one another.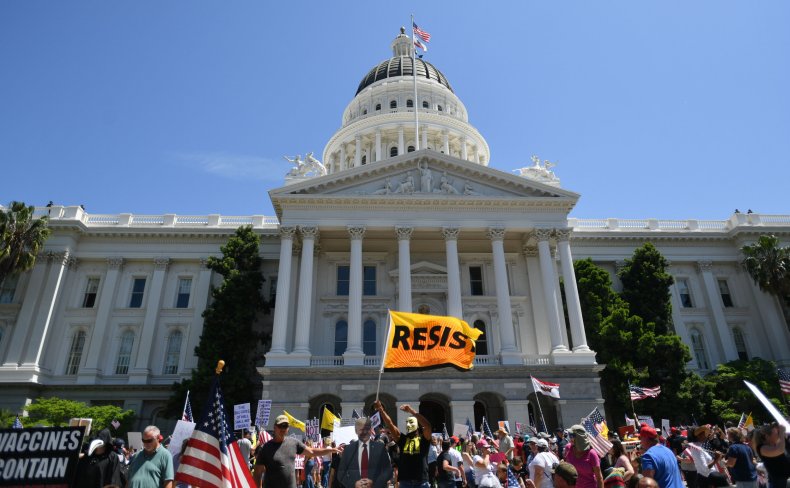 "We are gonna worship like we've never worshiped before, and I declare that after all of this is over tonight, the remnant, the residue of this worship will saturate this ground and seep into that building," Grove said during her speech to the crowd. "And when it goes into that building, it will touch every heart that enters. God bless you, let us worship!"
Grove and nearly every Republican in the California Senate were told by the California Department of Public Health to quarantine themselves after attending a lunch with Brian Jones, a fellow Senate republican who later tested positive for COVID-19.
Newsweek contacted Grove for comment.