GOP State Rep. Files to Hold Illinois Gov. In Contempt Over COVID-19 Orders
A Republican Illinois state representative has filed a legal petition to hold the state's Democratic Governor J.B. Pritzker in contempt for issuing new executive orders intended to mitigate the spread of COVID-19.
Rep. Darren Bailey filed the petition Wednesday, contending that three new orders issued late last month by Pritzker violated a July 2 ruling from Clay County Circuit Court Judge Michael McHaney, who ruled that the governor overstepped his authority by issuing similar orders beyond 30 days in April.
The petition argues that Pritzker's orders, which continue earlier measures and establish health guidelines for the transfer of prisoners and for school reopenings, are "contemptuous acts which are calculated to embarrass, hinder, or obstruct" the Clay county court. The petition seeks to force Pritzker to rescind his new orders or "be placed in the temporary custody of Clay County Jail until he purges himself by rescinding" the orders.
"All I can say is the rulings out of Clay County have been ridiculous," Pritzker said when asked about the petition during a Wednesday news conference. "There's no other court that has ruled as they have on the matter that they ruled on. And in fact, there's a judge, on Friday, who specifically pointed to Clay County and said that the decision by that judge was bereft of any legal analysis, and I think that's accurate."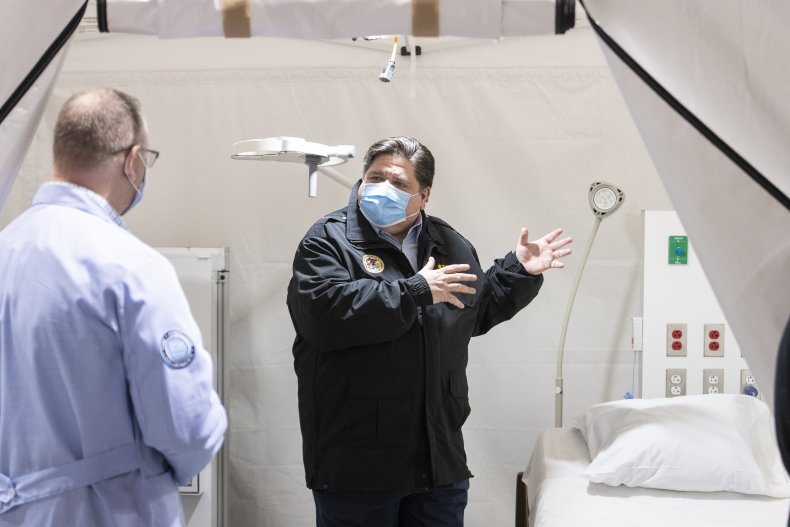 Pritzker was referencing a lawsuit brought by a group of landlords who argued that he did not have legal authority to issue an order extending a freeze on evictions. Judge John Anderson ruled against the plaintiffs on Friday and asserted that all of Pritzker's current orders pertaining to COVID-19 "remain in full force and effect."
Anderson's ruling noted that nearly every case brought against Pritzker over emergency orders had gone the governor's way except for rulings by McHaney, which he said did not apply to all of Illinois and were "bereft of any meaningful legal analysis, and are wholly unpersuasive for that reason."
Bailey has been battling against Pritzker's orders since not long after the pandemic began. His initial legal battle concerned Pritzker issuing his first extension of orders in early April. McHaney issued a temporary restraining order that blocked Pritzker's restrictions but only applied to Bailey.
Pritzker, who was the second U.S. governor to issue a statewide stay-at-home order in response to the pandemic, has described Bailey's legal actions as a "cheap political stunt" and an "insult" to Illinois residents who lost their lives due to COVID-19.
Bailey also caused a stir by refusing to abide by preventative measures adopted by the Illinois state House. He was thrown out a hearing in May after refusing to wear a mask despite rules requiring that masks be worn, although he returned while wearing a mask on the following day.
Newsweek reached out to Pritzker's office for comment.