Patricia Morgan, a Republican in Rhode Island's House of Representatives, sparked outrage on social media after tweeting Tuesday that she once lost a Black friend because she's white.
"I had a black friend," Morgan wrote on Twitter. "I liked her and I think she liked me, too. But now she is hostile and unpleasant. I am sure I didn't do anything to her, except be white. Is that what teachers and our political leaders really want for our society? Divide us because of our skin color? #CRT"
The lawmaker intended for her comments to be an attack on critical race theory, or CRT, but her remarks were interpreted as racist by many on social media, who responded with mockery or anger.
"My message is not racist," Morgan told Newsweek. "I think the people who are attacking me...I would think that they're more racist."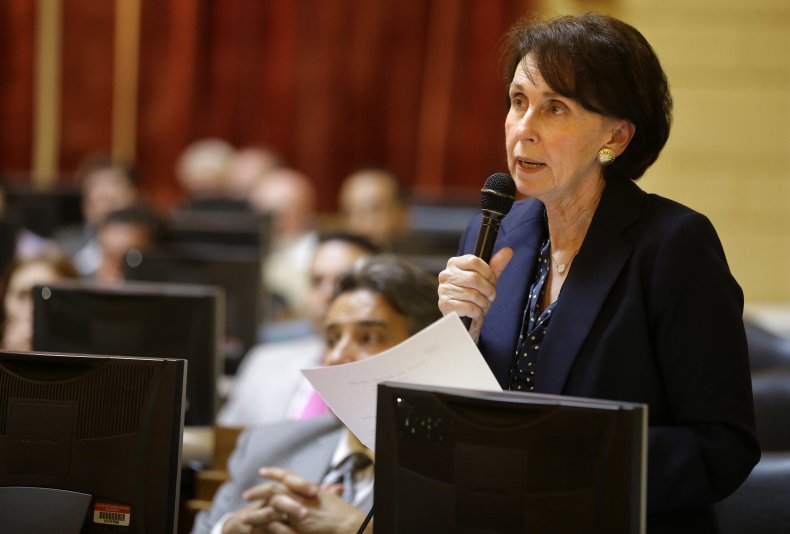 In March, Morgan co-sponsored a bill that would have banned CRT and other such "divisive concepts" from being taught in public schools. The legislation, which failed to pass, would have also required that "any contract, grant or training entered into by state or municipality include provisions prohibiting divisive concepts and prohibit making [any] individual feel distress on account of their race or sex."
"​​Oof....the fact that you think this tweet is ok shows just how much you have to learn. It might be she was just too exhausted to be your teacher," one Twitter user wrote in response to Morgan's post. "It's not CRT...it's you. Had you had access to CRT, maybe you wouldn't have alienated your friend."
Another person wrote, "Schools are NOT teaching CRT, Pat. But they should because white people have done horrible, unimaginable things to black people. An evolved society faces its ugly truths so it can grow. White people like you want to buy the truth because you think it makes you look bad."
"I've had a friend for about 10 years. She happens to be Black. No, she's not my only Black friend, but I was only referring to her in this message," Morgan told Newsweek. "I've gotten these tortured pickings at my tweet of trying to show how racist it is. My tweet is not racist."
Morgan said the problem with the friend in question occurred during a recent Christmas party they both attended. While trying to strike up a conversation, Morgan said, she was met with "a real coldness. It was clear that she didn't want to be my friend anymore."
The lawmaker said her public fight against CRT was likely the reason her friend no longer appreciated her company. Morgan said such a response is the reason why she feels CRT is a problem, noting that it's become "entwined" in various lessons and subjects being taught in public schools.
"I'm not saying we don't talk about the bad parts of our history, but there's no redemption in critical race theory for the good things we've done," Morgan said.
Some people think she went too far with her statement on Twitter, including Rhode Island's Black Lives Matter PAC. On Tuesday, the group started an online petition that asked for Morgan's resignation as well as her removal from House committees.
"BLM RI PAC is calling for Representative Patricia Morgan's immediate removal by Speaker of the House Joseph Shekarchi from the following committees—House Environment and Natural Resources Committee, House Health and Human Services Committee, House Labor Committee and the House Municipal Government and Housing Committee," the group wrote in a statement.
"Anything less than these substantive actions is another tacit acceptance of racism from the General Assembly that can no longer be tolerated," the statement added.
Meanwhile, Speaker of the House Joe Shekarchi told the website GoLocalProv, "There is no place for divisive remarks by any House member. I condemn any such comments."
Morgan's tweet also caught the attention of some celebrities, who also denounced her comments.
"You just divided the country with your tweet," actress Patricia Arquette wrote on Twitter. "Are you that unconscious? There is sex rape, slavery, murder, incest and sex in the Bible. Are you going to ban reading that?"
Another prominent detractor was George Takei. Best known for appearing in the original Star Trek television series, the Japanese American actor spent time in World War II internment camps as a youth after the attack on Pearl Harbor.
"I had a white friend. I liked him and I think he liked me, too. But then Pearl Harbor happened and whites became hostile and unpleasant," Takei wrote. "I am sure we didn't do anything but they sent us to camps anyway. And now they don't want to teach about this because it [makes] kids feel bad."
Morgan said critics like Arquette and Keith Olbermann "are not on my Twitter feed." She also spoke of working as a teacher in Mississippi, where she said many of her students were Black.
She said her fight against CRT is about inclusivity and part of her lifelong mission to provide the best possible education for young people.
"I'm here for the children. I get it; the mob came after me, but I'm still here for the children," Morgan said. "And I'm not going away."
Update 12/30/21, 2:10 p.m. ET: This story has been updated to include comments from Patricia Morgan.