GOP State Rep. Warns Against Harassment of 'Unmasked Community'
On Wednesday, Republican Pennsylvania State Representative Russ Diamond issued a statement about "hateful comments towards [the] unmasked community," that is, people who refuse to wear masks during the worsening COVID-19 epidemic.
One line in his statement seems to mock a comment about anti-LGBTQ discrimination made on Tuesday by Pennsylvania Health Department Secretary Dr. Rachel Levine, a transgender woman.
In his statement, Diamond said that social media commenters directing "harassment," "hate and intolerance" at him for repeatedly not wearing a mask in public are actually "hurting the thousands of unmasked Pennsylvanians who suffer directly from these current demonstrations of harassment."
"Your actions perpetuate a spirit of intolerance and discrimination against unmasked individuals and specifically individuals like myself who are outspoken against it," Diamond's statement continued.
Diamond then lamented public businesses that refuse to welcome unmasked individuals and the fact that such "intolerance" is also directed towards "the most vulnerable among us," including "individuals of color, unmasked youth and seniors, and unmasked immigrants."
According to The Daily Dot, Diamond's line about the vulnerable among us seems to be taken directly from Dr. Levine's Tuesday comments in a speech about anti-LGBTQ sentiment in the state.
"The most vulnerable among us continue to suffer, including LGBTQ individuals of color, LGBTQ youth, LGBTQ seniors, and LGBTQ immigrants," Levine said on Tuesday.
Diamond's statement concluded by saying that he has "no time for intolerance," adding, "My time is full with working towards protecting the freedom and liberty of everyone in Pennsylvania from the impact of government overreach in response to COVID-19."
A tweet containing his statement also included an image from the state department of health listing which lists individuals exempt from the mask mandate signed by the state's Democratic Governor Tom Wolf on July 1.
The exempted individuals include people with breathing issues, mental health conditions and disabilities; children under age two; people who cannot remove their masks without assistance; and workers for whom wearing a mask would make their jobs more dangerous.
The last sentence on the state department of health's document reads, "Individuals are not required to show documentation that an exemption exists."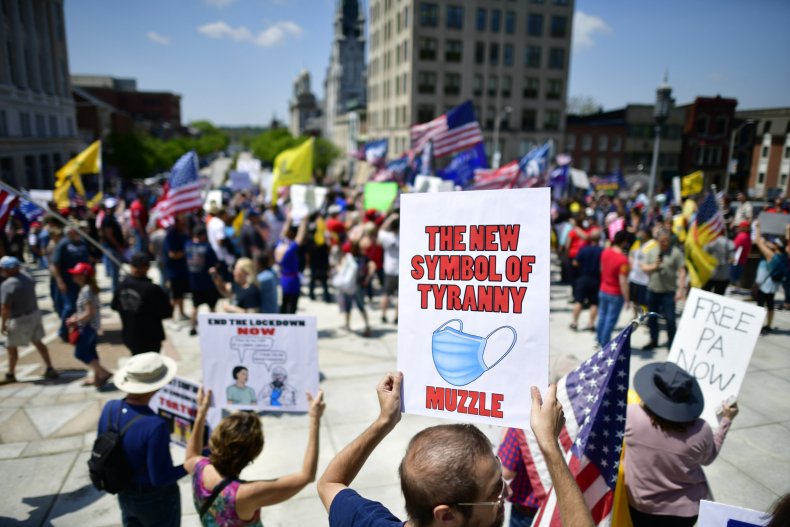 As referenced in his statement, Diamond has been a vocal opponent of wearing face masks even thought the U.S. Centers for Disease Control and Prevention and the American Medical Association have both said that numerous studies affirm that such masks prevent the spread of respiratory viruses like COVID-19.
On July 9, Diamond tweeted an image featuring a red "no symbol" over a facemask and text which read, "A masked child is an abused child." He posted it in response to an article about the Pennsylvania Department of Education's decision to require students returning to school in the fall to wear masks.
"I think (masks) do more harm than good," Diamond is quoted as saying in the article. "They can give people a false sense of security. People are fiddling with them all the time. They're also touching their face which is a no-no as well."
Lebanon County Children and Youth Services Administrator Erin Moyer told Lebtown.com that Child Protective Services Law do not equate requiring a child to wear a face mask as child abuse.
As of July 29, Pennsylvania ranks 11th amongst U.S. states with the highest overall number of coronavirus cases. The state has had over 115,000 COVID-19 cases and over 7,219 related deaths.
Update (7/29/2020, 9:20 p.m.): This article has been updated to include information comparing one of Diamond's statement to that of Dr. Rachel Levine.