A Pennsylvania state senator described the effort to overturn President Donald Trump's election loss as a "death match with the Democrat party" days before heading to Washington, D.C. on Wednesday, when pro-Trump rioters violently stormed the U.S. Capitol.
State Senator Doug Mastriano, a Republican, made the remarks January 4 on conservative talk radio program The Eric Metaxas Radio Show. Two days later, he headed to the Capitol to join thousands of other Trump supporters demanding that Congress disregard President-elect Joe Biden's victory. The crowd rioted and violently breached the building, resulting in five deaths, although Mastriano did not directly take part in the violence himself.
"Basically, we're in this death match with the Democrat Party where we're playing by all these, you know, Chatham House Rules and what have you," Mastriano said on the radio show, in a clip first surfaced by Media Matters for America. "Meanwhile, they're running circles around us. And I'm not saying anything we need to step out that that's not constitutional, but we need to have a little more courage, instead of shooting at each other."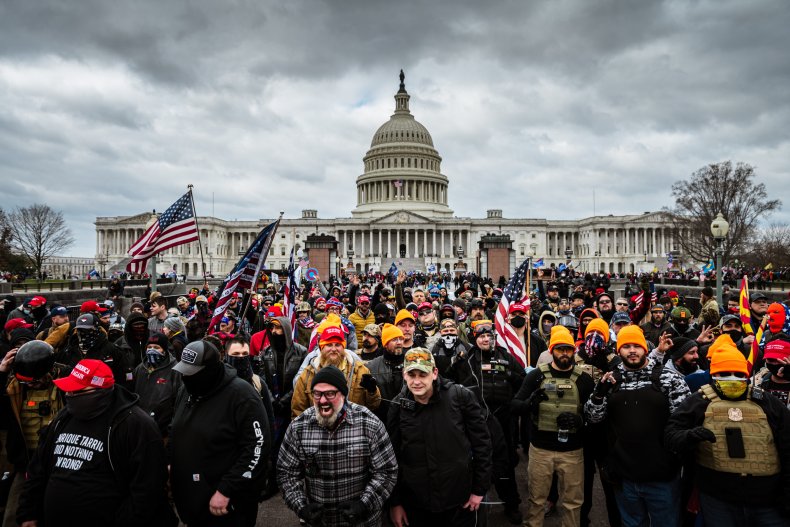 Mastriano has been a prominent voice in support of unsubstantiated claims that massive fraud was to blame for Trump's loss in Pennsylvania. Despite no evidence that massive fraud occurred, along with multiple court challenges failing to change the outcome and the state officially certifying Biden's win, he persisted in pushing claims that "what actually happened" was not clear. Biden won the state by around 80,000 votes, nearly twice the margin that Trump had over former Secretary of State Hillary Clinton in 2016.
In a since-deleted photo posted to social media, a grinning Mastriano was seen standing beside former Pennsylvania GOP lawmaker Rick Saccone in the crowd of Trump supporters gathered outside the Capitol on Wednesday. In another photo posted around the same time, Saccone wrote "we are storming the Capitol," noting that "our vanguard has broken thru the barricades" while vowing to "save this nation."
After the rioting took place, Mastriano issued a statement condemning the pro-Trump insurrection, insisting that he took no part in the violence and calling for those who did take part to be prosecuted.
"As a military veteran and retired colonel, I do not – nor would I ever – condone the violence we saw today," Mastriano said in the January 6 statement. "My wife and I went to Washington, DC, today to support President Trump which should not surprise anyone familiar with my views on this election and my concerns about its integrity."
"When it was apparent that this was no longer a peaceful protest, my wife and I left the area and made our way out of the area," he added. "At no point did we enter the Capitol building, walk on the Capitol steps or go beyond police lines."
Democratic state lawmakers have called for Mastriano's resignation, citing his rhetoric leading up to the riot as well as his presence at the Capitol around the time it took place. Republicans, who control the state legislature, have not joined the calls. State Senate President Pro Tempore Jake Corman said in a statement that "the Senate has no cause to act" on the matter because Mastriano "did not participate in any unlawful activities."
Newsweek reached out to Mastriano for comment.