GOP State Senator's Daughter Held Wedding at Wisconsin Capitol Closed to Public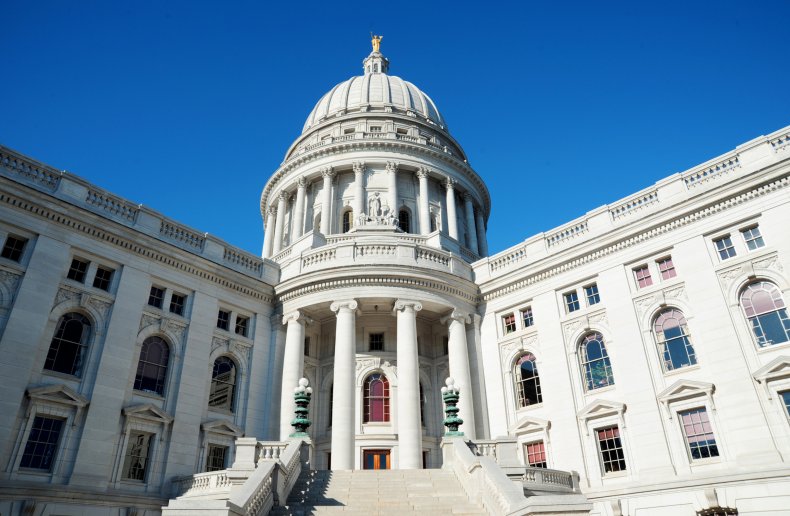 The daughter of a Republican state senator was married at Wisconsin's state Capitol building over the weekend while it remained largely closed to the public due to the COVID-19 pandemic.
Multiple requests to host weddings and other events in the senate chamber were made since the building closed on March 27, but a wedding ceremony request from state Senator Howard Marklein's daughter being the only one approved, according to a Wednesday report from the Wisconsin State Journal.
Marklein's staff confirmed to the newspaper that the small ceremony, consisting of 12 people, took place on Saturday. It was approved by Senate Sergeant at Arms Ted Blazel, who said that the decision to approve the event while denying others was "solely based upon numbers." The last wedding to be held in the chamber occurred on January 25. At least one Democratic lawmaker suggested that the ceremony highlighted Republican hypocrisy.
"Putting aside the fact that social gatherings are still not safe due to the pandemic, it's astounding that Republicans will use the Capitol for things that benefit them personally, but have gone 244 days without convening to help the people of Wisconsin, who have been sacrificing and suffering while the GOP takes an 8-month vacation," state Democratic Senator Chris Larson told the paper on Tuesday.
Although decisions regarding the use of legislative chambers in the Capitol building are up to Republican leadership and the Sergeant at Arms for each chamber, events held in the rest of the building and on the grounds are under the authority of the state Department of Administration, which has so far denied all public requests during the pandemic.
"As COVID-19 cases continue to rise throughout Wisconsin, the Capitol remains closed to the general public to limit spread of the disease," Department of Administration spokeswoman Molly Vidal told the paper. "As such, throughout the pandemic, any permits requesting use of DOA-operated space for ceremonies such as weddings have been denied."
New cases of COVID-19 in Wisconsin spiked in mid-November but have declined since then, although the virus continues to see significant spread throughout the state. There were 2,146 new cases reported on Wednesday, with a seven-day average of 3,247 new cases per day. The addition of 77 newly reported deaths brought the total number of deaths caused by the virus to 4,308.
With 146 new COVID-19 patients admitted to hospitals, about 16 percent of the state's hospital beds remained available on Wednesday. Around 200 health care workers in the state had received the first of two doses of the new coronavirus vaccine, according to local CBS affiliate WISC.
Newsweek reached out to Marklein's office for comment.