GOP Stimulus Plan Proposes $105 Billion for Reopening Schools Amid Pandemic
A forthcoming economic stimulus being hammered out between the White House and Senate Republicans will include $105 billion for K-12 schools, Senate Majority Leader Mitch McConnell said Tuesday.
The figure is less than Democrats are demanding but more than Trump administration officials have suggested they want amid a fierce debate over whether and how to send kids back to school during a pandemic.
"This country wants its kids back in the classroom this fall learning, exploring, making friends," McConnell said on the floor. "Their educations depend on it. In some cases, their safety depends on it, and so do the livelihoods of American parents."
The Kentucky Republican went on to say that the funding will be in addition to childcare relief and is far greater than the $31 billion included in the CARES Act to be split between K-12 schools and higher education. Democrats are calling for $175 billion for reopening K-12 schools as local districts grapple with how to safely bring students back into the classroom.
Limited liability protections—a redline for Republicans that will be a sticking point amid negotiations with Democrats—will be crucial for schools to safely reopen, GOP lawmakers have said.
"It's amazing how you can find room to find serious priorities when you take a pass on the far-left daydreams," McConnell said.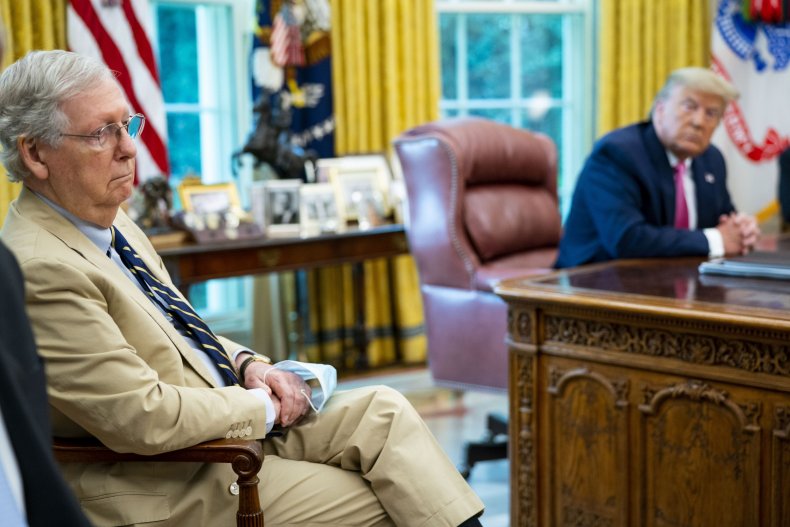 House Speaker Nancy Pelosi wrote off McConnell's proposal as insufficient, even though House Democrats set aside roughly $100 billion for K-12 schools and colleges in the HEROES Act that it passed in May.
"We're way ahead of that now. That was two months ago," the California Democrat told reporters after leaving a meeting with White House Chief of Staff Mark Meadows and Treasury Secretary Steven Mnuchin Tuesday afternoon, who have been the president's negotiators. "We need more."
Senate Minority Leader Chuck Schumer declined to comment on the proposed $105 billion figure during a call with reporters shortly after McConnell's remarks. "The devil is in the details," the New York Democrat said.
"All of us want our children to return to school, but we want them to return safely," he added, a representation of Democrats' hesitance for children to go back to the classroom as new coronavirus cases remain at all-time highs in the United States.
Senator Patty Murray (D-Wash.), the ranking member of the Senate Health Committee, said on the same call that "bullying schools with one-size-fits-all demands" was inappropriate and the "thought of using students as a bargaining chip is appalling" and a "nonstarter."
Senate Republicans are expected to unveil their proposal this week after it irons out several disagreements with the Trump administration over payroll tax cuts, another round of individual checks, unemployment insurance and state and local aid, among other things. Congress has its sights set on passing another stimulus within the coming weeks.
Several GOP senators in leadership indicated Monday evening that schools will need substantial money in order to safely reopen, as well as more aid for COVID-19 testing. They signaled that education institutions should not be punished for refusing to hold in-person lessons.
"I think anything that will help open up the schools in the Fall—and I think testing helps with that—so I'm for whatever it takes to get enough tests out there to safely open up schools," said Majority Whip John Thune (R-S.D.). "We need to do better than we are."
Health Committee Chairman Lamar Alexander (R-Tenn.) said "all roads to opening schools, going back to work, childcare, lead through testing."
"To open schools, we need more tests and we ought to provide whatever financial support we should to make it safe for schools to open and that includes widespread testing," Alexander added.
Senator Roy Blunt of Missouri, the No. 3 Republican, also said he does not want to penalize schools that don't reopen and feels those that do will need more money.
This story was updated to include remarks from House Speaker Pelosi.