GOP Stimulus Proposal Could Include $400 Billion for Second Round of Checks
Top Republicans and Democrats are coming together this week to discuss the latest coronavirus relief package, which is expected to dedicate a significant portion of the $1 trillion price tag to stimulus checks.
The GOP proposal as it stands in its tentative form is expected to include $400 billion for a second round of economic impact payments to individuals, The New York Times reported on Monday.
Senate Majority Leader Mitch McConnell told reporters at an event in Kentucky in July that stimulus checks could make their way into the next package, but they may be limited to those earning under $40,000 a year. Many people at that income level are in the hospitality industry, a sector among those hurt the most by the pandemic, McConnell said, indicating that stimulus checks could be confined to those "hit the hardest."
Limiting stimulus checks to those "most in need," is a caveat White House economic adviser Larry Kudlow predicted would be in the next package. Kudlow also said a second round of payments would be less than $1,200 for individuals.
Newsweek reached out to the White House and Senate Majority Leader Mitch McConnell for comment but did not receive a response in time for publication.
The Coronavirus Aid, Relief and Economic Security (CARES) Act that unanimously passed Congress in March allocated $1,200 payments for eligible individuals earning under $75,000 a year. Joint filers with adjusted gross incomes under $150,000 received payments of $2,400 and an additional $500 was paid out to people who claimed a child under 17 years old on their tax return.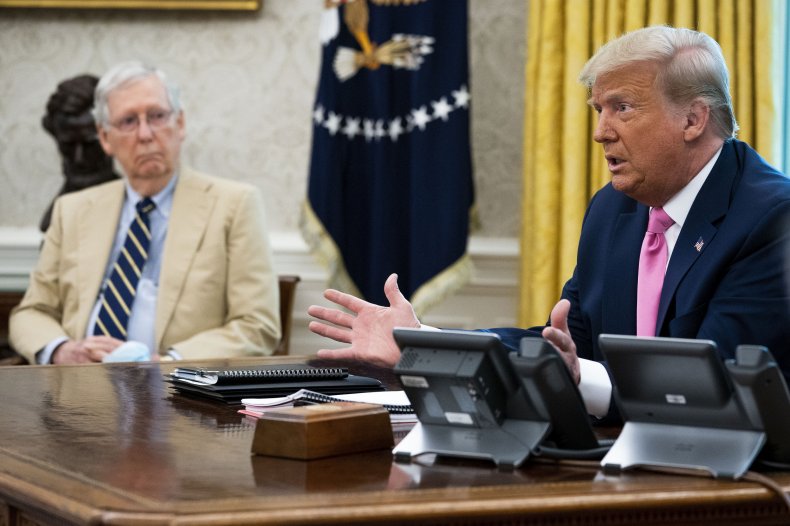 CARES Act payments cost an estimated $290 billion, about 13 percent or the $2.2 trillion package. Democrats are pushing for an expansion of the stimulus checks outlined in the CARES Act and included the measure in the HEROES Act, which passed the House in May largely along party lines.
Under the HEROES Act, base payments and income caps would remain the same as in the CARES Act, but it would increase payments for each eligible dependent–not just children–to $1,200. With a cap of three dependents, a family of five would receive $2,100 more the second time around than they did in the first stimulus payment.
The HEROES Act also expanded eligibility to include certain undocumented immigrants excluded from the CARES Act and would pay them retroactively for the first round of checks.
Republicans called the HEROES Act "dead on arrival" and economic experts told Newsweek the $1 trillion price tag could be problematic for those hoping to receive another check.
"If there is an arbitrary $1 trillion ceiling then likely there would still be room for an additional round of stimulus checks, but the income cut-offs would have to be lower than the last round," Jason Furman, the former chair of President Barack Obama's Council of Economic Advisers, told Newsweek.
Furman noted any impact a spending cap has on stimulus checks is dependent on what other measures are in the final bill. Including $400 billion for economic impact payments could indicate a compromise between Democrats and Republicans is on the horizon.
That compromise is likely to include a reduction in unemployment benefits. Republicans criticized the expanded benefits that gave unemployed Americans $600 extra per week for allowing people to earn more being unemployed than when they received a paycheck. An incentive to remain unemployed, according to Trump Administration officials, Treasury Secretary Steve Mnuchin said it's reasonable to assume benefits would be reduced once they expire at the end of the month.
"You can assume it would be no more than 100 percent [of what a person was earning at their job]," Mnuchin told CNBC on July 9. "We'll figure out an extension that works for companies and works for those people who will still be unemployed."
Boosting unemployment to help the post-Great Depression historic high number of people who were out of work cost an estimated $260 billion. Kudlow told the Times they won't let unemployment expire but said they're going to "reform it a bit to deal with this issue of work incentives."
The White House and Republican leaders are looking to balance helping those in need with limiting spending. A goal that prompted the $1 trillion price tag, the Times reported Republican officials privately acknowledge negotiations with Democrats, whose bill lands at about $3 trillion, will likely push the package's price to the $2 trillion range.