GOP Strategist Tells John Bolton to 'Speak the Truth' so He Can Look at Himself in the Mirror: 'Tell It All'
Former National Security Advisor John Bolton has been called on to lift the lid on President Donald Trump's White House following his forced resignation on Tuesday, making him the third Trump appointee to the position to leave the administration in less than three years.
Trump announced Bolton's departure on Twitter, thanking the adviser for his service and noting that Bolton's replacement would be named next week.
"I informed John Bolton last night that his services are no longer needed at the White House," Trump wrote. "I disagreed strongly with many of his suggestions, as did others in the Administration."
A notorious foreign policy hawk, Bolton reportedly clashed with Trump numerous times over the administration's approach to America's adversaries. While the president generally favors made-for-TV diplomacy even with infamous dictators, Bolton leaned on America's military might to advance U.S. interests and pressure its rivals worldwide.
Following his dismissal, Bolton quickly tweeted claiming he had offered his resignation to the president on Monday evening, but was told Trump wished to wait until Tuesday to discuss it. After Trump's tweets, Bolton contacted media organizations including Fox News and The Washington Post stressing that he had resigned after offering to do so, rather than being summarily dismissed.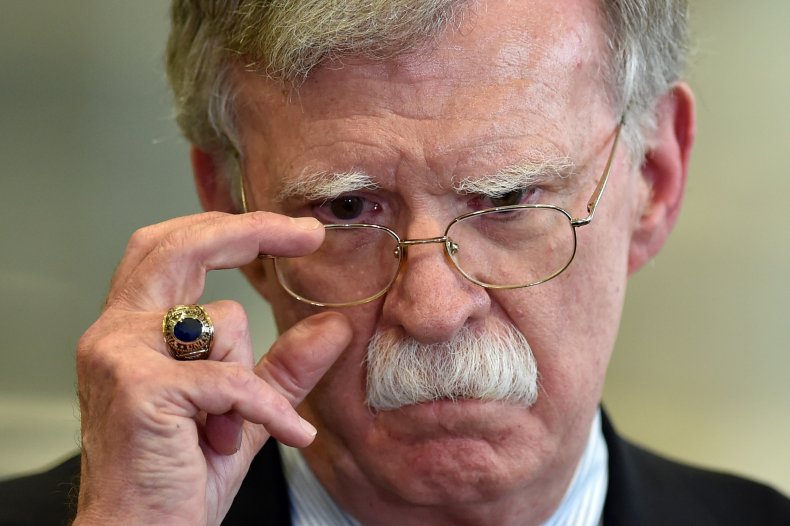 His resignation letter was short and relatively impersonal. "I hereby resign, effective immediately, as Assistant to the President for National Security Affairs," Bolton wrote. "Thank you for affording me this opportunity to serve our country."
GOP strategist Rick Wilson said on Twitter that Bolton was now free to reveal the dysfunction within the Trump administration, and suggested it was the only way for Bolton to regain his reputation.
"You have one path now, John," Wilson wrote. "Only one road leads back to a place you can look at yourself in the mirror. Just one. Speak the truth. Tell it all."
"Do it now, and do it without a shred of misplaced loyalty for a man you know is a danger to this country," Wilson added.
Bolton is far from the first person to leave the Trump office. The chart below, from Statista, shows the turnover within the president's executive office compared to his predecessors.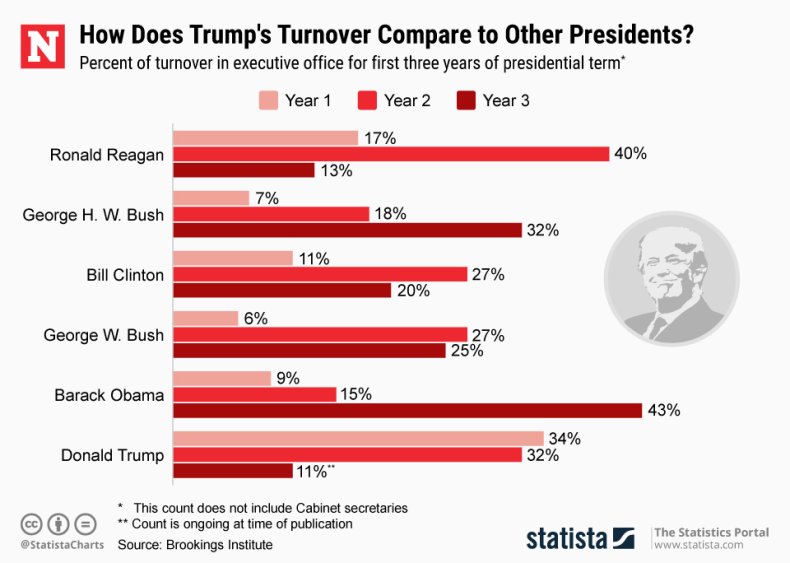 Bolton's departure could open the way for more direct engagement with America's historic enemies, including Iran. French President Emmanuel Macron has been pushing for a summit with Trump and Iranian President Hassan Rouhani, and Bolton was seen as a major impediment to de-escalation talks.
An adviser to Rouhani cited Bolton's departure as a failure of the "maximum pressure" campaign against Tehran to push the regime into a new, more stringent agreement with the U.S. regarding its nuclear program.
"The marginalization and subsequent elimination of Bolton is not an accident but a decisive sign of the failure of the U.S. maximum pressure strategy in the face of the constructive resistance of Iran," Hesameddin Ashena tweeted.