GOP Strategist Urges Republicans to Support Same-Sex Marriage Bill
GOP strategist John Feehery, who is working to get Republican votes for a bill that would codify protections for same-sex marriage at the federal level, said Friday that "you don't want to take away the ability for people to get married once you gave them that ability."
His comments in an interview with NPR come after the Respect for Marriage Act passed the House in July with the support of all Democratic lawmakers, along with 47 Republicans. The majority of Republicans in the chamber—157—voted against the legislation, while seven Republicans declined to vote.
The bill was introduced after the U.S. Supreme Court in June overturned Roe v. Wade, the landmark decision that granted women the right to an abortion, over concerns that the Court could also reverse same-sex marriage protections.
Senator Tammy Baldwin, a Wisconsin Democrat, and Senator Susan Collins, a Maine Republican, are currently working to get the 10 Republican votes that are needed in the Senate to pass the legislation.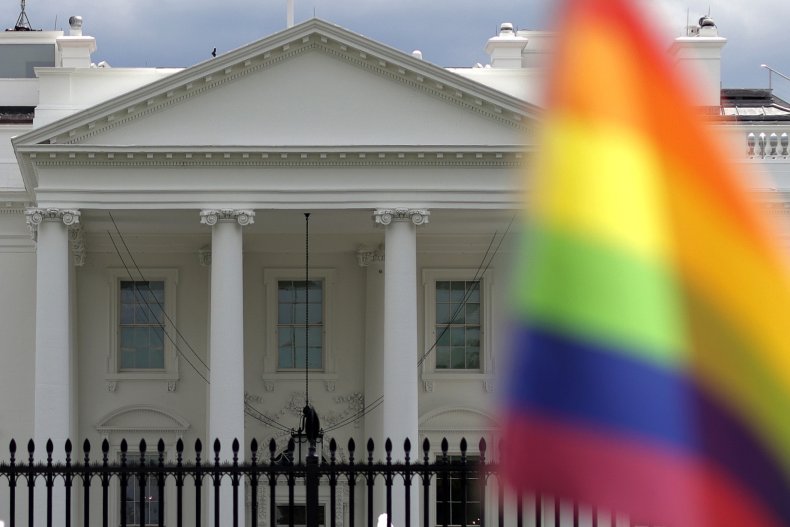 In his interview, Feehery added that he believes there are "more than 10" Republican senators in favor of the legislation, "but...many of these members don't necessarily want to be the 10th."
"So they're kind of waiting to see, and they're negotiating potential amendments to see if they have some wiggle room. But I think there are people—at least 10 Republicans who want to vote for this in the Senate," he said.
Feehery was then asked about a Gallup poll conducted last year that found that 55 percent of registered Republicans support gay marriage.
"Do you think that Republicans are taking that into account?" the NPR journalist asked.
"I think that they are, and I think that's why they're having such a hard time. There's a vocal minority amongst the Republican base that doesn't want this to happen. But I do think that ultimately, you don't want to take away the ability for people to get married once you gave them that ability," Feehery said. "And I think the politics, as you pointed out, are pretty good. Most Republicans are focused on many other issues and will not vote against any Republican who votes for this bill.
He added that some Republicans are concerned that under the legislation, churches could be sued if they decline to perform same-sex marriage ceremonies.
"And I think there's ways to reach an accommodation on that, I think that's what they're trying to figure out with this amendment process," the strategist stated.
Newsweek has reached out to Senate Minority Leader Mitch McConnell's press office, and the Republican National Committee (RNC) for comment.
Some Republicans have vocally opposed the legislation. In July, Colorado Representative Lauren Boebert said the bill "undermined masculinity," while Representative Matt Gaetz, of Florida, said it was inspired by a "a fit of hysteria."