GOP Support for Hydroxychloroquine, Drug Trump Took as Coronavirus Preventative, Drops 11 Points in 1 Month
Republican voters appear to be losing confidence in hydroxychloroquine as a viable medication for the novel coronavirus, even as President Donald Trump said he has personally used the unproven treatment that health experts caution could be deadly in some cases.
New polling from Morning Consult and Politico, which was conducted from May 22 to 26, showed that only 41 percent of GOP voters support the use of hydroxychloroquine as a treatment for COVID-19, the disease caused by the novel virus. That's down 11 points from April, when the majority—or 52 percent—of Republicans said they backed the medication.
Support for the treatment also declined among Democrats and independents, who were already much less likely to support the use of the drug. Among Democrats, 11 percent said they still support using hydroxychloroquine, down 2 points from 13 percent last month. Independent backing of the medication also declined by 2 points, down from 22 percent in April to 20 percent this month. Overall, just under a quarter, or 24 percent, of respondents said they support the treatment, a decline of 5 points from 29 percent in May.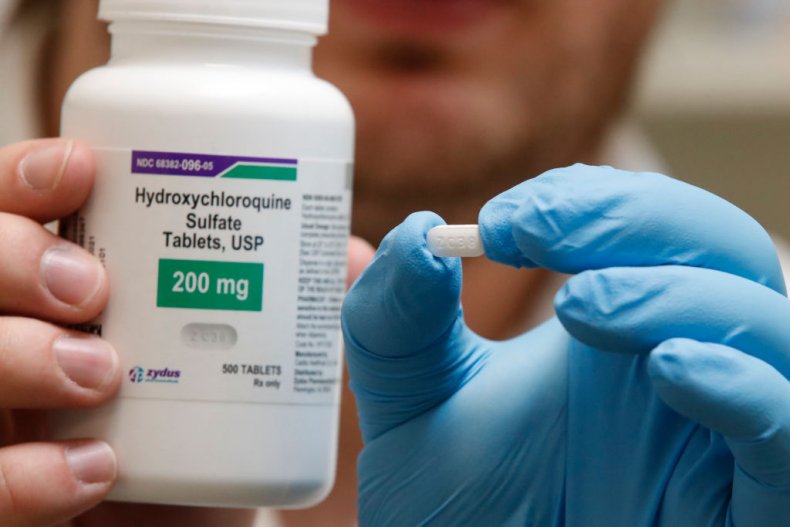 Trump, after consulting with this personal doctor and getting a prescription, said he began taking hydroxychloroquine as a potential preventative measure against the novel coronavirus. Some early studies suggested that the drug, which has long been used against malaria, could potentially be a viable treatment against COVID-19, but more recent and larger studies have shown a potentially higher risk of death in novel coronavirus patients who were given hydroxychloroquine.
In an interview with Sinclair Broadcasting that aired Sunday, Trump said that he'd "finished" taking a two-week course of the antimalarial drug.
"Well, I've heard tremendous reports about it. Frankly, I've heard tremendous reports. Many people think it saved their lives. Doctors come out with reports. You had a study in France, you had a study in Italy that were incredible studies," he said.
The White House did not respond to Newsweek's request for comment by publication.
Preliminary studies did suggest that the drug held promise as a viable therapeutic for the novel coronavirus. Hospitals and doctors were given the green light by the Food and Drug Administration (FDA) through an "emergency use authorization" to treat patients with COVID-19. Some medical professionals have also used the drug as a potential preventative measure, in a bid to reduce their chances of infection like the president did.
But a large study published on May 22 in The Lancet, a weekly peer-reviewed medical journal, compared outcomes for 96,032 COVID-19 patients. Some of these patients were given hydroxychloroquine while others were not. When factoring in a range of variables, the study showed that those given the antimalarial drug were more likely to die than those who were not given the treatment.
On Monday, the World Health Organization also announced that it had suspended a medical trial into whether hydroxychloroquine is an effective treatment. The organization pointed to potential risks associated with the drug.