GOP Support for Impeachment Nearly Doubles After Mueller Testimony While Democrats' Support Lags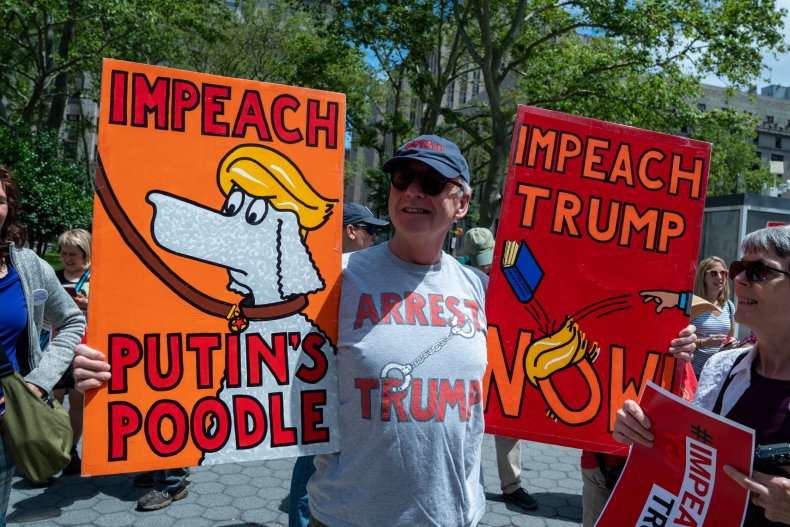 Republican support for impeaching President Donald Trump has nearly doubled since the former special counsel investigating Russian election interference testified before Congress in late July, a new Hill-HarrisX poll has found.
Moreover, Democratic support for impeachment proceedings has slipped slightly during the same period.
In May, 71 percent of Democrats supported beginning impeachment proceedings against Trump, compared with just 67 percent in the poll conducted days after former special counsel Robert Mueller's testimony. This dip is well within the margin of error for Democratic voters of 5.1 percentage points, suggesting that Mueller's proclamations on Capitol Hill did little to move the needle for Democrats.
On the other hand, while significantly lower, Republican support for impeachment surged from 9 percent in May to 17 percent at the end of July, well outside the margin of error of 5.5 percentage points.
Many independents were similarly moved to the pro-impeachment camp, growing from about a quarter favoring impeachment to more than a third.
Overall, voters are now evenly divided on whether to begin the constitutional process of impeachment, a trend away from the largely impeachment-skeptical U.S. public that surveys in previous months had measured.
Just this week, the number of House Democrats supporting impeachment also crossed a critical threshold: a majority of the House Democratic Caucus now believes proceedings should begin. But the newly majoritarian support among House Democrats is hardly reflective of their own Democratic base, which backs impeachment with a supermajority.
The lag between Democratic voters and their representatives is owed perhaps to no one else more than House Speaker Nancy Pelosi, who has, until recently, acted as a firewall against growing impeachment restlessness within her own party.
But as the dam has started to break, Pelosi appears to have lessened her grip somewhat. In a Democratic Caucus meeting convened just hours after Mueller's testimony, Pelosi is reported to have told Democratic representatives that they can do whatever they want on impeachment.
"They know that," Pelosi confirmed at a press conference following the caucus meeting. "That's never been an issue. People do whatever they do to represent their districts."
House Judiciary Chairman Jerry Nadler announced last week that his committee is seeking access to secret grand jury information related to Mueller's probe that, by law, cannot be disclosed outside certain exceptions.
In a court filing asking a federal judge to unseal the material, Nadler's committee inched ever more closely to an outright impeachment inquiry, putting one foot over the line without committing to it entirely.
"Because Department of Justice policies will not allow prosecution of a sitting President, the United States House of Representatives is the only institution of the Federal Government that can now hold President Trump accountable for these actions," the committee wrote. "To do so, the House must have access to all the relevant facts and consider whether to exercise its full Article I powers, including a constitutional power of the utmost gravity—approval of articles of impeachment."