Texas' Lieutenant Governor Dan Patrick suggested that the U.S. has not had a "massive outbreak" of the coronavirus as was projected, despite the country having the highest number of confirmed infections and deaths in the world.
Patrick has already faced significant criticism for suggesting that elderly people are willing to put their lives at risk for the sake of the economy, criticizing stringent lockdown measures. The Texas official again urged reopening the economy rapidly during a Tuesday morning interview with Fox News.
"We've all gone to the grocery store ... You have or somebody in your household has, and we haven't seen this huge outbreak overwhelming our hospitals. We haven't seen this huge outbreak in Texas of deaths, obviously New York and New Jersey are different," the lieutenant governor said.
"But if we can all go to the grocery, which we've all been doing in this country, all of us have been doing that or living with someone who did and we have had this massive outbreak that we were all told we're gonna have," Patrick added. "Well then why can't we go to any store?" he asked.
Fox News co-anchor Sandra Smith pushed back against Patrick's remarks, noting that the pandemic has taken a major toll within the U.S.
"To be sure, we've seen an overwhelming amount of deaths and illnesses in this country as a result of this," Smith said. She also noted that many grocery stores have implemented social distancing measures and taken steps to protect their workers as well as customers.
Patrick went on to argue that the government should "leave it up to the American people and the American business person" to implement precautionary measures.
"People are smart," he said.
Newsweek has reached out to Patrick for further comment.
As of early Tuesday afternoon, the U.S. had about 1 million confirmed cases of the coronavirus nationwide, according to a tracker by Johns Hopkins University. Of those infected, nearly 57,000 people have died while more than 112,000 have recovered. About one-third of the confirmed cases of coronavirus globally are within the U.S., as are about one-quarter of the global deaths.
Texas, which is the second-most populous state in the country, currently has relatively few infections and deaths. As of Tuesday, the state had reported just over 25,000 confirmed cases and less than 700 deaths. More than 11,000 people have already recovered from COVID-19 in the state.
As states and municipalities began implementing stay-at-home and shelter-in-place restrictions in March, health officials explained that such measures were necessary to prevent the rapid spread of the novel virus. They projected that 1 to 2 million Americans could die if the stringent measures were not implemented. Now as some states look to start reopening, with the number of new infections and deaths on the decline, public health experts have credited the social distancing restrictions for effectively curbing the spread of the coronavirus.
But Patrick has been outspoken in his criticism of strict lockdown measures, appearing multiple times on Fox News to raise his concerns about the economic impact.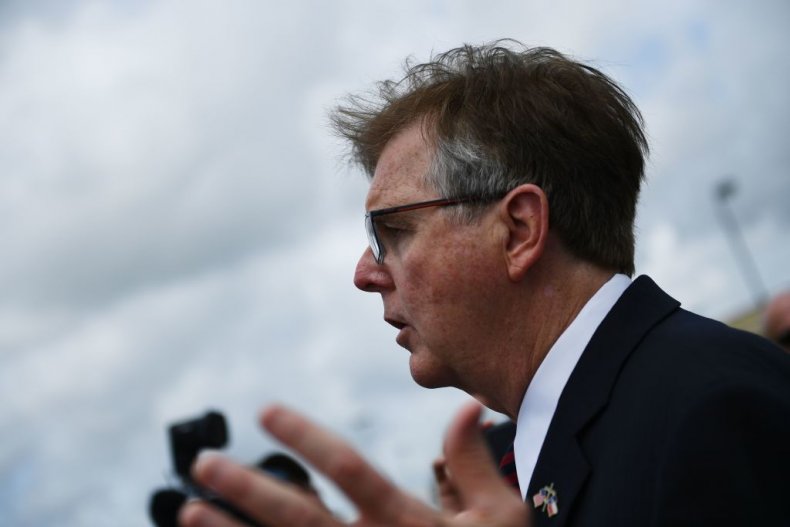 "There are more important things than living, and that's saving this country for my children and my grandchildren and saving this country for all of us," the Republican official told Fox News host Tucker Carlson last week. He said that he was thankful some states were starting to reopen their economies.
"I don't want to die, nobody wants to die but man we have got to take some risk and get back in the game and get this country back up and running," he said.
In a previous appearance on Carlson's show, Patrick suggested that many elderly Americans were willing to put their lives at risk for the sake of the economy.
"No one reached out to me and said 'as a senior citizen, are you willing to take a chance on your survival in exchange for keeping the America that all America loves for your children and grandchildren?' And if that's the exchange, I'm all in," Patrick told Carlson in late March.
The Texas official said "there are lots of grandparents out there in this country, like me," noting that he wanted to "live smart and see through this, but I don't want the whole country to be sacrificed."
Due to the lockdown measures implemented by state and local governments, more than 26 million American workers have already filed for unemployment nationwide. Economists are anticipating a steep decline in gross domestic product, while many have drawn comparisons to the Great Depression of the 1930s.