GOP Tried to Poach Sinema 'Multiple Times' but She Shut Them Down: 'Why Would I Do That?'
Arizona's Senator Kyrsten Sinema has shut down overtures to join the Republican Party, even after several attempts by the GOP to recruit her.
"Why would I do that?" the Democratic senator asked in an exclusive interview with Politico published Wednesday.
Senator John Thune, the No. 2 Republican in the party's leadership in the upper chamber, told the news outlet that he's tried "multiple times" to get Sinema to join the GOP caucus—which would give the party a narrow advantage in the evenly divided Senate.
Also on the Republican Party's wish list is Senator Joe Manchin. Last month, the West Virginia Democrat said he's been approached "every day" about switching parties but has never thought about it.
"What I'm telling you now is who I am," Manchin said. "Do you think by having a D or an R or an I is going to change who I am? I don't think the Rs are going to be any more happy with me than Ds are right now."
Manchin's remarks came after Mother Jones reported that he was seriously considering leaving the Democratic Party. Manchin denied the report.
Both Sinema and Manchin are critical votes in passing President Joe Biden's domestic agenda. The two moderate Democrats have been major figures in the monthslong negotiations on Biden's sweeping social and climate spending package, known as Build Back Better.
Democrats need both senators on their side to pass the legislation via reconciliation, a process that would allow the party to bypass the Senate filibuster rule and the need for Republican support.
Manchin and Sinema opposed the originally proposed price tag of $3.5 trillion for the bill. The latest framework released by the White House, which lawmakers are working on, is in the $1.75 trillion ballpark.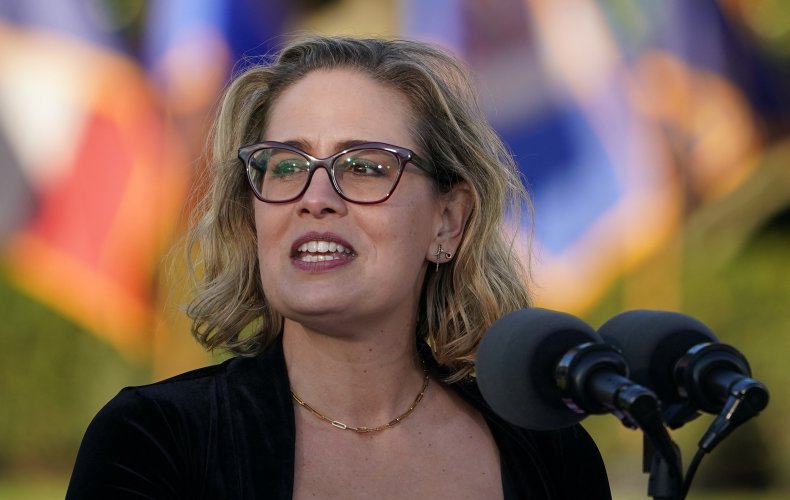 The two senators have also come out against different provisions in the bill, though Manchin has been more publicly vocal about what he will and will not support, compared with Sinema.
But in her interview with Politico, Arizona's senior senator divulged more information about her stance.
Sinema said she "generally" supports including paid family leave in the bill. The legislation originally included 12 weeks of family leave but then was removed entirely. Now, lawmakers are trying to add in four weeks of the program.
Sinema also called provisions to combat climate change the "most important" aspect of what's being discussed.
Senate Majority Leader Chuck Schumer said he hopes to bring the legislation to the floor before the end of the year.
"Build Back Better is very important to America, we believe it's very popular with Americans, we aim to pass it before Christmas," Schumer told reporters on Tuesday.
Newsweek reached out to Sinema's office for additional comment but didn't receive a response before publication.