GOP Truck Driver Edward Durr Ousts Longtime New Jersey Senate President in Stunning Upset
A New Jersey furniture truck driver ousted the second most powerful official in the state's government.
Republican Edward Durr was declared winner of the state senate race in South Jersey's 3rd legislative district by the Associated Press on Thursday. At the time the race was called, Durr was ahead of Democrat Stephen Sweeney by roughly 2,000 votes.
Durr entered the race as a long shot against Sweeney, who has held the office for a dozen years and is currently president of the state senate. Durr told Politico he was "walking on eggshells" while the results were being recorded, though he held a sizable lead since Wednesday.
"I kept telling myself and telling people I was going to do it, but in the back of my mind I was like, 'You know, how am I going to beat the Senate president?'" Durr said.
This is Durr's first political win. He ran for the New Jersey General Assembly in 2019 but lost, finishing last in a four-candidate race.
The Republican, who is a lifelong resident of the Garden State and truck driver for furniture retailer Raymour & Flanigan, said he was in part motivated to enter the 2021 contest after seeing how leaders responded to the coronavirus pandemic.
In a campaign video posted to his social media pages in September, Durr also blamed Sweeney for higher taxes and the rising cost of living.
"We deserve better. New Jersey it's time for a change," Durr said in the video as he hopped on a motorcycle. "So together, let's end single-party rule."
The newcomer made headlines for spending just $153 on his campaign.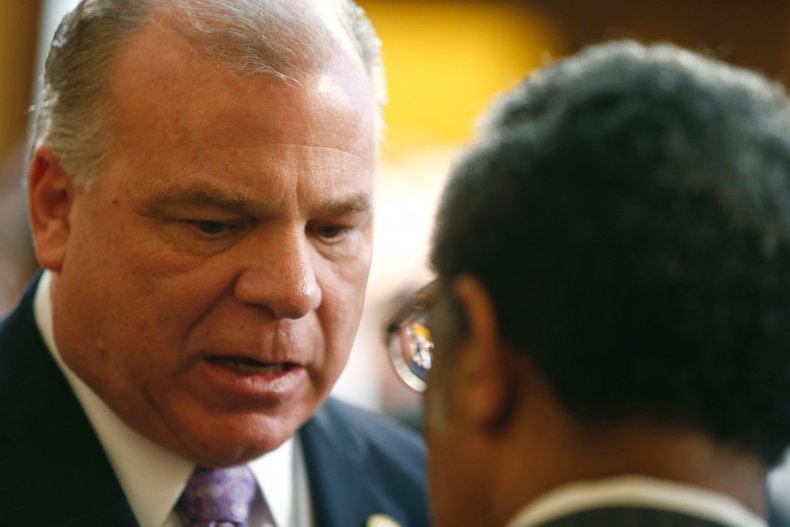 Durr's upset comes after a disappointing Election Day for Democrats across the country.
Virginia Republicans swept statewide offices, with victories for the governor and lieutenant governor. The GOP wins marked a turnaround in a state President Joe Biden had won by 10 points just last year.
A red wave also hit Long Island and judicial races in Pennsylvania. Republicans on the Newark City Council in New Jersey also wiped Democrats off the board, creating a 10-0 majority.
But New Jersey Governor Phil Murphy managed to keep his position after a tighter-than-expected race against Republican nominee Jack Ciattarelli. Murphy defeated Ciattarelli by less than 1 percentage point.
"Thank you for putting your trust in our team for another four years," Murphy said in a victory speech. "Thank you for saying we need to keep moving forward on our shared journey to a stronger and fairer New Jersey."