As GOP Uses Border Against Biden, EU Conservatives Eye Same Strategy With Belarus
The Republican party continues to chip away at President Joe Biden's approval rating by invoking the continued surge at America's southern border. Since Biden took office, border officials have encountered roughly 1.4 million migrants and thousands more continue to make their way north.
On the other side of the world, the European Union finds itself in a similar situation as several thousand migrants, most of them from Iraq, remain camped out in the woods of Belarus, awaiting entry into Poland and the EU at large.
The West has accused Belarus President Alexander Lukashenko, with the support of Russian President Vladimir Putin, of bringing these individuals in and encouraging them to immigrate to the EU for the purpose of causing internal dissent, and this alleged plan appears to be working.
Despite holding a longtime stance against the construction of funding barriers at EU borders, officials announced that the Union has "opened the debate" around the option of funding the construction of a border wall to keep the migrants out of Poland.
"We have opened the debate on the EU financing of physical border infrastructure," European Council President Charles Michel said during an event in Germany on Tuesday. "This must be settled rapidly because Polish and Baltic borders are EU borders. One for all and all for one."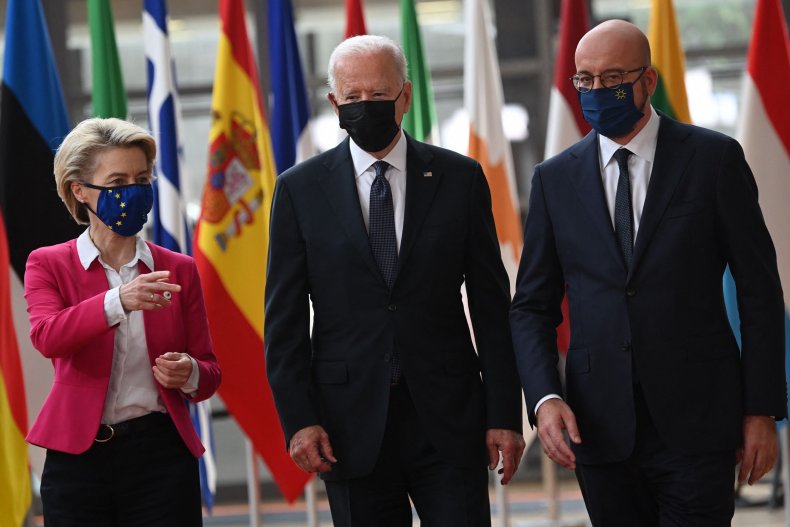 Michel, who served as the Prime Minister of Belgium from 2014 to 2019, saw his center-right political coalition fall apart in 2018 after right-wing members of the alliance abandoned him due to his administration's support of left-wing immigration policy. Not long after this, Michel resigned as prime minister then preceded to enter his current position within the EU.
Conservative stances toward border security have served as a significant feature within European politics since the migration crises of 2015 and 2016 that saw more than 1 million migrants enter EU borders, Erol Yayboke, an expert on migration and forced displacement with the Center for Strategic and International Studies, told Newsweek.
After this event, Yayboke said politicians across the Union started to take harder and harder stances against allowing migrants to enter. The EU is governed as a collation, which Yayboke said seeks consensus, often at the "lowest common denominator," when creating policy. Because of this, he predicted that the Belarus crisis could swing Europe further right in the near future.
"I think that this is absolutely presenting an opportunity for anti-migrant politicians to further harden borders and further make it hard for people who are trying to move," Yayboke told Newsweek. "For better for worse, these types of crises tend to influence the outcomes of elections across the European Union."
Like in the U.S., responsibility for the handling of crisis will largely fall on the Union's ruling faction, the European People's Party, a center-right coalition. It has responded similarly to the Biden administration in its dealing of the situation, Yayboke said, by looking to invoke tools of a national security force. Border control agents and members of the military have been sent to handle the matter.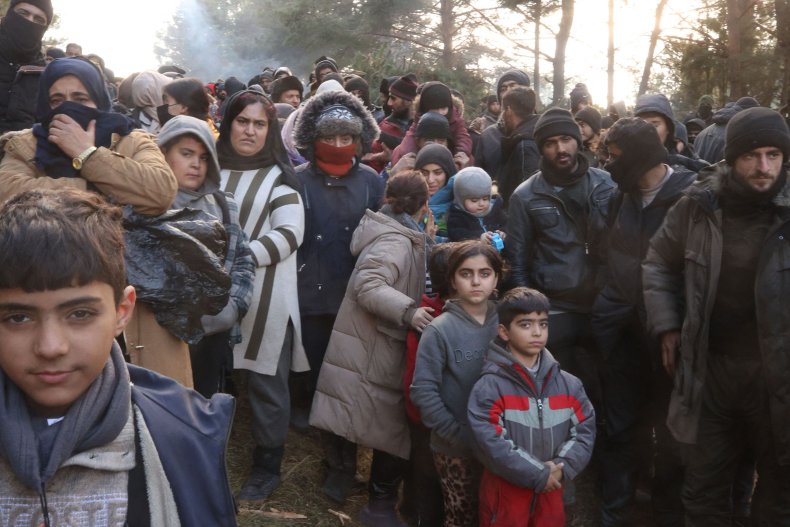 However, where the EU diverges is in its handling of the root issue. Yayboke said America's left has largely elected to take a "humane approach" to border management, "at least in words." The Biden administration stands focused on attempting to address the factors in Central America that push citizens to take the trek north.
Democrats have prioritized family reunification policies and proposed a $4 billion plan aimed to reduce "gang and gender-based violence, improvements in legal and educational systems, and implementation of anti-corruption measures." Yayboke said the EU's strategy has largely been focused on supporting border management agencies and border enforcement agencies.
"The EU's assistance to sub-Saharan African countries that are, you know, big, migrant origin countries tend to be on the hard security side," he told Newsweek. "Here is where I think there is some divergence, at least at the strategy level."
Biden's plan, if passed, could hold the potential to lead to a reduction in migration flows in the future. In the near term, caravans continue to form and make their way through Mexico. If the administration cannot find a way to stem this tide, Republicans hold the potential to use the issue as a way to capture the votes of moderates concerned over national security.
The Biden administration has condemned Belarus for its alleged role in bringing these migrants in to inflame EU tensions and announced plans to slap sanctions on the country. Despite the intent of this move, Republicans already appear set on using it to inflame perceptions over the crisis at home.
"President Biden's concern for other nations' borders, while he turns a blind eye to the United States' borders that he swore to protect and defend, is appalling," Texas Governor Greg Abbott's press secretary Renae Eze told DailyMail.com. "His reckless open border policies have created an ongoing crisis along our southern border, leading to a 61-year record-high number of illegal immigrants surging into our state."